Good morning and Happy Friday! We're excited to introduce our daily briefing posts. Think of these as your "go-to" posts for weather information in the morning, whether you're sipping a coffee or sitting on the train. Or both. We'll lay out the important weather information with links and details on what's ahead. More technical posts will follow throughout the day – but these will be the first checkpoint to see what's going on.
So here we are! It has been a long and hard stretch of cold weather in the Northeast States. In fact, January is running well below normal in terms of temperature essentially from the Great Plains to the Northeast US Coast. That's all about to change – big time changes in the Pacific Ocean will lead to changes in how the atmosphere is behaving across the United States. The storm track will shift west, and a ridge will build over the East. The result? Warmer temperatures for the East Coast and a pattern that will become inherently less wintry.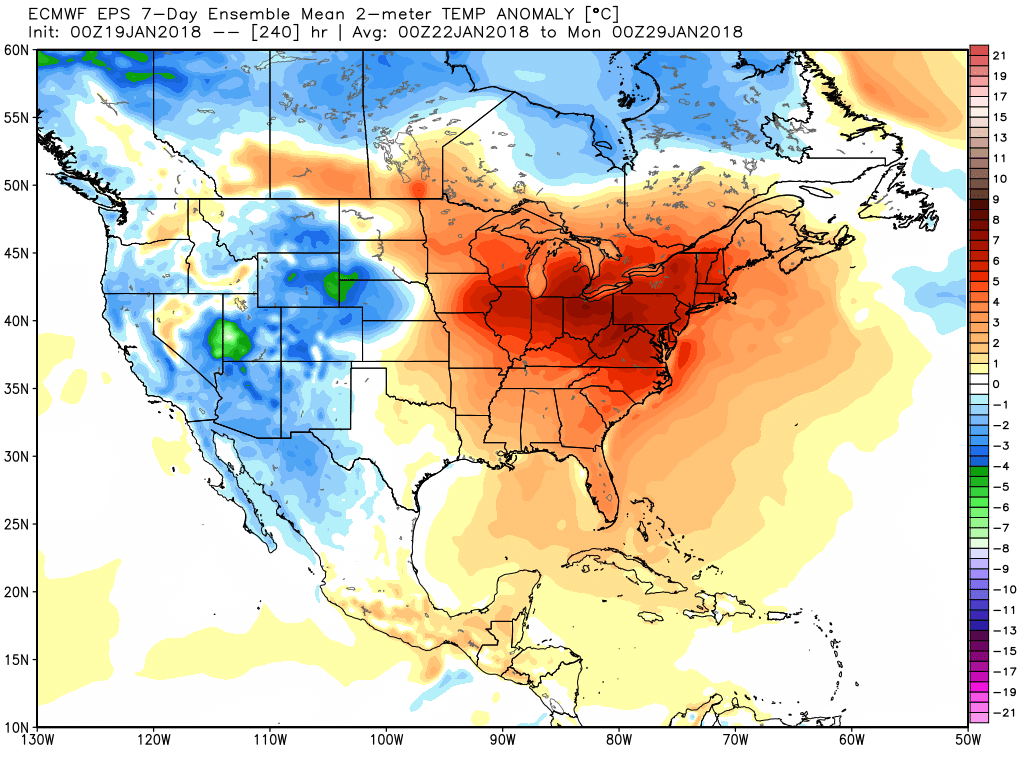 Forecast models are all over it – temperatures are forecast to rise above normal within the next 5 days and stay there for some time. Although periodic shots of cold air are possible, the duration of warmer than normal temperatures being forecast is impressive. The Euro, for example, and its own ensembles, are forecasting 7-day temperature departures to far exceed 5 degrees Celsius in much of the Northeast. That's keyword for "well above normal". There will be a few really warm days mixed in, too.
Meanwhile, a thousand miles west, the Upper Midwest is preparing for a potentially significant winter storm. A strong disturbance will eject from the Southwest United States this weekend and then track northeastward into the Central Plains, allowing a cyclone to develop. Snow is expected to spread northward into the Dakotas and eventually Minnesota and Wisconsin. Significant uncertainty still exists in regards to track (where have we heard that before?), but confidence is higher than normal in significant snowfall for places such as Minneapolis.
Here are a few other things to know, tidbits, and stats: 
NYC reached 32 F yesterday, the 20th day this winter that the temperature did not exceed freezing. This is the most such days in a winter since 1977 (@weathernut27, twitter)
The ECMWF EPS is forecasting high temperatures near 50 F in NYC on the following days: January 20, January 21, January 23, January 27, January 28.
The NWS in Minneapolis is suggesting the potential for a significant winter storm. Read their forecast discussion for technical details.
Comments
comments
https://www.nymetroweather.com/wp-content/uploads/2018/01/gfs_z500a_us_15.png
696
1024
John Homenuk
https://www.nymetroweather.com/wp-content/uploads/2017/04/oldlogo.png
John Homenuk
2018-01-19 09:22:14
2018-01-19 09:22:14
Friday Briefing: Warmer times East, winter storm looms in Plains