Winter is here. More than in any other season, rapidly developing winter weather impacts your business. Having a direct relationship with our team of forecasters is immensely valuable. Our Consulting Package offers products tailored specifically to your company, giving you the advantage over any competitors. Read about our features below and sign up today:
Daily Forecast packages from our meteorologists, specific to your location. These forecasts are hand-written and compiled by our staff of meteorologists, daily. Detailed information with a discussion, breakdown, and easy to understand video are included. VIEW DEMO.
An overview of the expected weather hazards over the next 8 days will keep you and your business ahead of the storm. Individual hazard risk areas will give you a heads up on impending storm systems well in advance. A detailed analysis and discussion of threats is included. VIEW DEMO.
We treat each of our clients like family. That's why you'll have your own personalized alerts with updates from our forecasters throughout the day. Available over multiple platforms and including all critical weather information, these alerts are totally customizable to your preferences. Contact us to learn more.
Detailed Forecasts
&

Briefings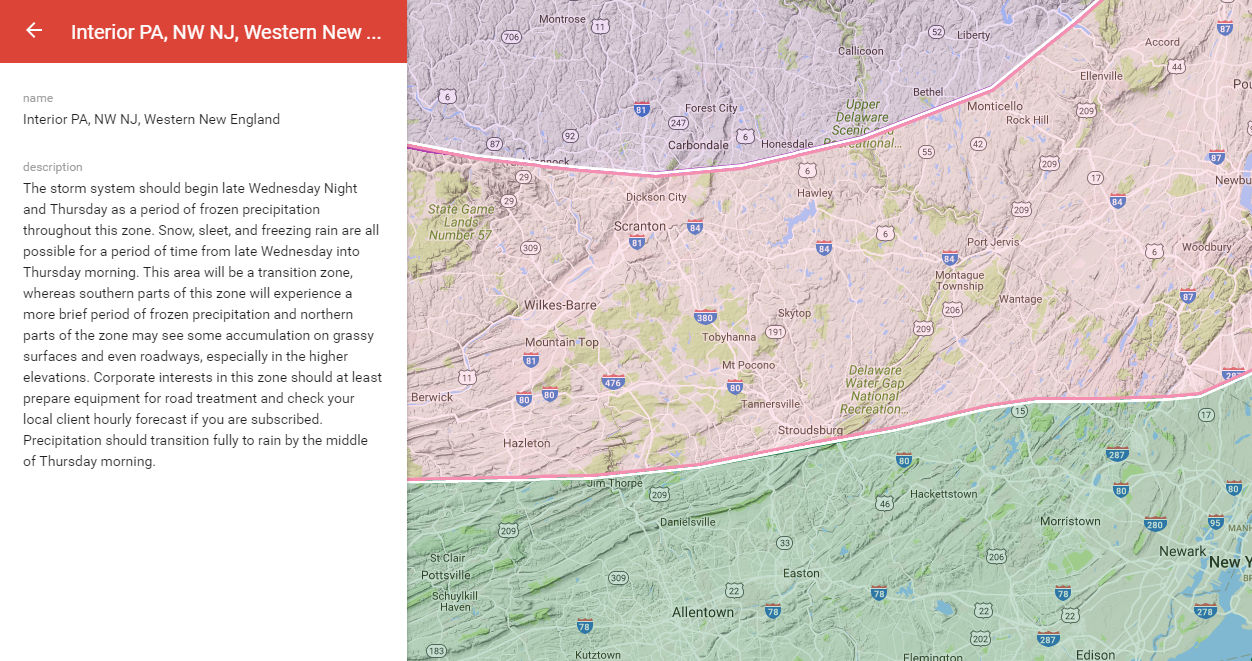 Weather forecasts are not meant to be a guessing game. Each of our Premium Consulting clients gains access to detailed, tailored zone forecasts which are crafted for specific locations. Detailed, interactive maps describe the forecast in an easy to understand manner and provide insight into how the weather pattern is expected to evolve. Snowfall certification and personalized documents are also available.
Each day, our team of forecasters break down the weather for our clients in detail. Weather is not just about information — it's about explanations, uncertainty, and understanding. Our videos try to bridge the gap in helping you to understand what is happening with the weather, why it is happening, and what the forecasts uncertainties are. These discussions are second to none — and will leave you feeling more confident about the forecast than ever.