Event Forecasting & Consulting



If you own a company, operate an event, or are involved in the commercial industry, you know one thing: The weather usually has a major impact on your operations. No matter what event or company you are involved in, understanding the weather forecast is paramount.  At New York Metro Weather, we give you the unique opportunity to develop a direct relationship with our team of meteorologists. Your work becomes our work. Our plethora of products available to clients will keep you ahead of the storm, so that your company can remain more profitable, and your event can remain safe.
Go directly to our team of meteorologists, who use cutting edge technology and information to provide your business with the most accurate weather forecast available. These aren't computer generated forecasts or algorithms — these are meteorologists who will stay in contact with you and your company, 24/7. Hourly forecasts each day and a briefing on potential hazards in the next several days will keep you ahead of any storm that may head your way.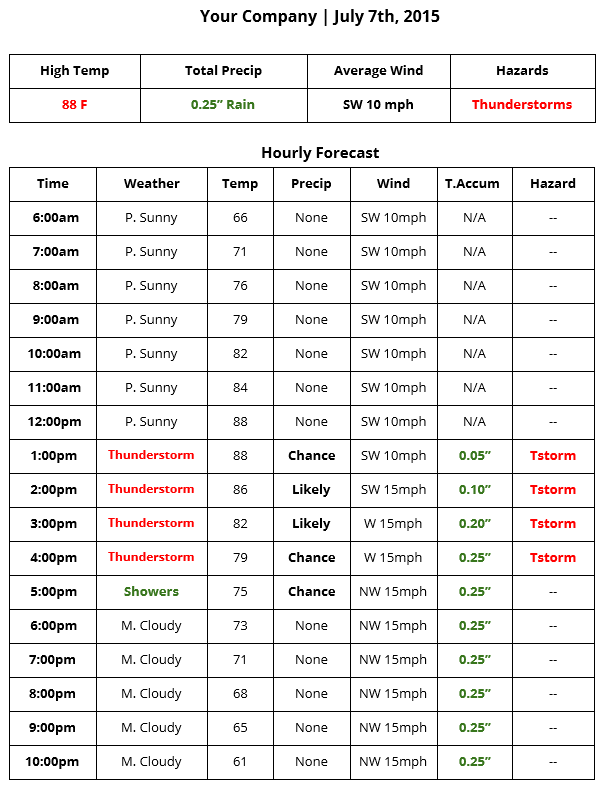 1
See the day at a glance, with an overview of what to expect at your location.
2
Get an hourly breakdown of the day ahead. Conditions, temperature, and precipitation accumulation and intensity are included.
3
Stay up to date on Watches, Warnings, Advisories, and Hazards.
25
Available hazards and warning triggers
Have you ever wondered what it might be like to have customizable weather alerts, for all of your locations, and separate needs? Wonder no longer.
Hazardous Weather Alerts are sent to you across multiple platforms within 50 miles of your location(s). Thresholds can be adjusted to your needs include range, alert type, notification type, and frequency. Alerts can be sent via text message, email, phone call, or simply on our website.
We work with you to set up a program that is tailored to you — and can be adjusted at any time as your projects change. Don't wait any longer. Contact us today to begin setting up your account, and stay safely ahead of the storm.