Risk Level: Enhanced | Todays SPC National Outlook | Currently Active Watches | Currently Active Mesoscale Discussions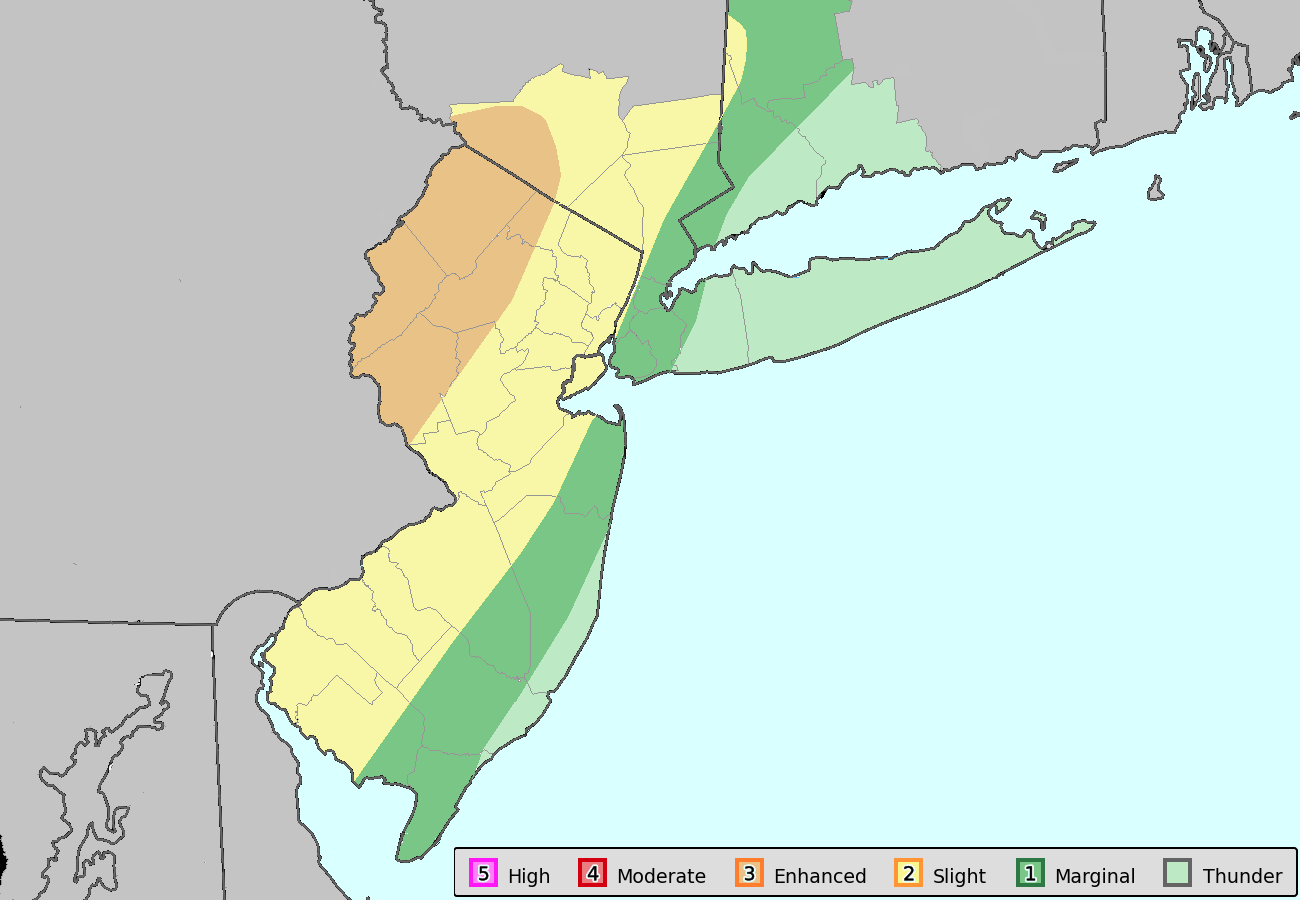 Thunder:

Islip (NY), Riverhead (NY), New Haven (CT)
Marginal:

New York City (NY), Vineland (NJ), White Plains (NY), Danbury (CT)
Slight:

Camden (NJ), Trenton (NJ), Newark (NJ),  Monroe (NY)
Enhanced:
 Belvidere (NJ), Phillipsburg (NJ), Milford (NJ)
Moderate: None
High: None
Severe Weather Outlook
Example Date, 2014
Severe weather anticipated throughout much of New Jersey today.
A strong upper level system moving through the Great Lakes will bring an enhanced likelihood of severe weather to much of the region later today into tonight. As a cold front moves through Central and Eastern Pennsylvania later this afternoon, moderate instability (which will develop as a result of diurnal heating) coupled with sufficient forcing for ascent will aid in the development of convection. As this occurs, storms will shift eastward toward Western NJ by around 3-4pm.
Of primary concern regarding the severe weather threat is the degree of storm organization. Short term forecast models indicate 0-6km shear only 20-25 knots and low level shear quite weak. As a result, with marginal wind fields, storms are not likely to organize into any MCS this afternoon. Instead, multicellular clusters are expected as the storms move toward Western NJ. Here, relatively cool air aloft and increasing instability will likely lead to the threat for strong winds and small hail in any stronger updrafts.
Nearer to the coast, southeasterly winds are likely to keep instability a bit more elevated. With frontal timing a bit slow for coastal convection, muti-cellular clusters are expected to move toward the NYC/PHL Metro Areas near or slightly after the PM Commute. But the already less unstable air near the coast, coupled with decreasing instability with the loss of daytime heating — as well as generally marginal wind fields mitigating organized convection — suggests the threat for severe weather will be much lower near the coast.
Nevertheless, thunderstorms (albeit not severe) are expected to clear the coast by later tonight as the front sweeps seaward.
JH