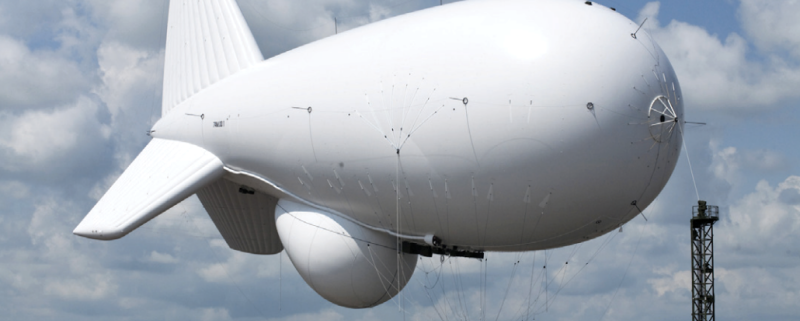 A military aerostat (being commonly referred to as a blimp) tethered at a military facility in Maryland broke loose on Wednesday. The aircraft then floated over Pennsylvania, and was last spotted near Bloomsburg.
The craft detached from its moorings at Aberdeen Proving Ground around noon on Wednesday afternoon, and was immediately being tracked by authorities. But the blimp then started to drift north/northeastward into Pennsylvania. Authorities warned that "anyone who sees the aerostat is advised to contact 911 immediately".
Update: 3:38pm: The blimp is on the ground north of Bloomsburg, per NORAD
Local law enforcement have surrounded the #blimp and are attempting to secure the scene @wbaltv11

— Kim Dacey WBAL (@kimdaceywbal) October 28, 2015
Update 3:33pm: Officials report the blimp is on the ground in Bloomsburg
#BLIMPDOWN: Military blimp on ground near #Bloomsburg #Pennsylvania – https://t.co/9VLaOXdNDM #blimp pic.twitter.com/9aSHviU24Y

— WGAL (@WGAL) October 28, 2015
Updates 3:23pm: The blimp is losing altitude in Pennsylvania and dragging cables on property:
Drag line on property near Bloomsburg, PA. Witness says he saw blimp cable dragging near his home. pic.twitter.com/g30HY5iclC

— Andy Mehalshick (@AndyMehalshick) October 28, 2015
Two F-16 Fighter Jets scrambled from New Jersey's National Guard Base to monitor the aircraft.
Aerostats are not, by definition, blimps. They are basically "big baloons on strings" according to the Washington Post. Also used in Iraq and the Middle East for monitoring movements, not even a rifle shot through an aerostat will bring it down due to the pressure of helium inside, which nearly matches the pressure of air.
The aerostat is flying through atmospheric conditions which feature impressive dynamics and synoptic lift. The blimp was last spotted near Bloomsburg, PA, where power outages were reported and university classes were canceled.
More information will be provided ASAP.
Comments
comments
https://www.nymetroweather.com/wp-content/uploads/2015/10/blimp.png
520
800
John Homenuk
https://www.nymetroweather.com/wp-content/uploads/2017/04/oldlogo.png
John Homenuk
2015-10-28 15:24:10
2015-10-28 15:39:52
Military blimp detaches from tether, drifts over PA