A large deep low, which has been producing some severe weather and tornadoes over parts of Deep South over past few days, will be heading northward into Eastern Ohio Valley today. This storm will send a cold front northward through the Mid-Atlantic region this afternoon and evening.
Ahead of this front, positive vorticity advection, strong jet streak forcing and instability will be increasing. A convective or forced squall line is likely to develop over Central Pennsylvania southward into Virgina, with torrential downpours and gusty winds  near the low. Further south there is potential for more severe weather and tornadoes with greater instability. The Storm Prediction Center has issued large area of enhanced and moderate risks for parts of Virgina North Carolina, with slight and marginal risks further up and down the East Coast.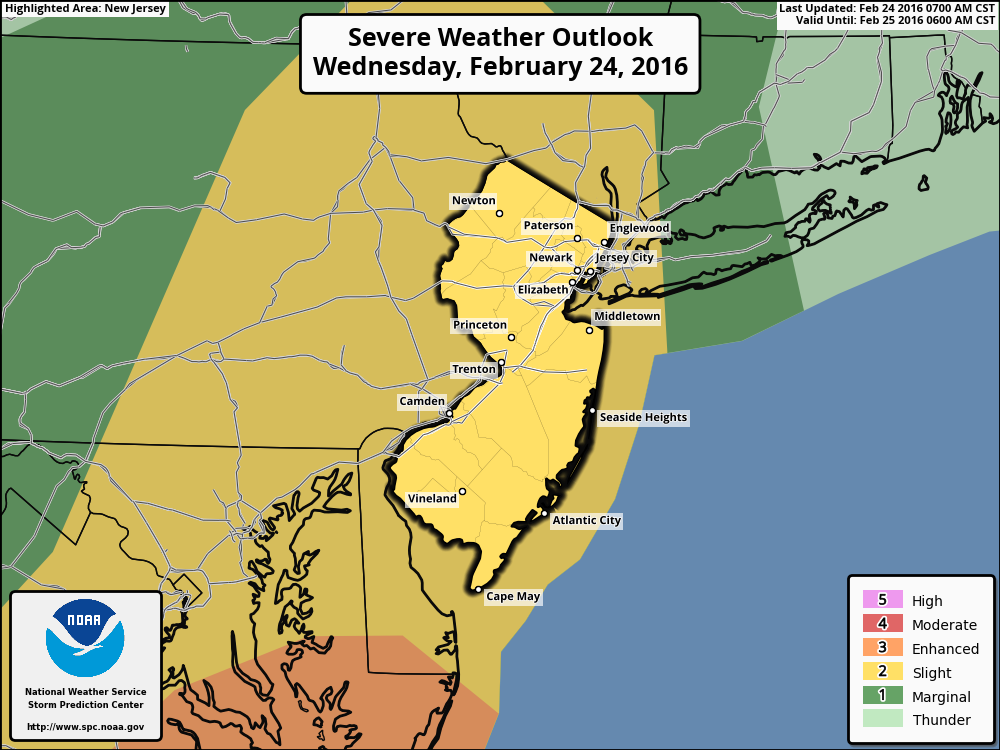 For our region, a warm front will push northward through region with more rain, possibly heavy, this afternoon and early evening. Then the squall line will likely move quickly eastward and enter the NJ and NYC area sometime tonight. This line of thunderstorms, aided by 500mb southerly jet strengthening to 100kts+ over region, with precipitable water values near 1.50″. could produce drenching/torrential downpours over short periods of time — leading to flooding in low lying and poor drainage areas. Severe weather is unlikely here with lack of surface-based instability. A stout inversion should prevent low-level jet with 925mb winds near 80kts, from mixing largely down to surface, as well.
However there are some winds 45kt to 55kt 975mb winds just underneath this inversion on NAM and GFS model soundings. Modest levels MUCAPE, steep mid-level lapse, high total totals, negative showalter index values indicate marginal to moderate elevated instability. So elevated convection or thunderstorms are possible tonight. Thunderstorms may be able to bring down winds beneath the inversion more easily, resulting in winds gusts possibly over 50mph in some locations. Also with dry air in middle-levels some small hail is possible with these storms.
Southeast winds 20-35mph with gust to near 45mph outside of convection are also likely for areas, near the shore tonight. Due to the pressure gradient and warmer airmass. The National Weather Service has issued a wind advisory for coastal areas. These winds are coinciding with the full moon cycle and can cause at least some minor coastal flooding during high tide early tonight along the south-facing shores of  Long Island and New York Harbor and the New Jersey shore.
Behind the storm on Thursday, clouds may break for some sunshine during the day. A deep mixed layer up to 850mb may cause winds to gust between 30mph and 40mph. An upper-level low and secondary cold front swing across the area could bring some rain or wet snow showers later in day or evening. Especially north and west of NYC.
Comments
comments
https://www.nymetroweather.com/wp-content/uploads/2016/02/Screen-Shot-2016-02-24-at-8.10.15-AM.png
351
825
Miguel Pierre
https://www.nymetroweather.com/wp-content/uploads/2017/04/oldlogo.png
Miguel Pierre
2016-02-24 09:00:48
2016-02-24 08:12:21
Heavy rainfall, thunderstorms, gusty winds possible tonight