Over the past several months, our forecasters have monitored several extremely important variables, indices, and the trends in their behavior. We will be utilizing those variables and indices throughout our summer forecast. These variables reflect the atmospheric circulation patterns for certain geographical areas. For example, the AO refers to patterns within the Arctic Circle. The NAO refers to pattern characteristics in the North Atlantic, the PNA in the western part of North America, the PDO in the Pacific Ocean, and the EPO in the Northern and Eastern Pacific Ocean.
Typically, negative AO, NAO and EPO values correlate to enhanced high latitude blocking and high pressure to our north while lower pressure areas and troughs usually form underneath that high latitude ridging in the middle latitudes. In contrast, positive AO, NAO and EPO values generally yield lower pressure and less blocking to our north, while higher pressure and more ridging tends to build into the middle latitudes.
Seasonal Forecasting Brief
Seasonal forecasting is one of the most misunderstood aspects of meteorology. Not only is it a difficult task for the meteorologists themselves, but it is often difficult for readers and public viewers to understand the nature of the forecast. This is not anyone's fault, instead it is often a miscommunication issue between the forecast itself and the uncertainties that lie within. The root of the problem lies in the fact that seasonal forecasting is based on many different methods — all of which have tremendous variability and low percentage verification. Seasonal forecasting begins with an analysis of current conditions and atmospheric circulations, similar to any daily forecast. Beyond this point, forecasters use variables such as sea surface temperature anomalies, analogs, and comparative methodology.
Some forecasters have detailed the mentality very well when they have stated that long term forecasting is very much about "What can go wrong" as opposed to "How will my forecast be correct". Our job as meteorologists is to detail the aspects that have formed the foundation for our forecast, express our concerns and confidence in all aspects, and deliver the ideas which we have formulated as a result of our research and work in attempting to understand the patterns evolution over the next several months.
We will begin by highlighting several variables which we have researched. Each variable will be listed with a conclusion and prediction on its state during the winter, as well as the methodology and reasoning behind that forecast.
El Nino Southern Oscillation (ENSO)
Prediction: High likelihood of weak to moderate La Nina conditions
We are currently in the midst of a transition from a very strong, record breaking El Nino event to a La Nina event throughout the tropical Pacific. Cooler sea surface temperature anomalies have been observed in many Nino regions of the Pacific. Weekly SST departure data from the Climate Prediction Center as of May 25th, 2016 shows that regions 3.4 and 3.0 have trended into the low-negative anomaly territory. The 30-day moving SOI values have risen into low-positive territory as well. All of this suggests that neutral ENSO conditions are present throughout the tropical pacific.
Meanwhile, a strongly positive Pacific Decadal Oscillation (+PDO) continues. Warm SST anomalies are persisting in the Gulf of Alaska and along the United States' west coast to Baja California. PDO values from both JISAO and ERSST have risen from their values in the winter to above +2.00 and +1.00 respectively.
The state of both ENSO and the PDO will play a tremendous role in the atmospheric pattern evolution during the upcoming summer months. Both of these are significant drivers in the hemispheric pattern which eventually can be attributed to the sensible weather that we experience. Forecast models, however, have not offered a tremendous amount of confidence moving forward.
The NMME forecast model suggests that a Moderate to Strong La Nina will develop, coinciding with a strongly +PDO this summer. Other forecast models, such as the ECMWF and CANSIPS, only show weak La Nina conditions developing over the next few months.
+PDO and decaying moderate to strong Nino events
With all of this in mind, it is important to look at prior years with similar occurrences; essentially analogs that can offer some clues into how the pattern will behave. To take it a step further, it is important to look at summers that had moderate or strong El Nino events during the prior winter, and then decayed or transitioned to a La Nina later in the summer, with a +PDO in place.
The overall trend was clear: The summer begins cooler, but transitions warmer in late June through July and continues to remain warm in August. Precipitation was generally near to slightly above normal in each month.
In analyzing these analogs, it is important to use PDO values from both above listed sources (JISAO and ERSST). As a note, The summer of 1988 was included despite its slightly -PDO reading. Despite the -PDO, that year had the closest SSTA match to the current year. This was the full list of analogs that we used and how their composites turned out for each of their summer months: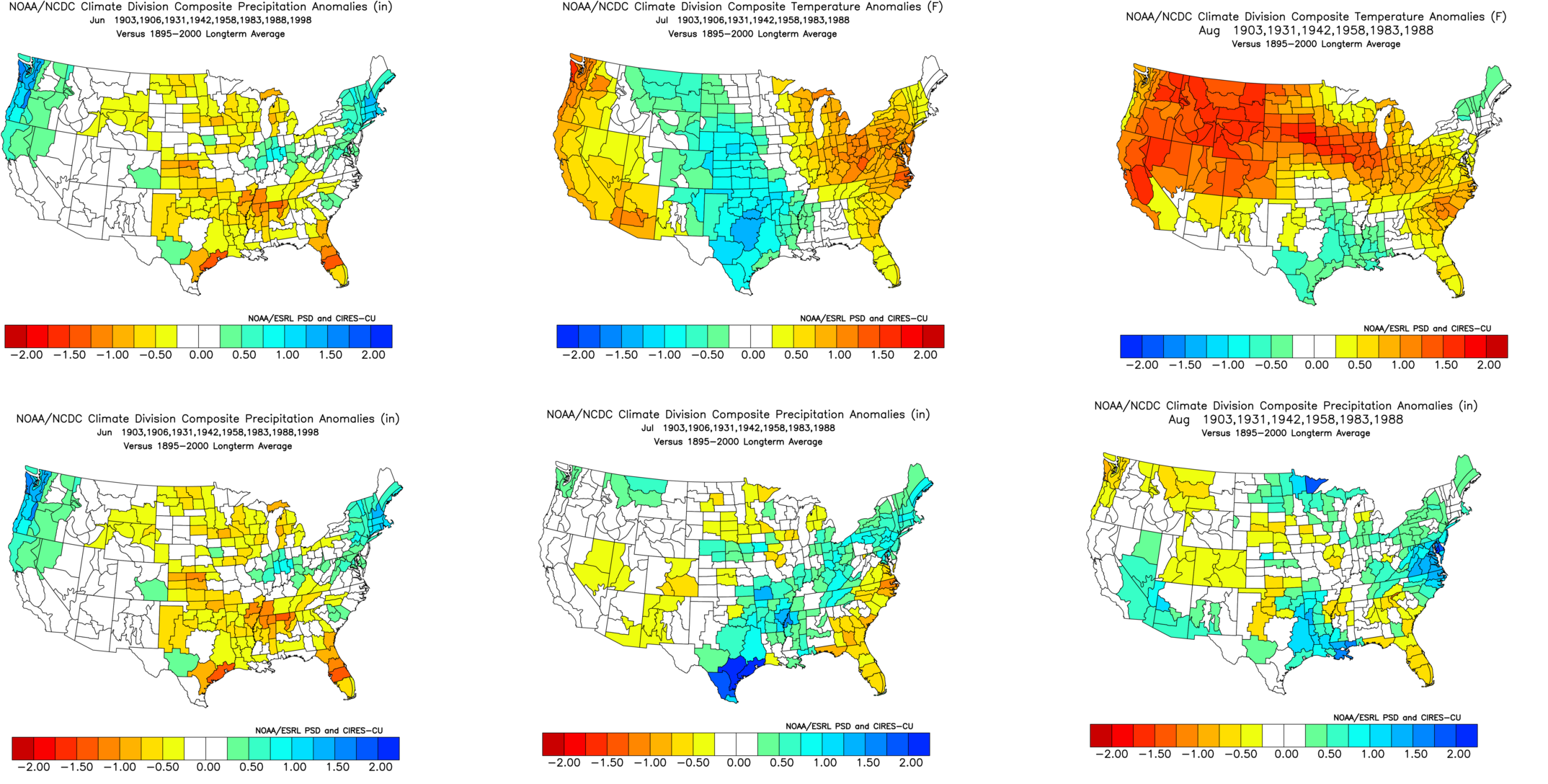 Here is the list of the same analogs at 500mb: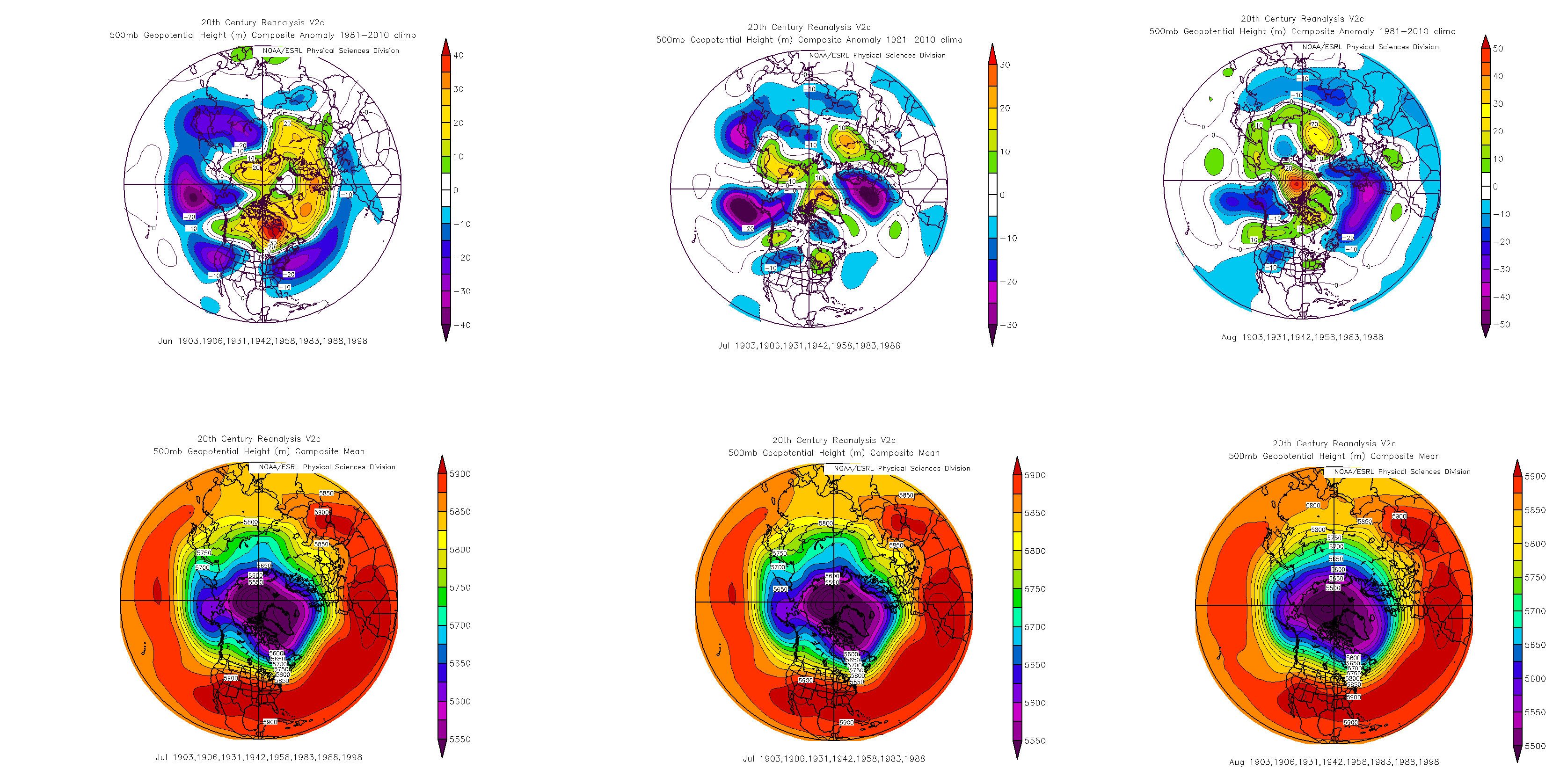 The analogs paint a pretty well-defined picture: a slightly below average June, an above average July, and a near average August. Precipitation was generally near to slightly above average in each month.
Now, we cannot use analogs verbatim, as there are plenty of other factors besides analogs that go into a forecast. Essentially, long range forecasting is much more complex than simply looking at similar past events and picking one out as the most likely evolution this year. Nevertheless, our overall thoughts fit in with some of the analogs quite well, including the evolution into the aforementioned La Nina and + PDO pattern.
Still, while the atmosphere is still transitioning to a La Nina, it is too early for it to have much influence on the pattern in the near-term. Thus, the PDO should have a bigger role to start the summer. The big +PDO can often lead to troughs in the East, as discussed earlier, and this will be especially prevalent if the ENSO conditions are not overly strong or controlling on the hemispheric weather pattern, leading to a cooler than normal June in our area.
It is the later months of summer where confidence begins to wane a bit in regards to the tug of war between ENSO and PDO influences in our area. A stronger La Nina development in July, or at least one that becomes more well defined, will have a more notable impact on the pattern. More ridging is expected to develop along the East coast, helping temperatures to average near normal or slightly above normal. This fits well into our analog set.
Things become inherently more complicated in August. The tug of war between the +PDO and ENSO state becomes extremely difficult to forecast at this point, but a warmer source region for incoming airmasses, despite +PDO, and especially considering the La Nina/ENSO state, suggests that temperatures should average slightly above normal despite the presence of troughiness in the Northeast US.
Madden-Julien Oscillation/Tropical Forcing (MJO)
Prediction: Significant variability and effects on sensible weather
Observations and forecast data suggest that the MJO is likely to trend toward a more active state over the next few months, especially with warmer sea-surface temperatures over the Eastern Indian Ocean and Western Pacific during the neutral ENSO state in the tropical Pacific.
Forecast models, as of late May, show positive 200mb velocity anomalies over parts of the Western Hemisphere and Africa to begin the month of June. This suggests troughiness and cooler/wetter conditions will exist throughout the Eastern US. This is strongly supported by the mid and upper level atmospheric evolution throughout the Pacific and the Bering Sea.
Sometime after this MJO wave passes through the Western Hemisphere and Africa, a moderating temperature trend is expected sometime later in the month of June — as zonal heights and eventually ridging return to the Eastern United States. The latest CFS continues to suggest that tropical forcing will return in the Indian Ocean toward the end of June and early July.
While modeling at this range is not always reliable, such an event would correlate with the pattern of warmer sea-surface temperatures over this region.
The forecast becomes uncertain thereafter. Tropical forcing could propagate again during the month of July, especially if the La Nina remains more weak or toward neutral. This would suggest the return of troughiness and cooler weather to the Northeast US. On the contrary, a stronger La Nina would aid in tropical forcing remaining over the Indian Ocean or Western Pacific, aiding in the development of more ridges and heat waves in July and August. The way in which tropical forcing behaves and propagates will have huge impacts on the sensible weather that our area experiences — and its behavior ties together with the ENSO state moving forward.
The tropical forcing could propagate again during July, if ENSO remains neutral or there is a very weak La Nina, at this stage. If this happens, more troughs could return for the Northeast US in July. On the other hand, the tropical forcing could remain over the Indian Ocean or the Western Pacific, if La Nina conditions are stronger in the Pacific. This would support more ridging over the Southeast US, with more heat waves in July and August.
North Atlantic Oscillation/Arctic Oscillation (NAO/AO)
Prediction: Significant variability and low confidence forecast
The AO and NAO are typically the hardest teleconnections to predict. Generally a negative phase of the AO/NAO alone is known to have far less impact on the cooler side of normal during the summer months. However, if there is a connection or bridge between the -EPO/+PNA  and -AO/-NAO patterns — particularly over the Northern Hudson Bay region — this could lead to troughiness and anomalously negative 500mb heights with surface temperatures somewhat below normal over the Eastern US this summer.
To find any spring pattern correlations with the -AO/NAO, we researched several years with April AO values near -1.00 or greater, as observed in April of 2016. Then we looked at the summer months that followed. We found a mean of these analogs for the entire meteorological summer has a positive AO/NAO pattern on average at 500mb — an inverse correlation.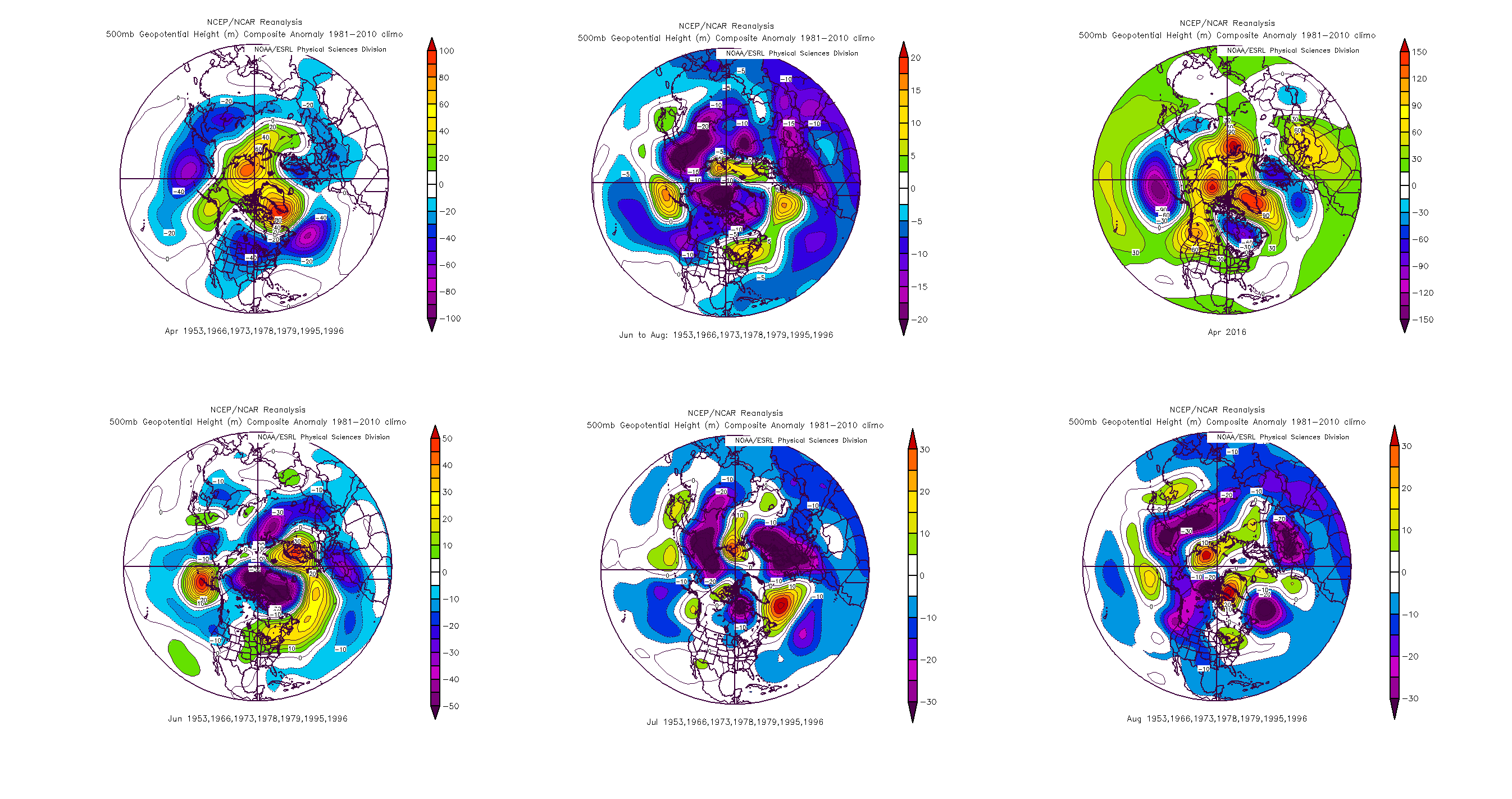 However, this may be somewhat skewed by more negative 500mb mean anomalies over the North Pole and Greenland in June, which goes against what is shown in the +PDO and decaying moderate-strong El Nino analogs. A breakdown of each month suggests a –AO/NAO pattern in August, after a +AO/NAO pattern in June and July. This could be interesting because if we do develop a -AO/NAO, that ridging could "bridge" with the strong +PDO/+PNA/-EPO ridging to the west, leading to cooler conditions. This further adds to the uncertainty in August.
The QBO likely oscillating back into the negative phase this summer may be also be a contributing factor in the -AO/NAO pattern. The +PDO and decaying moderate to very strong El Nino analog years with the closest trend to the -QBO this spring and summer was 1958. That year had a strong -AO/NAO pattern for the summer. However, the El Nino didn't transition to La Nina conditions in the Pacific during this year — they stayed at positive neutral or weak El Nino conditions for the whole summer and fall, something we do not expect to happen. So we believe — even with -AO/NAO — we will likely have a stronger Southeast ridge with warmer than average temperatures for July and August this year than in 1958.
When observing sea-surface temperatures in the North Atlantic, we can also find some clues to what the NAO pattern may be over the summer. Cooler than average sea-surface temperatures with the Labrador current suggest a west-based -NAO and troughiness over Southeast Canada will be profound during this summer.
Summary and Closing Statements
Temperature
Without any further delay, we are anticipating this summer to be close to a typical summer for the New York City Metro region, especially in regards to temperature. June will start off cooler than average, but we anticipate surges of heat and humidity that could last up to several days from the end of the month into July. July will likely be the summer's hottest month, with the potential for one or two heat waves. August presents uncertainty, with a tendency for cooler troughs to return, but temperatures are still expected to average slightly above normal.
Most of the extreme heat, including the much above normal departures and sustained heat waves, is expected to remain to our west — actually quite far to our west over the Midwest and Plains states.
Precipitation
Decaying moderate to strong El Nino and +PDO analogs show above normal precipitation is likely in our area this summer each month. With the MJO/tropical forcing in the Western Hemisphere during the month of June, we favor above normal precipitation for much of the Northeast. Average to slightly above average precipitation is again anticipated during the months of July and August.
Periods of wetter weather are, obviously, expected during periods of increased troughiness. Drier weather is possible for stretches of time, as well, especially during periods of more sustained heat in July.
Convection
A more active convective season than normal is anticipated from the latter half of June onward, with the +PDO/-EPO/+PNA pattern aiding in troughs swinging through the Great Lakes and Northeast, and into an unstable airmass. Ridges building to our south could act as "highways" with convection riding along their northern periphery into our area.
Troughiness and confluence to our northeast, at times, could cause marine air and backdoor fronts to keep coastal locations (especially east of New York City, on Long Island and in New England) more stable. But these effects are mitigated in August when the ocean waters trend much warmer. Overall, the convective season in our area is expected to finish slightly above normal in terms of activity.
Uncertainties and Unknown Factors
While confidence is high in terms of the evolution of the summer pattern, seasonal forecasting presents plenty of unknowns and certain variables may have a significant impact on the forecast moving forward. To present this uncertainty in an understandable way, we have elaborated on what would need to occur to cause the forecast to trend in either direction from our current anticipated evolution.
Why a cooler summer may still occur
If La Nina conditions take longer to be established over the summer, then the strong +PDO, propagating MJO, and any -AO/NAO patterns will have more influence on the atmospheric pattern. This would likely lead to more cooler than average temperatures and above normal precipitation for the summer overall. In particular, -AO/NAO Aprils seemed to favor a -AO/NAO August, which may be able to bridge with the +PDO/+PNA/-EPO-induced ridging to the west, causing lots of high-latitude blocking and thus more troughs in the Northeast.
Why a hotter or drier summer may still occur
If we see more moderate to strong La Nina conditions in the Pacific by July/August then we will likely see more tropical forcing over the Eastern Indian Ocean or Western Pacific. This will lead to more Southeast US ridging with warmer than average temperatures and below normal precipitation for the summer overall. Given the current trends with the cooling in Nino regions and the SOI rising, this scenario seems to have a slightly higher probability of occurrence than a cooler than normal summer overall.
Overall Breakdown and Numbers
June 2016
Temperatures: Below Average (0 to -1)
Precipitation: Above Average
July 2016
Temperature: Above Average (+1 to +3)
Precipitation: Average
August 2016
Temperatures: Slightly Above Average (0 to +1)
Precipitation: Average
Forecast written, researched, and compiled by John Homenuk, Miguel Pierre, and Doug Simonian. 
Comments
comments
https://www.nymetroweather.com/wp-content/uploads/2016/06/Screen-Shot-2016-06-03-at-8.50.13-AM.png
290
940
John Homenuk
https://www.nymetroweather.com/wp-content/uploads/2017/04/oldlogo.png
John Homenuk
2016-06-03 09:08:35
2016-08-01 21:27:02
2016 Summer Forecast