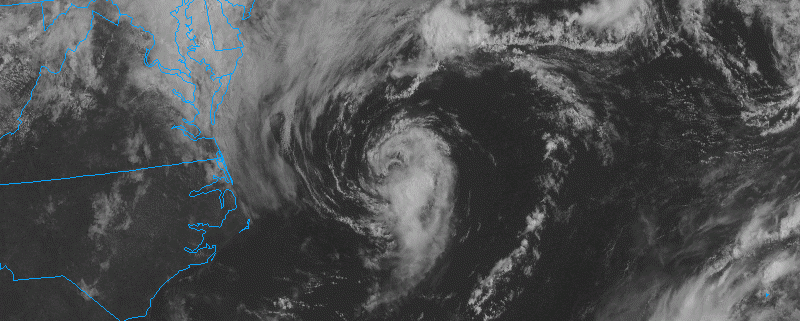 More unsettled weather is likely today. A couple of upper-level disturbances embedded a inside larger trough, will be moving through region today. Skies will remain mostly cloudy with some scattered showers. A few isolated thunderstorms with heavy rainfall are also possible, especially northwest of New York City. Closer to the coast, a more stable marine influence from onshore flow will cause any convection to weaken. A cold front is expected to move through the region early tonight, with more showers and few isolated thunderstorms possible again. Temperatures tonight will drop into the middle to upper 60s.
High pressure will be back in the region briefly with more sunshine on Saturday. More westerly winds will cause temperatures to warm back into the lower to middle 80s Saturday afternoon. Which is slightly above average for early June. It will be the best of day of the weekend for any outdoor activities. Dry weather should continue in Saturday evening with just some clouds increasing.
Our brief bout nice weather ends by Sunday. Low pressure organizing over the Great Lakes region with an amplifying upper-level trough, will cause a warm front to move across the region on late Saturday night and Sunday morning. Then a cold front will be move through region later Sunday afternoon and evening. A subtropical plume of moisture with large scale lift and elevated instability will lead to a couple rounds of showers and thunderstorms with these fronts moving through the region. Some showers or thunderstorms may produce very heavy rainfall and flash flooding in low-lying and poor-drainage areas.
Some strong or severe thunderstorms are  also possible on Sunday afternoon, with some instability along with strong shear, in the warm sector. The main threat from these thunderstorms will be for damaging wind gusts. However, most model guidance shows more stable marine influence with southeast winds off the ocean for New York City, Long Island and Northeast New Jersey for much of Sunday. If this correct, there will be lower and more isolated threat of strong or severe thunderstorms. Otherwise, clouds will likely dominate on Sunday with temperatures dependent on amount of sunshine.
Therefore, the Storm Prediction Center has places areas from New York City northeast under marginal for severe thunderstorms on Sunday. While areas further southwest down into Mid-Atlantic region are under a slight and enhanced risks with better chances of more instability. At this time, we think heavy rainfall will be bigger threat for much New York City metro region. We will continue monitoring this system for heavy rainfall and any severe weather though this weekend. Premium members can stay updated with more updates on our main hazard, severe weather dashboards.
The cold front will move through early Sunday night with any showers and thunderstorms tapering off. Fair weather should return on Monday with high temperatures returning to near average.
Comments
comments
https://www.nymetroweather.com/wp-content/uploads/2016/06/Visiblebonnie.png
600
800
Miguel Pierre
https://www.nymetroweather.com/wp-content/uploads/2017/04/oldlogo.png
Miguel Pierre
2016-06-03 10:30:43
2016-06-03 14:24:16
Unsettled Weather Today...Stormy Sunday Possible