The National Weather Service in Upton, NY has confirmed that straight-line wind damage, originating from a microburst, was the cause of significant but localized damage in Union County, NJ on Tuesday Night. A severe thunderstorm moving through the Watchung Mountains and into Union and Essex counties showed signs of rotation and strong winds on terminal doppler radar, but no evidence of a tornado has been found as of yet.
The line of showers and thunderstorms formed over parts of New Jersey on Tuesday evening in association with a frontal boundary, which was approaching the area from the west. A localized area of favorable instability and wind shear allowed the storms to briefly strengthen, despite the overall weakening trend which was being observed as storms were approaching the more stable air near the coastal plain.
As the storms crossed into Union County, the National Weather Service issued a Severe Thunderstorm Warning for much of Northeast New Jersey. Terminal doppler radar from Newark Airport showed a distinct area of stronger winds, with rotation and even a weak "couplet" noted on storm relative velocity data. These couplets indicate rotating wind columns in the atmosphere.
Again, rotation near New Providence with this storm. Strong winds also a threat. #njwx pic.twitter.com/vTPhBW5g6W

— NY Metro Weather (@nymetrowx) June 29, 2016
As the storm moved farther east/northeast, the rotation weakened, but the area of strong winds remained. The National Weather Service, unable to find evidence of a tornado, suggests that a microburst was the cause of the damage.
A microburst is a convective downdraft from a thunderstorm, or essentially, a sudden and powerful downward movement of air. Microbursts can cause extensive damage, especially over small/local areas. The winds from the microburst often then spread out to both sides of the area where the initial downdraft occurred.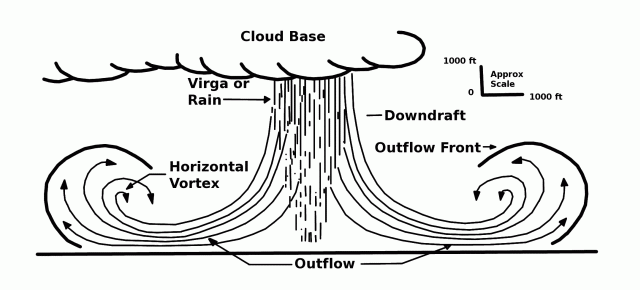 Interestingly, analysis of conditions as the storms moved in to New Jersey specifically showed an abnormally favorable environment for these particular downdrafts.
DCAPE, or Downward Convective Available Potential Energy, is the maximum energy available to a descending parcel of air. DCAPE values over 1000 j/kg are typically significant — and imply that the significant downward transport of strong winds is possible in thunderstorms. Analysis from Tuesday afternoon shows DCAPE values in excess of 1200j/kg over much of New Jersey — particularly over Northeast New Jersey where the downdraft occurred.
Pictures from the event, captured by the New Providence Police Department, show the extensive damage which includes structural damage on some buildings, a flipped car, and several downed trees. You can view the full gallery which they have posted to Facebook here.
Comments
comments
https://www.nymetroweather.com/wp-content/uploads/2016/06/Screen-Shot-2016-06-29-at-6.03.13-PM.png
349
935
John Homenuk
https://www.nymetroweather.com/wp-content/uploads/2017/04/oldlogo.png
John Homenuk
2016-06-29 18:05:21
2016-06-29 18:05:21
NWS confirms microburst in Union County on Tuesday