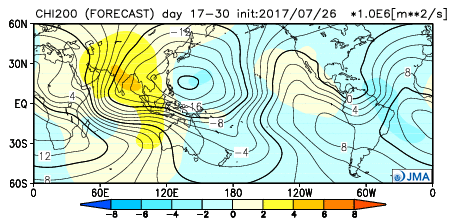 Late last week, we saw our second heat wave of the summer over many parts of the Northeast and Mid-Atlantic region. It may have appeared to some people, that may be we have turned the tide toward more hot and humid pattern for the rest of the summer. But this pattern much cooler and unsettled this week. Now there are increasing indications from several climate phenomena and long-range ensemble guidance of major pattern change now occurring over the Pacific Basin, that will support a cooler pattern, for the Northeast and Mid-Atlantic regions, at least the first couple weeks of August.
Overall Pattern
On the long-range ensemble guidance, the atmospheric pattern changes start out in the Pacific. A large trough will be over parts Southeast Asia and Western Pacific and in turn support a ridge near or just south of the Aleutian Islands and a large trough or upper-level low over more of the Gulf of Alaska and Northeast Pacific. This North Pacific pattern overall will continue to support more profound heat ridge in parts of the Western and Central US. More ridging over Greenland/Davis Strait will also result in a more negative NAO pattern. This entire pattern throughout the Western Hemisphere will on average support deeper troughiness in the Great Lakes and Ohio Valley and stronger Western Atlantic ridge to build over next couple weeks. But we do know ensembles and weeklies in general in the super long-ranges are less reliable. So what climate phenomena is potentially influence this pattern?
We're sorry! The rest of this post is restricted to members who have registered for our Premium Content.

(Already registered? Log In)
Premium Members gain unlimited access to all of these premium posts, technical discussions, long range outlooks, seasonal forecasts in advance, and storm re-analysis posts as well as archives and weather models.
…For only $9.99 a month! What are you waiting for?
Comments
comments
https://www.nymetroweather.com/wp-content/uploads/2017/07/JMAchirain500mbcrop.png
220
455
Miguel Pierre
https://www.nymetroweather.com/wp-content/uploads/2017/04/oldlogo.png
Miguel Pierre
2017-07-27 20:09:31
2017-07-27 20:09:31
Premium Long Range: A Look at the Western Hemispheric Pattern and Tropics in August