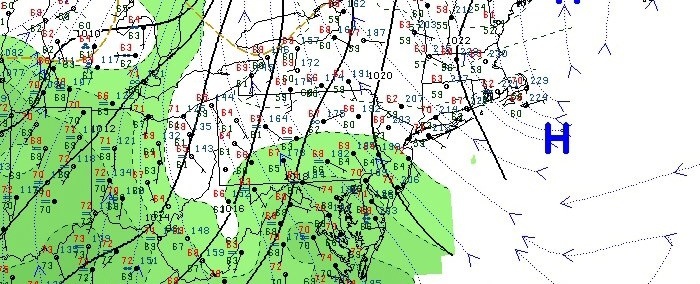 7 days into the month of August, and the general feeling in the air has been more autumn-like than anything else. How many times in the past several years have we been able to say that? Well, very few is the simple answer — Augusts have averaged much warmer and more humid than the first week of 2013's. That being said, these things have a funny way of balancing themselves out. "Climo (climatology) will always catch up" is the famous saying throughout meteorology. We'll see if it applies this month.
One thing is for sure, the low humidity and sun-filled weather of the past several days is on the way out. It's hard not to notice it already this Wednesday morning. The culprit? A high pressure system (the one responsible for the gorgeous weather) is slipping offshore. As a result, surface winds have turned southeasterly — off the ocean waters. Moisture will slowly increase over the next 12-24 hours. The rain may hold off until the evening on Wednesday, as the atmosphere still needs some work (namely more moisture content) to be able to produce precipitation.
By Thursday, the atmosphere will have moistened up – and an approaching warm front will provide isentropic lift and promote the development of showers and thunderstorms. Much of the same is expected through Friday, with precipitable water values approaching 2″ by Friday near and ahead of a cold front.
Some more pleasant weather is on the horizon this weekend behind the front, but we have a few days of cloudy and stormy conditions to get through before we can enjoy the warm sun once again.
Perseid's return to light up the night sky: The annual Perseid meteor shower returns over the next week – and stargazers will be excited to learn that this years shower once again looks promising. The shower actually began a few days ago, and will continue to increase in numbers each night until a peak between August 11th-13th. Clouds will obstruct any meteor viewing through Friday, but this weekend could offer some prime-time viewing. Stay tuned for more updates as the peak approaches!
Comments
comments
https://www.nymetroweather.com/wp-content/uploads/2017/04/oldlogo.png
0
0
John Homenuk
https://www.nymetroweather.com/wp-content/uploads/2017/04/oldlogo.png
John Homenuk
2013-08-07 10:09:30
2013-08-07 10:09:30
Unsettled weather, and the return of the Perseids