Ahead of an expected severe weather threat including the potential for strong winds, the Storm Prediction Center has issued a Tornado Watch this morning for all of New Jersey, Southeast New York and the NYC Metro Area. The Tornado Watch is in effect from 9:00 am this morning until 5:00pm this afternoon.  A tornado watch means conditions are are favorable for severe thunderstorms capable of producing tornadoes in and around the watch area. Although not immediately likely, a higher than normal chance exists for gusty winds and isolated tornadoes this afternoon.
Earlier this morning, our article discussed the potential for severe weather this afternoon. A strong cold front approaching a very warm and moist airmass will be the focal point for the development of storms. However, more importantly, strong shear exists in multiple levels of the atmosphere near the approaching cold front. This will aid in storm organization, and amplify concern for strong winds mixing down to the surface later today. Although not likely to be widespread, an additional threat may exist for isolated tornadoes within an expected line of strong to severe storms.
Stay tuned this afternoon to this post, which will be automatically updated by our forecasters. Additionally, we will relay all additional watches and warnings via social media accounts on Facebook and Twitter.
1:48pm Update: Severe Thunderstorm Warning for Western Orange County until 2:45pm. Latest radar imagery throughout the region shows the approaching line of strong thunderstorms.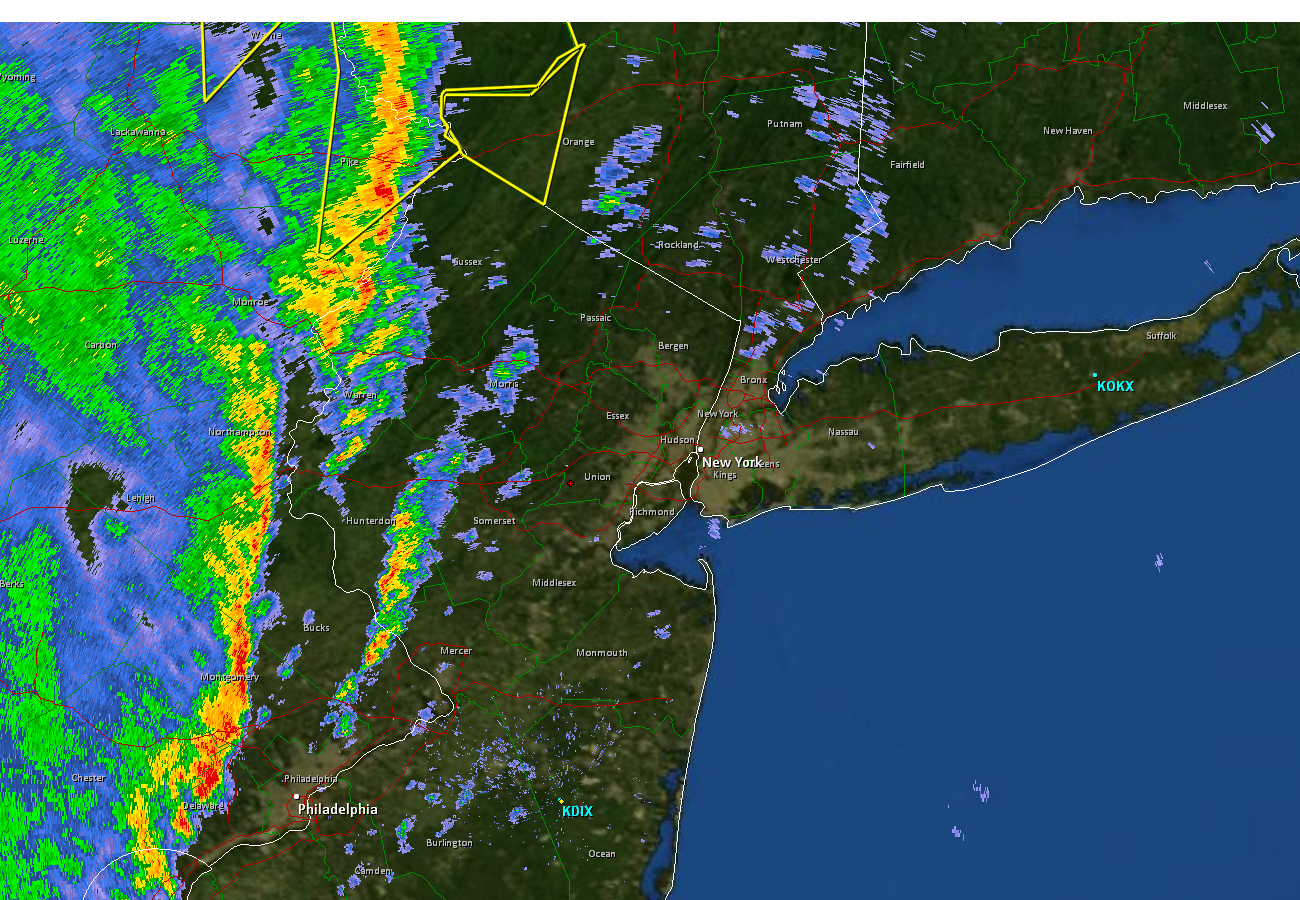 1:00pm Update: Tornado Watch remains in effect until 5:00pm. Winds are becoming gusty across much of NJ and NYC. The latest radar imagery shows storms strengthening and moving towards Western NJ. These storms will continue to shift east-northeast over the next few hours, and may produce strong winds and an isolated tornado.
11:00am Update: A line of thunderstorms continues to organize to our west over Pennsylvania and the Mid Atlantic states. Generally, cloud cover has hampered the development of stronger instability throughout our area so far. However, the high dew points and daytime heating will create a marginally unstable environment at the very least. Strong winds aloft will be capable of mixing down to the surface as the cold front and associated storms draw closer to the area this afternoon. Read more in the Storm Prediction Center's latest Mesoscale Discussion.
Comments
comments
https://www.nymetroweather.com/wp-content/uploads/2017/04/oldlogo.png
0
0
John Homenuk
https://www.nymetroweather.com/wp-content/uploads/2017/04/oldlogo.png
John Homenuk
2013-10-07 09:11:06
2013-10-07 13:50:54
Live Thread: Tornado Watch until 5pm