Update: The Storm Prediction Center has placed our area in a Slight Risk for severe thunderstorms today (Thursday). Stay tuned for further updates and information including a live blog post.
As a mid level disturbance moves toward the area on Thursday, a frontal boundary and convergence zone will shift near the area during the late morning to afternoon hours. The combination of the two, when juxtaposed with daytime heating and some instability, will lead to sufficient lift to develop thunderstorms during the afternoon hours. Accordingly, the Storm Prediction Center has placed parts of the area in a "Slight Risk" for severe thunderstorms.
The threat for strong to severe thunderstorms is likely to be focused west of the area beaches and shores, but heavy downpours and thunderstorms are still possible there. Farther west, over the interior parts of New Jersey and New York, more focused instability and southerly winds are more likely to work with marginally favorable wind fields to help develop thunderstorms. These storms will be capable of producing very heavy rain, frequent lightning and possibly even some small hail and gusty winds.
Most forecast models agree on an area of enhanced instability, centered over parts of New Jersey during the afternoon hours on Thursday. Most notably, during this time the wind direction near the coast and over much of Long Island and Connecticut shifts from southerly to east-southeasterly. This signals the influx of cooler, more stable marine air and a much lower likelihood of severe weather.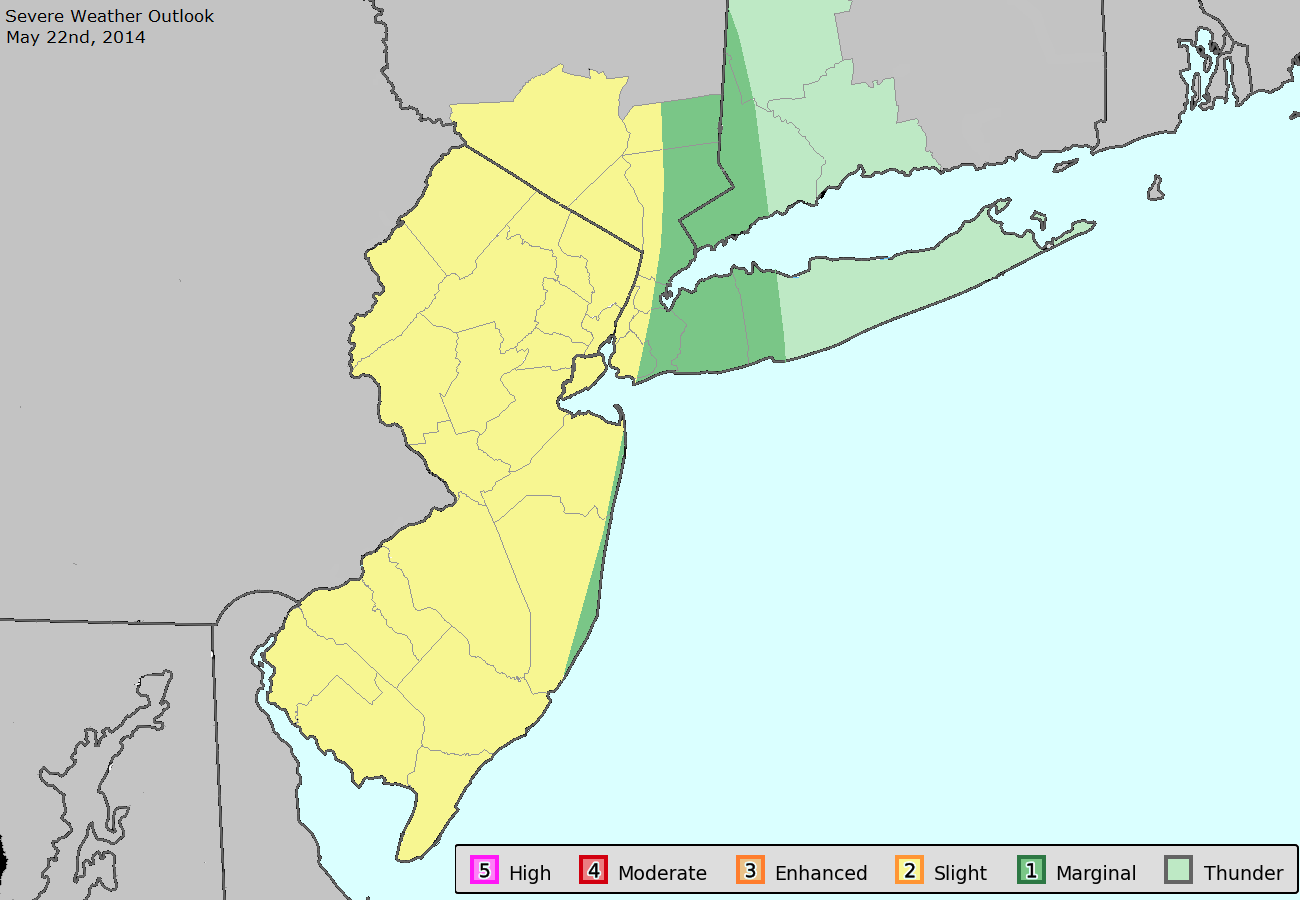 Near the more favorable instability, however, there are even some marginally favorable wind fields. This is important for the development of organized storms — which appears somewhat possible for a period of time during the afternoon. As thunderstorms develop over New Jersey they should drop southeast during the afternoon hours. Eventually, they will weaken and lessen in areal coverage as daytime heating is lost and the convergence zone sinks southward.
Stay tuned throughout the day on Thursday for updates and information including the issuance of any watches or warnings.
Comments
comments
https://www.nymetroweather.com/wp-content/uploads/2014/05/rad28.gif
819
1024
John Homenuk
https://www.nymetroweather.com/wp-content/uploads/2017/04/oldlogo.png
John Homenuk
2014-05-21 19:41:20
2014-05-22 07:00:30
Thunderstorms with gusty winds, downpours Thursday