Our forecasters have used and reference the HRRR model for a number of years now. You've likely seen it referenced in our posts, displayed on our graphics, and shared on our social media accounts. Our forecasters have used it for near-term forecasting, even in mesoscale events such as thunderstorms and heavy snow bands. Yesterday, NOAA finally let the HRRR out of its box with the model becoming officially operational. The model will run hourly on the NOAA server from now on, with faster graphic and product production. The model is expected to become a tremendous source of information not only for forecasters, but for hobbyists and public alike.
Known formerly as the High Resolution Rapid Refresh model, the model runs every hour and produces forecasts at 15 minute intervals, extending out to 15 hours. A tremendous amount of forecast products are produced, ranging from simulated radar to frontogenic forcing at multiple levels. The model also is a significant upgrade in resolution when compared to the more popular NAM model, and even increases resolution by four times over it's closest companion, the Rapid Refresh (RAP) model, which had been the NOAA's only hourly high resolution model running until yesterday.
The HRRR is a marvel of the National Weather Service and the model team's production. It is a tremendous effort, really, to increase local forecasting and according to NOAA "can predict individual thunderstorms". While we won't exactly be using it to predict rain down to your specific street, the details of how the model obtains its data brings to light an impressive effort. From our friends at Capital Weather Gang:
HRRR combines radar data with observations from ground-based weather stations, commercial aircraft, satellites and weather balloons to produce detailed forecasts for a variety of weather variables including simulated radar, severe weather indices, wind, clouds, and precipitation amount and type.  The county-scale forecasts produced by the HRRR help forecasters not only provide the general public with more accurate predictions of the timing, coverage and intensity of thunderstorms, but also alert air traffic managers and pilots about thunderstorms and turbulence.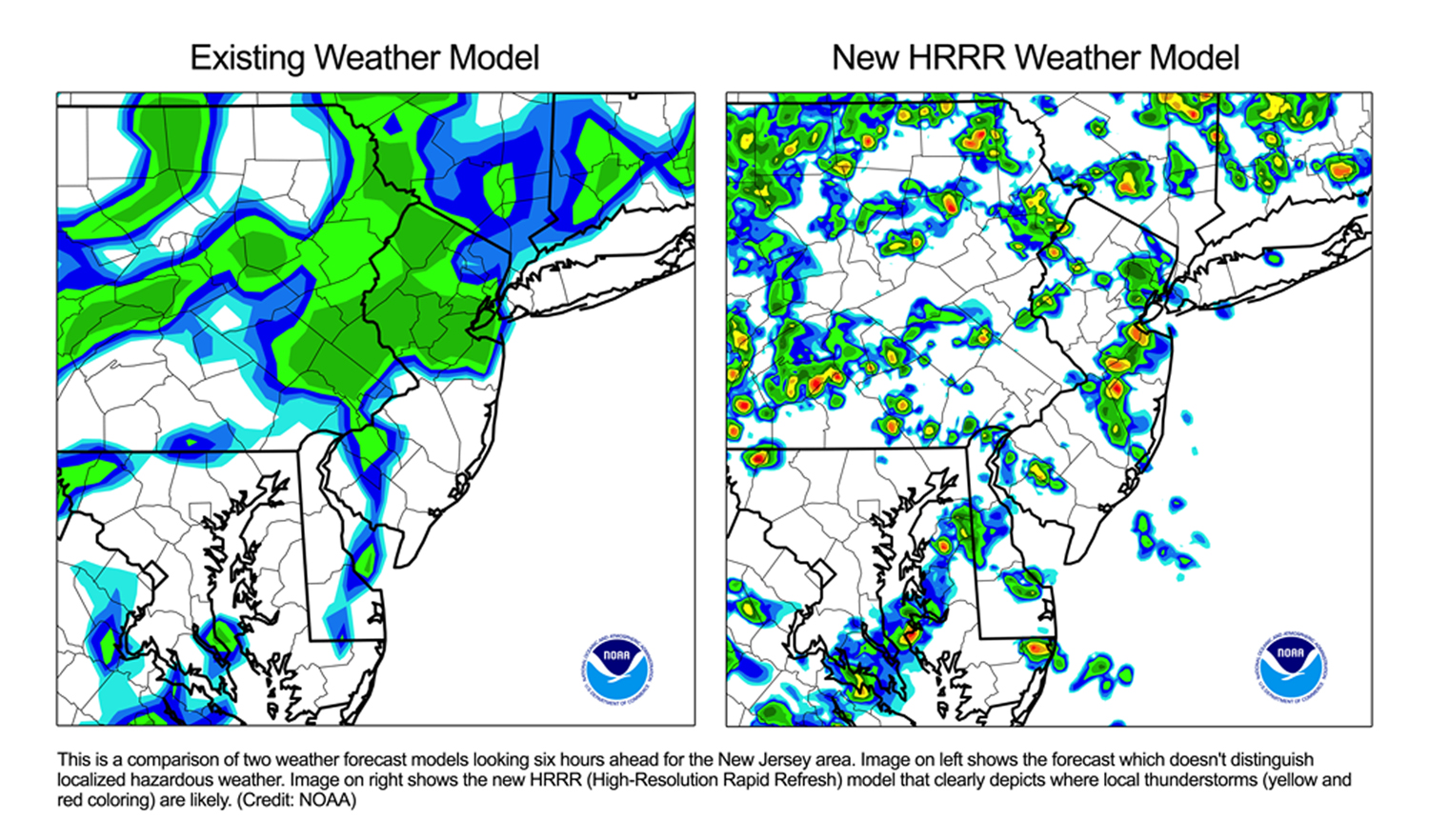 This winter, you will all but certainly begin to see more forecasters referencing the HRRR in their forecasts and graphics. But it is, of course, important to remember that the model is a short term forecasting model based off of many different variables. Like anything else, it will be prone to missed forecasts. As forecasters, it's our job to analyze the setup meteorologically and use the models as guidance.
It just so happens that now, we have some very high resolution and very valuable guidance added to our arsenal of tools to work with.
Comments
comments
https://www.nymetroweather.com/wp-content/uploads/2014/10/temp9.gif
819
1024
John Homenuk
https://www.nymetroweather.com/wp-content/uploads/2017/04/oldlogo.png
John Homenuk
2014-10-01 08:43:42
2014-10-01 08:43:42
HRRR model goes operational at NOAA