I think we're best to start off by saying this: Today is a really, really tough day for meteorologists. As everybody wakes up and steps to their window, they're going to be disappointed in the amount of snow that has fallen. The exception will be over interior Connecticut, Long Island and New England — where the Blizzard of 2015 did bring the anticipated snowfall accumulation. Elsewhere, disappointment will be widespread as snow totals only added up to those of a moderate to significant snowstorm. The prolific snowfall amounts, seeded somewhat by hype but then backed up by our best computer models just mere hours before the storm, did not and will not come to fruition. Which leaves us only with one question: What the hell happened?
Back on Sunday evening, in our post breaking down the potential event, we included this very important piece of information: " Very heavy snow will spread northwestward from the Western Atlantic to the NJ Coasts and Long Island by late Monday Night into the wee hours of Tuesday Morning. The westward extent of this precipitation shield is currently extremely uncertain — and will determine whether the storm is significant to major, or historic. In this heavy banding, snowfall rates of 2-4" per hour at times are likely."
Here's how everything shook down on Monday. First, a significant disturbance over the Southeast United States moved toward the Middle Atlantic Coast. As it did so, it helped to develop a low pressure system off the coast of the Carolinas. As this occurred, a more significant piece of energy from Canada dove southeast through the Ohio Valley and phased with this storm system. This allowed for explosive development of precipitation off the coast on Monday Night into Tuesday morning. The low pressure area deepened rapidly and began to move northward with prolific precipitation on Long Island and in New England.
However, this phase and "Capture" of the surface low occurred a few hours too late. Yes, a few hours. The surface low and associated mid level atmospheric features began to deepen just a few hours after most forecast models had indicated it would the day before. And yes, by most forecast models we also mean the Euro — the most accurate forecast model and the one which gets the most media attention. This meant that the heaviest snow bands were adjusted slightly Northeast of where we thought they would be.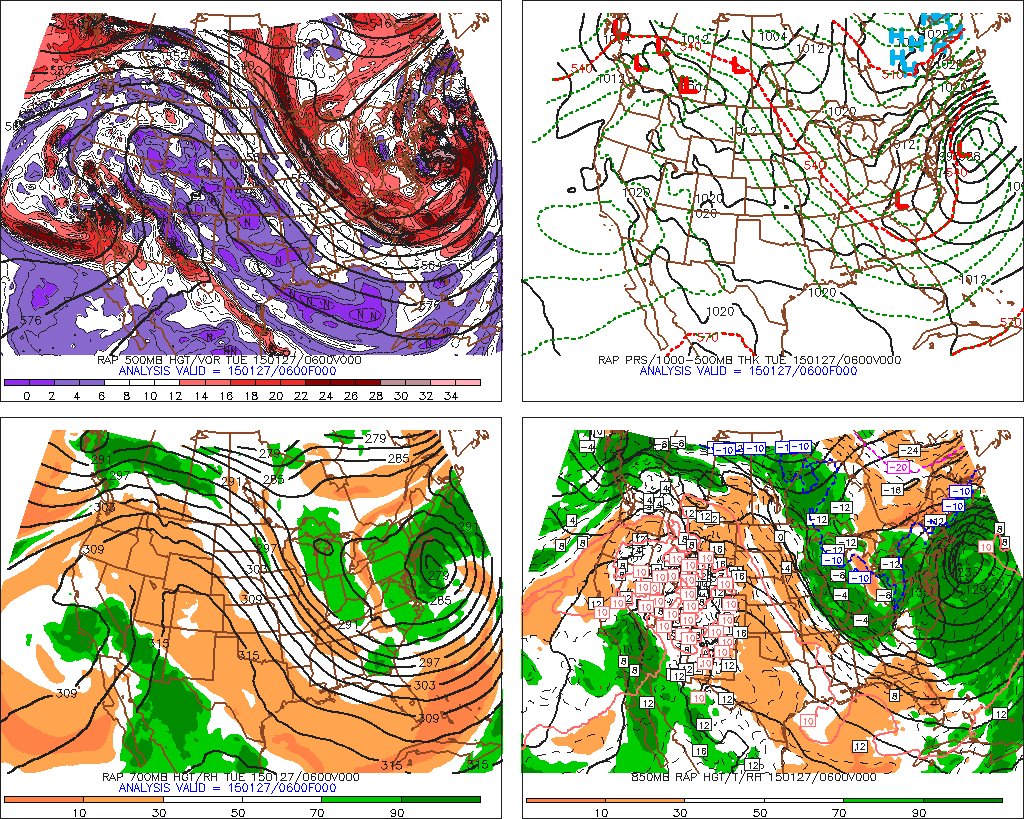 The result was a significant forecast adjustment. With these bands adjusted to the east/northeast of previous forecasts by 75-100 miles, we had a big problem. In short, within this bands — helping them form — are incredible areas of rising air. Strong lift produces very heavy precipitation and extreme snowfall rates underneath those bands which sat on Long Island. But physics says what goes up, must come down. And that means that on the east and west sides of these bands — specifically west in this case — there will be rapidly sinking air, or what we call subsidence.
Much of New Jersey and even New York City sat in subsidence on Monday Night into Tuesday morning as bands of very heavy snow brought intense snowfall rates to Connecticut, Long Island, and New England. The forecast adjustment of less than 100 miles had significantly altered the Blizzard of 2015. When you hear your local meteorologist say "Adjustments in the track by just a few miles could make a huge difference"…this is what they meant. And what we realized was occurring, last night, was a nightmare for forecasters and media due to the expectations which were abound.
As forecasters, however, it's also advantageous for us to explain what tools we were using to make this forecast.
As late as 8am on Monday, we were still confident that the storm was going to bring significant snowfall of 18″ or more to much of New York City, Long Island and Connecticut. This wasn't simply fantasy, and we weren't making numbers up. The most reliable forecast model, The Euro (or ECMWF) was still showing in excess of 2.5" liquid equivalent in New York City from Monday Night into Tuesday, with very heavy snow banding and intense blizzard conditions. It had been showing this solution for three days. Historically, when the Euro is locked in to a solution like that — it has to be given weight. The NAM (North American Forecast model), a particularly less consistent model, had also trended west Monday morning to agree with the Euro.
As forecasters, we were then comfortable with taking a forecast blend that considered 70% European model, and factored in 30% of the other less emphatic forecast models. This brought us to a forecast of 18-21″ in New York City with more to the east and less to the west. This was less prolific than the numbers being thrown out on the European, and featured room for error given the fact that other models, including the GFS (Global Forecast System) were farther east.
By 1:00pm on Monday, in its new afternoon model run, the Euro completely backed off from its prolific solution that it had been showing for 3+ days. It had realized, based on new initial conditions, that it was incorrect — and it adjusted the storm to the east/northeast. The reduced precipitation amounts in NYC and Long Island were alarming to us on the Euro Monday afternoon. But, the snow had already started. As forecasters, it is a very bad idea to change your forecast with individual model runs. And so we had to stick it out.
Yesterday afternoon, we tweeted a message of uncertainty to attempt to communicate with the public what we were experiencing as forecasters. By this time we had come to the understanding that the forecast was going to feature incredible snowfall gradients and that there was an increasing likelihood of a forecast "bust".
Want to be perfectly clear: We think bust potential with this storm is very high. NYC will be on fringe of heaviest snow. Confidence low.

— NY Metro Weather (@nymetrowx) January 26, 2015
No, we aren't trying to toot our own horn. But the idea that things weren't going to plan was becoming obvious as early as dinner time on Monday evening. Snow developed during the evening from east to west throughout Long Island and along the New Jersey shore. But very early, it became clear on radar that precipitation was having significant difficulty moving westward toward New York City. Sinking air was wreaking havoc as moisture and heavier bands tried to shift westward.
In New England, conversely, moderate to heavy snow was flying north/westward from the coast into interior Massachusetts and Connecticut. The storm had captured and phased at a perfect time for those areas. Over the next few hours we watched as bands of moderate snow shifted toward New York City and New Jersey, but generally struggled to maintain themselves within a less than ideal environment. As the surface low begin to move north/east up the Atlantic Coast, support for heavy snow bands waned even more — and the heaviest snow began to pull east/northeast toward New England and Long Island. It was clear that we had a forecast bust on our hands for many people in New Jersey, Southeast New York, and New York City.
As meteorologists, this event becomes both a disappointment and learning tool. We feel disappointed that we weren't able to provide you with a more accurate forecast. Computer models are fickle things, and it's important for us to use them as tools and not as a direct forecast. An old meteorology professor once told me "Meteorology, not modelology". This couldn't more true with this event.
One of the main things we take away from this event is the benefit of communicating uncertainty with the public when we issue a forecast. Instead of taking our snowfall forecast and owning it on all social media, we were better this time to speak about our uncertainties with the forecast moving forward.
As is the case with all snowfall or weather events that don't work out, we'll take some time today to reassess our forecast and look for ways to get better. We understand that most of you will be mad that the local weather man got it wrong once again. We hope you can understand that it's a bit more complicated than that.
We appreciate all of you who have followed us over the past few days and taken the time to read our forecasts. We hope you'll stick around for a while.
Comments
comments
https://www.nymetroweather.com/wp-content/uploads/2015/01/theheader3.png
250
730
John Homenuk
https://www.nymetroweather.com/wp-content/uploads/2017/04/oldlogo.png
John Homenuk
2015-01-27 09:50:10
2015-01-27 09:50:10
It's Tuesday Morning: What the hell happened?