Call us crazy. But we're heading up to Provincetown, the northern tip of Cape Cod, for the upcoming Nor'Easter this weekend into Presidents Day. And while this may seem somewhat insane to you given the degree of snowfall in New England and the predicted power of this Nor'Easter, look on the bright side: You'll get to experience the wrath of the Nor'Easter through our website. For us, this is likely to be the thrill of a lifetime. Don't worry — we're still fully staffed for the storm in New Jersey, New York City, and Long Island.
Forecast models are in good agreement on the track of the Nor'Easter — which will move from the Northeast States to a position off the coast of New Jersey and eventually southeast of Cape Cod and into the Gulf of Maine. Meanwhile, a mid level center will shift south of Long Island and Southeast of Cape Cod, with impressive mid and upper level dynamics driving the potential for heavy precipitation. Snow is expected to develop later Saturday and continue into Sunday, when it will be heavy at times.
600pm: We have arrived in Provincetown! Moderate snow is already bringing light accumulations and winds have picked up in the past 30-60 minutes. Things are still relatively calm for the time being. The HRRR model, however, insists that this won't last long! A band of very heavy snow is expected to move through the Cape during the latter portion of the evening. We're ready for it.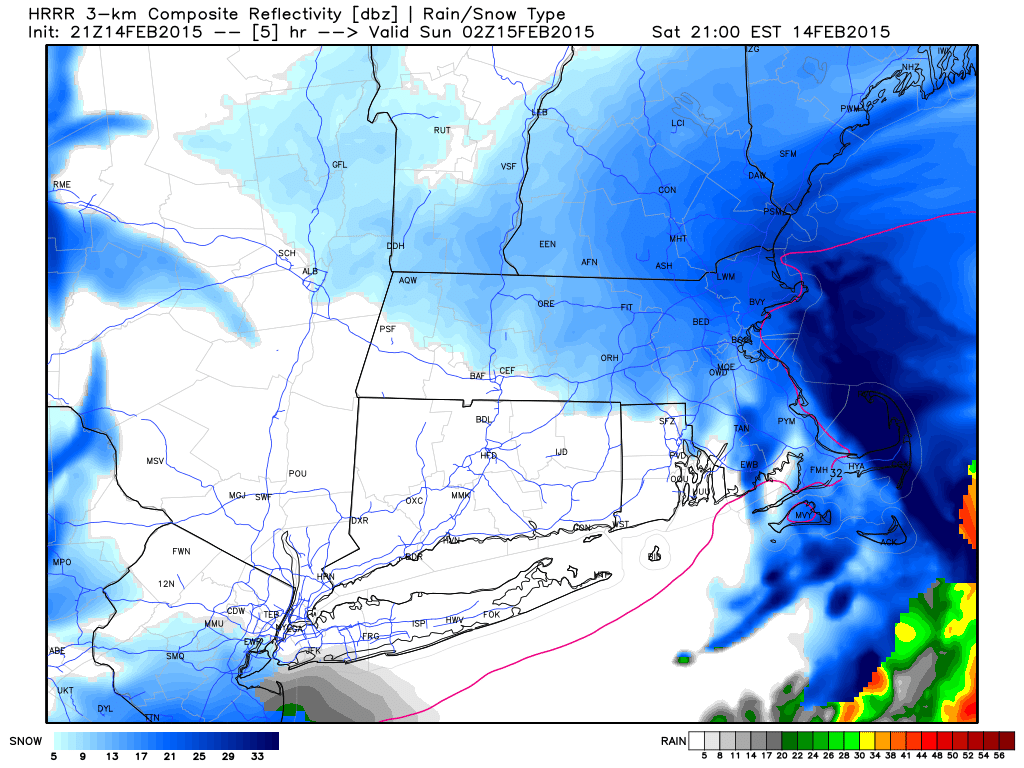 12:00pm: We have arrived in lovely Newport, RI (actually we arrived here last night) on our way up to Cape Cod!
Most of the forecast models maintain a status quo. We're expecting a burst of heavy snow tonight, a brief dry slot and then heavy snow and damaging winds Sunday morning. The new RGEM and GFS guidance are most aggressive with snowfall amounts.
More shortly!
Models are in good agreement on a moderate to heavy snowfall, but mOst notably: Severe winds with the potential for gusts over 80 miles per hour. As a strong mid and low level jet moves overhead, favorable atmospheric mixing could bring these winds down to the surface.
Don't worry, we'll be safe. We're taking all necessary precautions to stay away from danger. We're also working with our good friends at Cape Cod Weather to stay updated on the forecast while experiencing the Nor'Easter.
Over the next several hours and especially from Saturday into Sunday, we'll be updating this post with information and details on the conditions in Cape Cod. We hope you're as excited as we are!
6:09PM Friday 2/13: So far, the National Weather Service has issued a Blizzard Warning with their latest afternoon package. The warning text calls for 8 to 14 inches of new snow as well as wind gusts over 50 miles per hour at times.
If you're interested in following along with us, we'll start with the latest forecast from our friends at Cape Cod Weather:
Saturday: Sunshine giving way to increasing clouds. Flurries and light snow developing during the afternoon. Cold. Highs mostly in the 20s. Snow and wind looking likely at night. Check back for updates on the weekend forecast. A Blizzard Warning is posted.

Sunday: Cloudy, very windy and frigid with snow expected through the day – perhaps falling heavily at times. Blowing and drifting snow likely. Powerful north winds – perhaps damaging at times – expected throughout the day. Temperatures falling through the 10s. Blizzard Warning posted.
PS- Let us know what you want to see! We'll be trying to post as many pictures and videos as we can along the way.
Comments
comments
https://www.nymetroweather.com/wp-content/uploads/2015/02/windheader.png
253
748
John Homenuk
https://www.nymetroweather.com/wp-content/uploads/2017/04/oldlogo.png
John Homenuk
2015-02-13 18:14:30
2015-02-14 18:07:39
We're shipping up to...Provincetown