7:45pm: The band that was in PA weakened somewhat, but is still reaching the area. Some light snow is possible over the next hour or so, but it shouldn't accumulate more than a couple to a few tenths of an inch, at most. Some areas may only see a few flurries. Snow should be over for the whole area by 9:00pm, the latest.
This will be our second to last update; our last post will have some final snow totals across the area. It seems that NYC finished with around 8″ of snow, but we will await the final numbers.
5:50pm: As of 4:00pm, Central Park had 7″ of snow from this storm. Some moderate bands of snow have passed through since then, but snow is lightening up now.
The snow will continue to be light to perhaps very light for the next hour, but we are also watching one more band of snow in Eastern PA, which looks to be moderate to heavy. 700mb frontogenesis is pretty strong with this band, so it certainly has legs to give another 1-2″ for whoever gets in the band. The big question is how far east it moves, so we will be monitoring it.
2:45pm: As of 1:00pm, Central Park already had 5.5″ of snow, so they are easily over 6″ for this storm. La Guardia had 4″, but they just reported 2″ in the past hour! So they are probably also over 6″ for the storm.
There is a brief lull in the action in some spots as some subsidence has developed behind the banding. However, wave two is starting to strengthen, so snow should be filling back in. There won't be any more heavy snow, but rather light to moderate snow that still accumulates somewhat efficiently due to a high snow to liquid ratio. Another 2-3″ is expected in most locations before it tapers off around 7:00. Some localized areas, perhaps in parts of Long Island or Central and Southern New Jersey could pick up another 3-4″.
1:30pm: The heavy bands of snow have reached NYC and all of NE NJ, and the band actually strengthened in northern Long Island. Snowfall rates of 1-2″ per hour are occurring, with visibilities below 1/4 of a mile. Stay off the roads if you can!
1:00pm: Whiteout conditions are being reported in NE NJ with the very heavy band of snow that is slowly pressing SE. Near-whiteout conditions can be expected within the next half hour in most of the NYC area, Middlesex County, Union, Staten Island, and parts of Long Island as well.
12:40pm: Dry air is filtering in on the north side of the system, but this is actually enhancing the banding towards NYC, because of the "squeeze" play it creates and thus more lift. Most of N NJ, NYC, and Long Island are about to have their heaviest snowfall rates of the storm — some spots could get 1-2″/hr rates for an hour or two.
9:30am: After a brief lull in the action in parts of NYC, the snow has become heavier again. This is because the strongest lift from wave one moved north of the area, while wave two was still organizing, so there was a lull in between. But notice how how the radar has really filled in and increased in intensity over the past 10-20 minutes.
What's also important to note is that temperatures are falling quickly. This means that any main roads which were still only slushy will immediately become snow-covered. Temperatures have generally fallen below 30 degrees in most areas, and it was actually 28 in NYC at 9:00am. Any areas who are still above 30 degrees will fall into the upper 20s by 10:00am. This is consistent with the atmospheric profile becoming colder, which favors a finer, fluffier snow as opposed to the heavy wet snow. This snow tends to accumulate very efficiently. 6″+ of snow is likely in the heavier bands.
8:30am: Regional radar shows bands of heavy snow developing from Southeastern PA to Southern Long Island including Central New Jersey. These bands feature heavy snow and greatly reduced visibility. Deteriorating road conditions are occurring. Please travel carefully if you must.
These bands of heavy snow are expected to continue over the same areas over the next few hours — creating localized gradients of snowfall. Newer high resolution models indicate the potential for 4 to 6 inches of snow in many areas, with 6 or more inches in bands of heavier snow.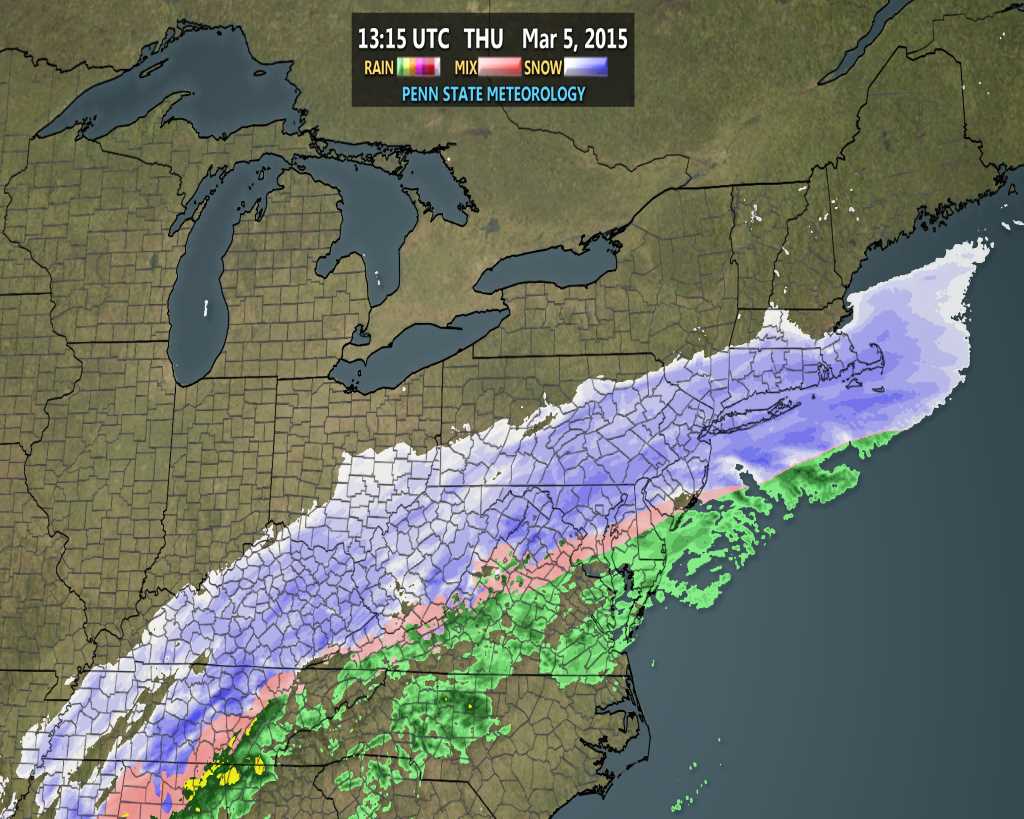 7:00am: Snow is falling throughout almost all of Northern NJ, NYC and SW CT this morning creating a very rough morning commute. The snow will be heavy at times through early afternoon. The transition from rain to heavy snow will continue to work southeast through the remaining parts of NJ. Forecast models are in good agreement that snow will continue today. The PM commute will likely be extremely rough as well — but we recommend staying off the roads if you can.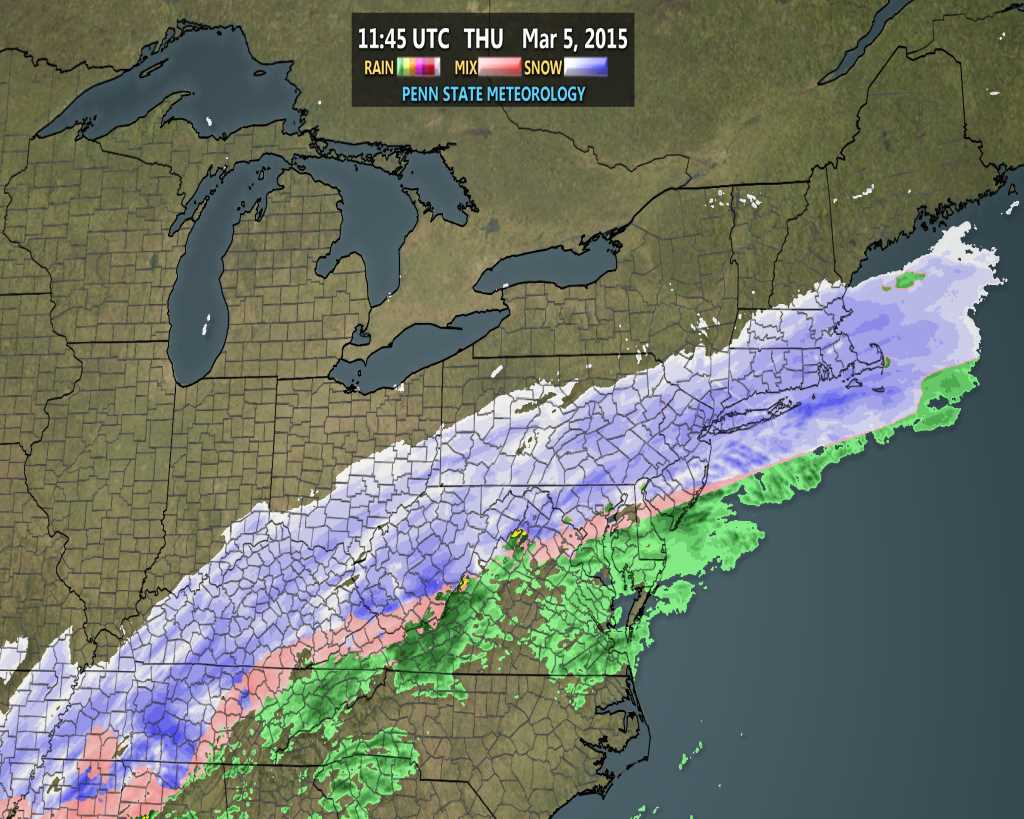 12:00am: Latest observations show the mixing line moving from west to east throughout New Jersey. Dual pol radar confirms this transition will be somewhat slow to occur. As the mid levels of the atmosphere cool, aided by dynamic cooling from heavy precipitation, snow will become the dominant precipitation type throughout Northern NJ and NYC Thursday morning. This transition will be slower to occur over Central NJ.
Regardless, a rough AM commute is anticipated with hazardous travel. We will have further updates throughout the night.
11:00pm: We have updated our Storm Total Snowfall Forecast. Only minor changes were made; namely to sharpen the northern gradient and snowfall cutoff and to bring 6″ amounts slightly farther north. Otherwise, the forecast remains unchanged.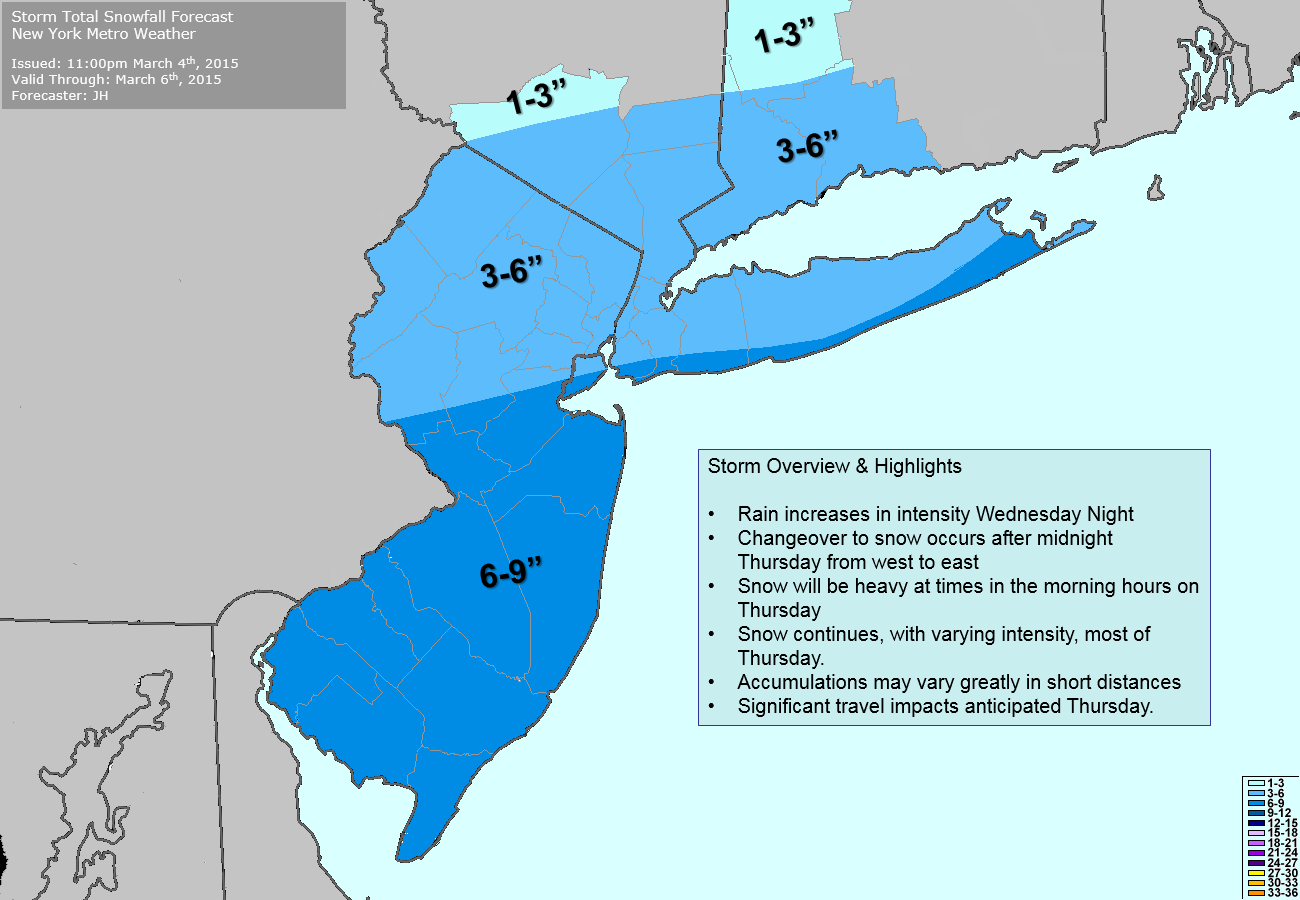 10:30pm: Both the GFS and NAM at 00z tonight have trended toward a snowier scenario for much of New Jersey and New York City. Both models agree that after around 2am tonight, rain will change to snow which will be heavy at times. They have moved northward with banding on Thursday which could bring moderate snow to much of the area during the day. Below, the GFS from tonight shows that band over New Jersey and NYC on Thursday morning and afternoon.
Introduction, information at 7:45pm: We've decided to start a new live blog to discuss the evening model runs, as well as recap what the mid-afternoon model runs showed. Our confidence has increased throughout the day on a 4″+ storm for the entire area starting overnight tonight and through the middle of tomorrow afternoon. There could even be bands of 8-10″ of snow, but there are still uncertainties as to where these bands will be located.
Initially, some models were still stubbornly south, which raised concern of some forecasters. The problem is, it is not a good idea for forecasters to live and die with every model run; it is instead prudent to use the meteorological tools we have learned to discern which outcome makes more sense and only use the models as guidance.
The GFS was one of the models that was stubbornly south. Not surprisingly, the 18z GFS shifted well northwest and gives much of the area 6-10″ of snow. The reason this isn't a surprise is because its own ensembles at 12z were well northwest of the regular GFS, so the 18z GFS corrected to them. The other reason why this isn't surprising is the jet streak dynamics that are being signaled.
Models had already been pretty far north with heavy precipitation during the overnight hours with the first wave of precipitation. The featured image to this blog is the 23z HRRR simulated radar, valid for 3:00am, showing quite heavy snow. But some models were shifting wave two to the south as tomorrow morning approached, which honestly didn't make sense. Looking at the above 4-panel image, we can see that on the bottom right, there are 300mb winds around 200 knots, which signals an extremely strong jet streak. When one is located on the right side of where the jet streak begins, it favors plenty of upper level divergence, which favors strong lift underneath it. Our area is in this zone, and being in this zone of a 200 knot jet streak is a strong signal that precipitation should be heavy in our area. On the top left panel, moderate precipitation has made it all the way up to SW CT and Westchester County.
The 18z NAM, while still a bit south, has also corrected somewhat northward. High-resolution models like the HRRR (already shown), ARW, and NMM are also showing impressive bands of heavy snow working into the area during the overnight.
The 18z RGEM shifted well northwest of its 12z run as well, which means a lot considering the RGEM tends to be a pretty accurate model. The 18z GFS ensembles continue to be north and snowy, and gives 8-10″ for much of the region.
Over the next few hours, we will be updating this blog to talk about the new data that comes out, as well as trying to pinpoint the location of the heaviest banding overnight.
Comments
comments
https://www.nymetroweather.com/wp-content/uploads/2015/03/13-e1425516979917.png
463
1024
Doug Simonian
https://www.nymetroweather.com/wp-content/uploads/2017/04/oldlogo.png
Doug Simonian
2015-03-04 19:52:59
2015-03-05 19:51:31
Live Blog: Substantial Snow Likely Thursday