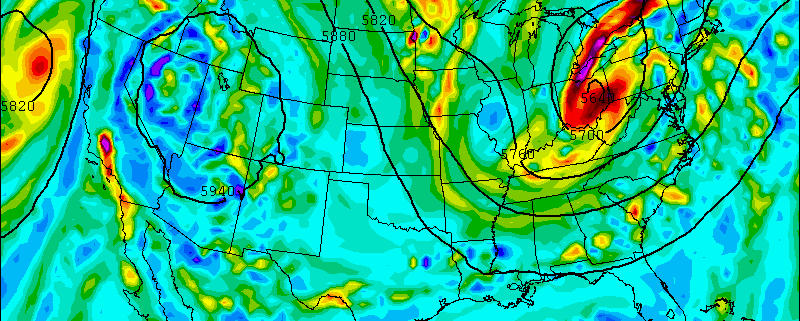 High pressure will gradually shift to the northeast Friday night and Saturday. Clouds will increase on Friday night. An amplifying ridge over the Western United States will cause shortwave energy to dig and form into a closed upper-level low over the Ohio Valley/Great Lakes.  This will cause a double-barrel surface low-pressure system to organize over the Eastern US on Saturday. A deep southerly flow will transport a plume of moisture from the Gulf of Mexico and the Atlantic into our area. Most of the model guidance agrees on a widespread heavy rainfall throughout the area starting on Saturday and continuing into Saturday night.
Saturday will feature mostly cloudy skies with some intermittent rain and drizzle breaking out from southwest to northeast across the region. This will gradually occur during the morning and early-afternoon hours. A strengthening southerly low-level jet and precipitable water values approaching two inches will cause rain to become steadier and heavier at times, late in the afternoon and early Saturday night for the region.
Some of the model guidance shows some elevated instability, which could lead to some isolated thunderstorms as well. Rainfall totals in excess of 1 or 2 inches are possible and could be enough to cause some flooding in poor drainage or low-lying areas. As the surface low pressure and its associated dynamics shift north of the area, rain will begin taper off to lighter showers late Saturday night.
Basically, Saturday is not looking like a nice day overall for outdoor activities —  especially during the afternoon and nighttime hours. However, Sunday is now looking better with clouds breaking for some sunshine during the day. Some isolated or widely-scattered showers can't be ruled out with the closed upper-level low hanging around the Northeast. This is more likely away from the coast. But most of the day will be rain-free, with drier air entering the region. So if you're planning a BBQ or going to the beach, Sunday is best day to do it.
We will have updates here with our blog posts or forecasts if there are any significant changes. Have a great weekend!
Comments
comments
https://www.nymetroweather.com/wp-content/uploads/2015/06/12znamUS_500_avort_063.gif
600
800
Miguel Pierre
https://www.nymetroweather.com/wp-content/uploads/2017/04/oldlogo.png
Miguel Pierre
2015-06-25 09:48:18
2015-06-25 16:06:11
Weekend Outlook: Heavy Rainfall Late Saturday, Better Weather on Sunday