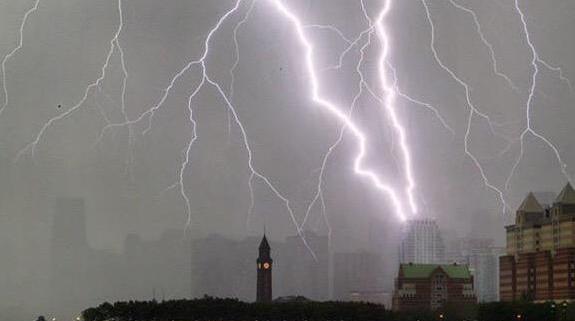 "Them's the breaks", my father often says when things don't quite go as planned. While this grammatically errant statement may not seem immediately applicable to meteorology, most of our staff were thinking something similar on Tuesday afternoon. Our meteorologists had forecasted an organized — potentially significant — severe weather event days in advance. While this event did in fact occur over New England, Southern New Jersey, and the Mid Atlantic, the brunt of the severe storms curiously "skipped" over New York City and much of Northern New Jersey as well.
Severe thunderstorm events, inherently, are difficult to forecast. Not only for their technical aspects and intricacies, but for their often isolated nature. One town may see wind damage and hail, while the next one down the road only sees light rain — or in some cases, no rain at all. What this means for forecasters is that communicating the scattered nature of thunderstorms becomes very important.
This time, however, the storms weren't necessarily scattered in nature. The atmospheric pattern favored widespread thunderstorm development, with lines and bowing segments of severe thunderstorms moving from northwest to southeast while affecting a large area. Hence, our verbiage "Widespread organized severe weather".
On Tuesday morning, the forecast immediately took a twist and turn from what we expected. Along a pre-frontal trough came rolling a remnant MCS (Mesoscale Convective System) from the night before in the Ohio Valley. This MCS shifted eastward through Pennsylvania. Our forecasters were confident that it would dissipate on its trek east before it made it to our area. A weakening low level jet and capped atmosphere meant that storms would struggle to maintain themselves. And, reluctantly, the system died — with only some leftover clouds reaching us.
Trouble, however, came when a second area of storms developed near State College. Brand new updrafts developed within an area of local instability. These storms quickly turned severe and began expanding to the northeast. No forecast model correctly showed these storms — and this meant trouble for our forecasters. The system eventually made its way to Northeast Pennsylvania before dying, similarly to the first MCS.
The fundamental issue, however, was that this second round of storms had further "overturned" or stabilized the atmosphere in Northeast Pennsylvania and Southeast New York. While they didn't stabilize our area in New Jersey and New York City, they had effectively stabilized the areas to our north and west — where all forecast models had suggested our storms would initially develop. The image above shows how the CAPE values were much lower in Northeast Pennsylvania compared to the very impressive 2,000 – 3,500 J/KG that the rest of our area had. There was also convective inhibition (blue shading) in Northeast Pennsylvania, further hindering thunderstorms from developing. Our high CAPE values would assure that storms would blossom and strengthen when they reached our area, but without thunderstorms initializing to begin with, that doesn't matter.
And so not surprisingly, in the mid afternoon as mid level energy reached the Northeast, new thunderstorms rapidly began developing…in all areas except for Northeast Pennsylvania and Southeast New York. Fresh storms in New England and Central Pennsylvania rapidly became severe and organized while dropping southeastward, forming into the lines and bowing segments that would eventually bring widespread wind damage to the Mid Atlantic, New Jersey and New England. Philadelphia had a wind gust of 72mph, and Southern Connecticut had microbursts which produced 90-95mph winds.
In our area, local boundaries helped to touch off strong to severe thunderstorms anyway. Since the initial MCS didn't hit our immediate area, the local boundary had plenty of atmospheric energy and instability to tap into, causing a thunderstorm to develop in Northeast New Jersey and become severe once it trekked northeast into Queens and Long Island. It dropped 1.75″ diameter hail in Glen Cove, NY and 1″ hail in Huntington, NY while leaving trees down in Oyster Bay, NY. Clearly, this storm further supported the idea that the ingredients were there for a widespread wind event.
But the widespread wind event which we were anticipating never occurred here, due to the stabilizing remnant thunderstorms that had tracked through Pennsylvania and New York hours before.
A reminder to all, meteorologists included, that severe thunderstorm events require a fragile set of events to occur just right. And even a dying area of showers and clouds hundreds of miles away can tip the scale on a forecast.
This article was written by Doug Simonian and John Homenuk
Comments
comments
https://www.nymetroweather.com/wp-content/uploads/2015/06/CIOGW6BXAAE0W5k-e1435302272851.jpg
424
575
Doug Simonian
https://www.nymetroweather.com/wp-content/uploads/2017/04/oldlogo.png
Doug Simonian
2015-06-26 09:00:39
2015-06-26 11:21:23
The June 23rd Severe Weather Outbreak in Review