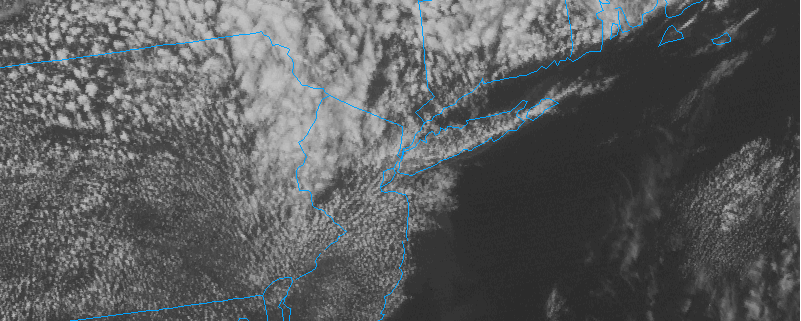 After some dismal weather this past weekend, the tri-state area enjoyed of lots of sunshine this morning with temperatures in the middle or upper 60s and low humidity. An upper-level trough to the north is causing more clouds to mix with sunshine this afternoon. A few isolated showers could pop late this afternoon and evening, well north and west of New York City. Most of the area will stay dry this afternoon. Temperatures will reach in the middle to upper 70s with light southwest winds. Tonight, skies should become mostly clear with low temperatures in the lower 60s and 50s inland.
A warm front will begin moving through region tomorrow and tomorrow night. Ahead of it, light winds will turn more out of south-southeast off the cooler Atlantic waters. However, partial sunshine and 850mb temperatures around 14 degrees celsius during the afternoon, will help temperatures reach the upper 70s to lower 80s for much of the area. Near the New Jersey shore and the south shores of Long Island and Connecticut, high temperatures will be slightly cooler– likely in the middle 70s. A few showers or thunderstorms are possible well north and west of New York City, late in the afternoon. But scattered showers and thunderstorms are more likely later tomorrow night for the rest of us. Model guidance shows low instability and high precipitable water values, or atmospheric moisture co tent. Any thunderstorm will capable of producing heavy rainfall and cloud to ground lightning. Despite this, we aren't anticipating organized severe weather or hazards at this time.
The threat for strong to severe thunderstorms may increase on later Wednesday, as an upper-level shortwave trough and cold front approach the area. This will be dependent on how a number of variables play out earlier in the day. Unlike last Tuesday's severe weather event, there is no elevated mixed layer or atmospheric capping. This could allow for more clouds in the morning or new showers and thunderstorms to fire during the midday hours. This could keep instability lower — with heavy rainfall and lightning the main threats. The timing of the cold front is another source of uncertainty. Some model guidance shows the best shear and forcing with low-level jet, pushing into New England during the afternoon hours. This could keep any strong to severe t-storms more isolated in this area, despite the sufficient instability. The NAM model — which has better timing — also shows some poor mid-level lapse rates. Poor mid level lapse rates often reduces the potential for strong thunderstorm updrafts, that produce more severe weather for this part of the country.
All of that said, we obviously don't disagree with the SPC outlook for Wednesday, in the image above. Considering some of the variables discussed, we think the potential for another widespread/organized severe weather event is very low this time around. However, an isolated strong or severe thunderstorm are still a decent possibility, if we see enough instability juxtaposed with shear on Wednesday afternoon and evening. Temperatures will also rise into lower to middle 80s in some areas on Wednesday, if we see enough sunshine. Wednesday's weather will hopefully become clearer by tomorrow.
For the end of week and July 4th weekend, we are watching a number of disturbances that may give us more chances for rain. The model guidance shows couple of waves of low pressure running along frontal boundary to our south. These waves may come far enough north to produce more showers in the region. At this time, there is a lot of uncertainty in regards to the timing and impacts these systems will have in the tri-state area. So, as always, stay tuned for further updates and forecasts as the week goes on!
Comments
comments
https://www.nymetroweather.com/wp-content/uploads/2015/06/Visbile.png
600
801
Miguel Pierre
https://www.nymetroweather.com/wp-content/uploads/2017/04/oldlogo.png
Miguel Pierre
2015-06-29 14:47:14
2015-06-29 14:47:14
Some Sunshine and Showers/T-Storms This Week