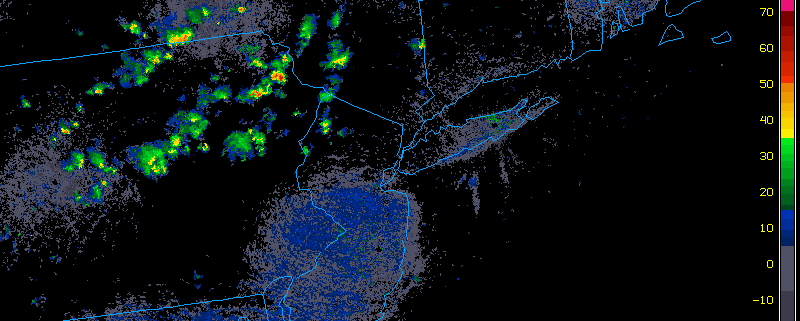 Good afternoon! It has for the most part been quite the pleasant day, as a cold front came through last night and made conditions much less humid and more pleasant today than yesterday. For the most part, this nice weather looks to continue for the next several days.
However, since yesterday's inclement weather was caused by a large trough, there is still leftover energy rotating on the back side of the trough, which is where we are located. There are pieces of vorticity, or counterclockwise spin in the atmosphere, which can often trigger localized areas of lifting. Usually, when the airmass is as dry as it is currently, it is hard for thunderstorms to form. But when you are sitting under a large upper-level trough, cold temperatures aloft combined with a heating surface can still yield instability, and the vorticity causes the lift that taps into the instability. This is why some isolated thunderstorms have formed in our northwest suburbs.
Elsewhere, there has been a general increase in cumulus clouds, which is generally for the same reasons; though it is still quite pleasant. As the afternoon progresses, a few of these storms could hit the region, but they are looking very isolated, so most areas will not see a storm at all, and any storm that does arrive will be quick-hitting. Temperatures will generally remain in the low 80s. The most likely spot for a storm is in our NW suburbs.
The dry airmass will prevent the storms from getting too strong and from having too heavy of downpours, but the cold and dry air aloft from the trough may help the storms generate some downward momentum in the form of wind gusts up to 40mph.
Fortunately, even in areas that do get a storm, skies should easily clear out quickly enough to get a good view of the Perseid meteor shower tonight.
Other weather highlights include:
Temperatures will generally fall into the low 60s tonight with clearing skies.
Tomorrow looks pleasant again, with sunny skies, temperatures in the low 80s, low humidity, and no chance of precipitation. Winds will be light, which should allow a sea-breeze to develop.
Tomorrow night will truly feel like autumn, with low temperatures falling into the upper 50s in most spots, low 50s in the Pine Barrens, with low 60s in urban areas. It will have that crisp, autumn-like feel.
A warming trend will be starting on Friday. High pressure will slide offshore, giving us a Bermuda High effect of a warm, moist return flow. When this is combined with a general large developing heat ridge in the Central US supplying an additionally hot air source region, temperatures will be approaching 90 degrees or exceeding it from Friday through early next week. Seabreezes may keep coastal areas in the upper 80s.
Comments
comments
https://www.nymetroweather.com/wp-content/uploads/2015/08/5_5.png
600
800
Doug Simonian
https://www.nymetroweather.com/wp-content/uploads/2017/04/oldlogo.png
Doug Simonian
2015-08-12 16:03:04
2015-08-12 16:06:53
Widely scattered t-storms this afternoon, heat returns this weekend