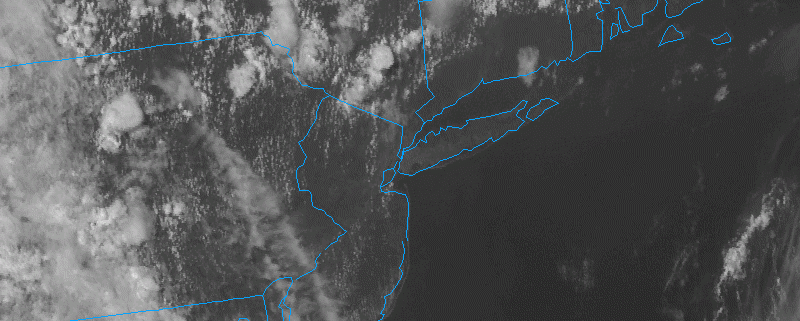 The summer continues, dragging on through the dog days of August, and weather is cooperating with the script. Temperatures today reached into the lower to middle 90's in many locations,  with rising humidity and a hazy — yet sunny — sky. Things were a bit cooler near the coast, with southerly winds and temperatures in the 80's. While this may seem like simply a footnote, it's actually a sign of a changing pattern. Meteorologically, the southerly winds will back to the southeast by later Tuesday into Wednesday, out ahead of a storm system over the Central United States. These same southerly winds today pushed a convergence zone inland and triggered some thunderstorms to the north of NYC. They will most likely stay there and could cause localized flash-flooding.
As the week goes on, a frontal system will approach our area from the west, leading to increasing clouds and showers from the southeasterly flow and marine air. And by Thursday, things will be quite unsettled.
Tonight, however, the weather will remain warm and muggy. Low temperatures will again only fall into the 70's and it will feel like another classic summer evening. With the humidity staying high, it will be quite uncomfortable to keep the windows open, so we recommend the Air Conditioning if possible.
Here are some other weather highlights:
While Wednesday's showers and thunderstorms may be a tad more widespread than today's, the best chances for one will still remain NW of NYC. The shift to southeast winds will push the convergence zone further inland.
The southeast winds will also make the beaches a bit cloudier, windy, and cooler on Wednesday.
The best chance of rain looks to be on Thursday night into Friday morning, as a large, energetic trough swings its way through. High moisture content could mean that heavy downpours are possible, but a lack of instability should keep any thunderstorms from getting too strong.
Thanks to offshore ridging, that trough's associated cold front may stall near the area. This could lead to lingering chances of precipitation and more clouds from Friday night and through the weekend. Widespread heavy rainfall is not likely during this period, however, but heavy downpours will still be possible.
In an otherwise sea of a very quiet hurricane season, Tropical Depression #4 has formed in the Atlantic, and is expected to become a hurricane within the next few days. It is no immediate threat to land, but it will be closely monitored over the next week to ten days.
Comments
comments
https://www.nymetroweather.com/wp-content/uploads/2015/08/2_w2.png
600
800
John Homenuk
https://www.nymetroweather.com/wp-content/uploads/2017/04/oldlogo.png
John Homenuk
2015-08-18 15:16:05
2015-08-18 15:16:05
PM Update: Hazy, hot, humid