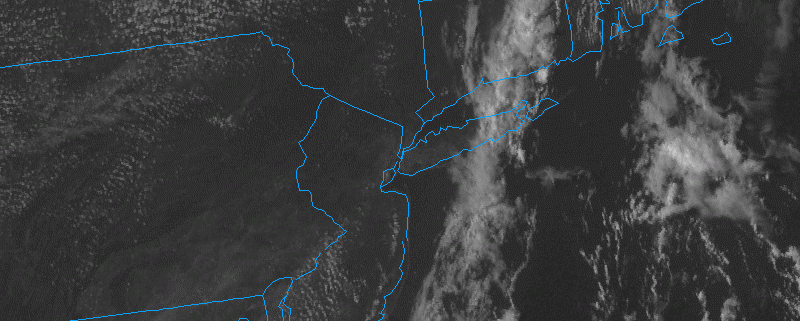 After many areas had a soaking rainfall earlier this morning, most of the rain has moved offshore. JFK was the big winner in the rainfall department, recording 2.50″ of rain during the overnight.
What's happening now is that the frontal system which has been triggering the rain has moved eastward. But thanks to some ridging in the Atlantic, it has slowed down dramatically. This has led to bands of rain hitting Suffolk County and eastern Connecticut, while dry air has filtered in from Nassau County and west, providing mostly sunny skies. Heavy downpours remain possible in central and eastern Suffolk County over the next few hours, while everyone else should remain pleasant.
While temperatures haven't cooled off that much behind the front, it is noticeably drier. At 3:00pm in Montauk, it was 85 degrees with a dewpoint of 75; a heat index of 93. In Central Park, it was 87 degrees with a dewpoint of 58; a heat index of 86 — cooler than the air temperature! This relief is expected to last through Saturday, before the cold front actually retrogrades on Sunday and puts us back into the humid conditions.
Here are the weather highlights:
Clearing skies, lowering humidity, and light winds shifting from west to north will make for a very comfortable night. Low temperatures in the low 60s will be common, with upper 60s in urban areas. It will be a stark contrast to the very warm and humid nights we've had recently.
Saturday will be beautiful. High temperatures look to be in the mid to upper 80s with sunny skies and low humidity. High pressure will prevent cloud formation, thus precluding any afternoon thunderstorms.
Sunday will have a transition from dry to humid, as the frontal boundary inches back westward. Long Island will have dewpoints back in the 60s on Sunday morning, rising into the low 70s by the afternoon and evening. NYC and westward will have dewpoints starting in the 50s, but rising into the 60s. The increased moisture as well as a bit of lift from the retrograding front could trigger a few afternoon showers and thunderstorms. Fortunately, the front will have weakened at this point because of another approaching disturbance, so skies should still generally be partly cloudy.
The original front will eventually diffuse on Monday, as a rigorous trough of low pressure approaches. However, because it will have been approaching an initial post-frontal airmass, it will also be weakening. Thus, while showers and thunderstorms are possible, they are not expected to be widespread. This threat will last through Monday night.
The front will cross on Monday night, leading to a beautiful stretch of weather from Tuesday through next Friday. We will be near a large trough, so self-destructive sunshine is possible (instability cumulus but no rain), but temperatures will still generally be in the 80s with very low humidity. Nights will certainly have an autumn-like feel.
Hurricane Danny has strengthened to a category 3 storm, which is a major hurricane; the first of the 2015 Atlantic Hurricane Season. It is still expected to rapidly weaken as it heads into an area of strong wind shear; though it has already strengthened well beyond expectations. It looked particularly impressive earlier this afternoon, with very well-defined symmetry and a nice outflow channel.
Comments
comments
https://www.nymetroweather.com/wp-content/uploads/2015/08/2_23.png
600
800
Doug Simonian
https://www.nymetroweather.com/wp-content/uploads/2017/04/oldlogo.png
Doug Simonian
2015-08-21 16:48:04
2015-08-21 16:48:04
PM Roundup: Heavy rain shifts east