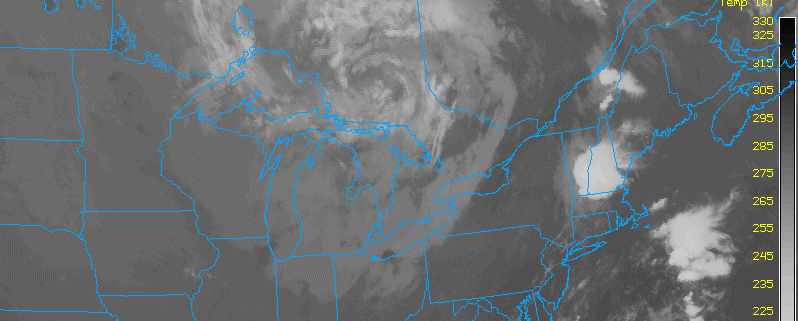 Good morning! What had previously looked like a period of widespread showers and thunderstorms is now merely an isolated threat. While a potent trough and cold front is approaching the area, the front itself is weakening. Additionally, these potent troughs often have areas of vorticity, or counterclockwise spin in the atmosphere, which lead to lift. But there has actually been a large area of negative vorticity advection, which has limited the lift in the atmosphere. And by the time the negative vorticity advection has gone away, the front will have moved too close to the area, and dry air filters in from behind the front.
Because of this, as well as warm ocean temperatures fueling some instability, the best chance for a shower or thunderstorm will be in Long Island and Connecticut — probably from Suffolk County and eastward. A few showers and thunderstorms may be around this morning in areas further west, but they look very isolated.
For the most part, by the time the afternoon comes around, skies will be clearing, and westerly winds will be taking over and lowering dewpoints as the cold front crosses, making conditions quite pleasant. Temperatures should be able to reach the upper 80s.
Here are the weather highlights for the rest of the week:
Wednesday, Thursday, and Friday all look beautiful. Skies will be partly cloudy skies with very low humidity and temperatures will be in the low to mid 80s. Overnight lows will generally be in the upper 50s and low 60s, but mid 60s will be common in urban areas. The air will have an early autumn crispness.
Some instability cumulus clouds will be developing during these days as the large trough provides cold temperatures aloft, while the initial sun provides a warming ground. These will not be causing any precipitation — all they will do is occasionally make skies partly sunny or mostly cloudy in an otherwise sea of partly cloudy and mostly sunny skies.
As high pressure slides offshore on Saturday morning, a return flow is likely with some Atlantic ridging. This will lead to southerly winds, higher humidity, and warmer temperatures for the weekend. The airmass does not seem hot enough to promote excessive heat, however.
Tropical Storm Erika has formed in the Atlantic and will be approaching the Lesser Antilles in the next few days, where Tropical Storm Warnings have been issued. Afterward, it is expected to perhaps strengthen into a hurricane and not get torn to pieces like Danny. Thus, this system bears watching, though we do not anticipate a direct impact in our area.
Comments
comments
https://www.nymetroweather.com/wp-content/uploads/2015/08/regionalsatellite_1.png
399
798
Doug Simonian
https://www.nymetroweather.com/wp-content/uploads/2017/04/oldlogo.png
Doug Simonian
2015-08-25 08:20:22
2015-08-25 08:20:22
Morning Roundup: Cold front finally scours out humidity