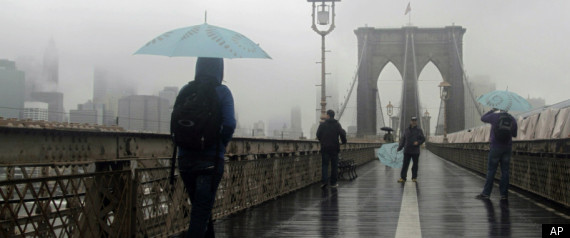 It has been quite a while since rain threatened the forecast in our area. It has been even longer since rain threatened the forecast over a widespread part of the forecast area. Both will be accomplished on Thursday, as a coastal storm moves off the Mid Atlantic coast southeast of Long Island. While a blanket of heavy rain isn't expected to overspread the entire region, periodic rain with cloudy and unsettled conditions are in the forecast on Thursday.
The coastal system will be the first in many months, forming as a result of a weak mid level atmospheric disturbance over the Middle Atlantic states. This system will shift east/northeastward and allow the developing surface low to skirt offshore. The resulting forcing for precipitation to the northwest of the surface low will allow for the development of rain, which may be periodically heavy thanks to tropical moisture present in the atmosphere.
One potential caveat in the forecast is this exact forcing, which may become focused over one specific area as the coastal storm develops. To the northwest of the surface low, an area of enhanced forcing or lift can often shift from southwest to northeast (as the surface low does so, as well). Think of it like a band of heavy snow, in the winter, which develops to the northwest of a Nor'Easter. The concept is similar.
Not surprisingly, forecast models over the past several days have showed an area of heavy rain arced from southwest to northeast. This rainfall is, on forecast models, most likely to be from the Mid Atlantic through Eastern Pennsylvania, parts of Northwest New Jersey and Upstate New York. The potential wrench in the forecast is this:
To the east or southeast of this area of enhanced lift, is often an area of drier/sinking air or subsidence. So precipitation totals in those areas are often much lower. Forecast models show this area over New Jersey and New York City on Thursday, with precipitation remaining more scattered.
Obviously, monitoring the forecast will become during the day. But regardless of exactly where the heaviest rainfall totals occur, and where the steadiest and heaviest rain falls, a very unsettled and rainy day is likely on Thursday.
After the weeks of hot, dry air and drought conditions, many will welcome that news with open arms.
Comments
comments
https://www.nymetroweather.com/wp-content/uploads/2015/09/2_2.png
238
570
John Homenuk
https://www.nymetroweather.com/wp-content/uploads/2017/04/oldlogo.png
John Homenuk
2015-09-10 06:00:46
2015-09-10 02:25:58
Coastal storm, periods of rain on Thursday