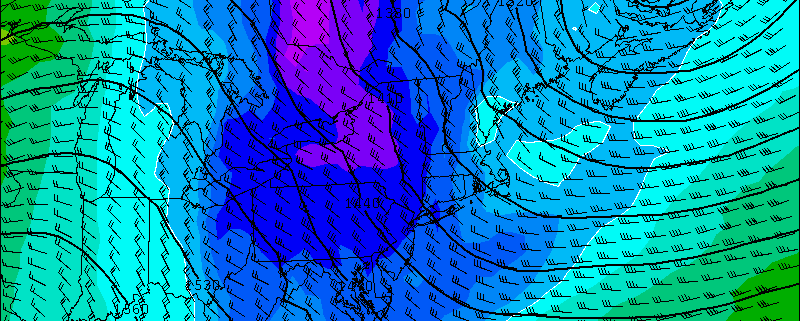 A progressive (fast-moving) weather pattern will continue for the next several days. Skies are currently mostly cloudy, and that is expected to continue tonight with temperatures dropping into the upper 40s or lower 50s.
A deepening closed low tracking across the Great Lakes will push a cold front through the region tomorrow. This will lead to breezy conditions and continued cloud cover. By the afternoon, scattered rain showers are expected, though heavy rainfall is not likely due to a lack of moisture convergence. That being said, there is upper-level support via a very strong jet streak for a period of moderate rain, so it may be wise to have the umbrella with you. These clouds and showers will keep high temperatures in the upper 50s tomorrow. Any threat for showers should diminish before midnight Friday morning.
Another cold front will push through region on Friday afternoon. But because of the previous front having already pushed through, there will be even less moisture around, so mainly dry conditions are anticipated. The cold pool associated with this trough may lead to enough instability for cumulus clouds.
Additionally, this low will be causing a tight pressure gradient, resulting in possibly some strong, gusty winds. The GFS shows winds at 850mb-925mb around 40 to 50kts. The model soundings indicate that some of these winds could mix down to the surface, due to steepening low-level lapse rates. This would lead to wind gusts around or even slightly over 40mph on Friday afternoon and early evening, with the passage of the cold front. Winds will die down somewhat later Friday evening, with the loss of daytime instability.
A polar airmass with 850mb temperatures between -4°C and -8°C will work into the area behind this cold front. However, breezy west-northwest downsloping winds will not allow much radiational cooling on Friday night, which means temperatures falling is totally dependent on cold-air advection. This should keep temperatures above freezing — into the upper 30s in NYC metro and lower to middle 30s elsewhere. With some leftover shortwave energy in this cold airmass, a few flurries for interior locations is also possible on Friday night.
Saturday will be mostly sunny and breezy with temperatures reaching the upper 40s to lower 50s in the afternoon.  Low temperatures for Saturday night will be similar to Friday night much for the region–in the 30s. Winds may die down enough for few upper 20s in the higher elevations and the Pine Barrens.
These temperatures may come as a bit of shock to some of us, as we have enjoyed warm temperatures since last week. But this weekend's temperatures will not be far from average and the chill will be short-lived. Another strong disturbance will be digging into the Southwest United States early next week, causing a ridge and southwesterly flow to build back into the Eastern US. Moderation will already begin on Sunday with temperatures rising into middle to upper 50s, then upper 50s or lower 60s on Monday and Tuesday. The ridge should also keep the next disturbance and its associated rainfall to our west until late next week. Temperatures could rise to the upper 60s later next week ahead of this system.
Comments
comments
https://www.nymetroweather.com/wp-content/uploads/2015/11/gfsNE_850_temp_078.gif
600
800
Miguel Pierre
https://www.nymetroweather.com/wp-content/uploads/2017/04/oldlogo.png
Miguel Pierre
2015-11-11 16:13:08
2015-11-11 16:22:25
Showers Thursday; Cooler, Blustery Friday and Saturday