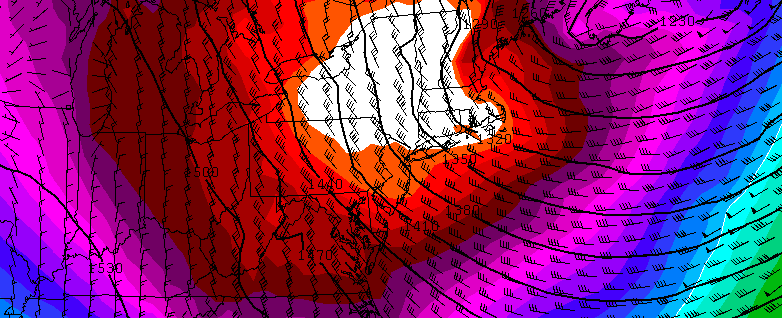 A large arctic airmass, owing to a piece of the polar vortex, will drop southward late this week and weekend from Canada into the Great Lakes and Northeast United States. With it will come the coldest air of the winter — and the coldest air in quite some time, especially aloft. Temperatures at 850mb, or roughly 5000 feet, will drop to nearly -30 degrees celsius, challenging some records for temperatures at that level in the Northeast US for the date.
At the surface, brutally cold air is expected to begin moving into the area on Friday and Saturday. Temperatures Friday and Saturday morning will drop into the single digits and teens (the latter in the city), and the afternoons will feel quite cold — with highs in the 20's, but wind chills even lower due to gusty northwest winds. Snow showers will move through the area as the core of a large upper level trough begins approaching. A weak coastal storm will race by on Saturday, before ushering in the core of the cold airmass from Saturday Night into Sunday.
Forecast models are in good agreement that 850mb temperatures of nearly -30 degrees celcius will move overhead Saturday Night and Sunday morning, with clear skies and gusty northwest winds. The GFS, Canadian, and European model all suggest low temperatures below zero (0 F) in the suburbs of New York, New Jersey, and Connecticut on Sunday morning. Even in New York City, many models suggest the low temperature will approach zero degrees.
Wind chill values will be much lower, and the cold may be brutal at times. Gusty northwest winds on Sunday will bring wind chill values below – 10 F, especially in the suburbs and interior where they may approach – 20 F at times. While it remains to be seen if this cold will be record-breaking, it certainly appears to be the coldest air of the winter so far.
The good news? The brutally cold air will be short lived. Forecast models suggest the piece of the polar vortex overhead this weekend will quickly shift northeastward, with temperatures warming and a threat for a storm as early as Monday and Tuesday of next week.
Comments
comments
https://www.nymetroweather.com/wp-content/uploads/2016/02/Screen-Shot-2016-02-10-at-9.31.20-AM.png
318
782
John Homenuk
https://www.nymetroweather.com/wp-content/uploads/2017/04/oldlogo.png
John Homenuk
2016-02-10 09:38:42
2016-02-10 09:38:42
Coldest air of winter to arrive this weekend