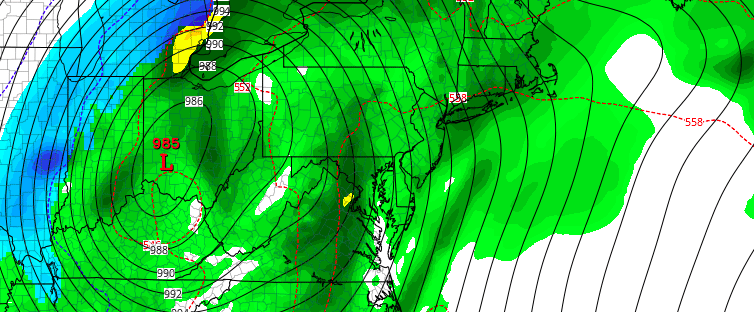 A large, powerful storm system is expected to develop from the Mississippi River Valley into the Ohio Valley during the early to middle part of this upcoming week, as a significant phase in the mid levels of the atmosphere occurs. A strong low pressure system will drive northward through the aforementioned areas, allowing a deep southerly flow to draw warm, moist air toward our area during the middle part of the week. Initially there might be enough for cold air around for some frozen precipitation at the onset. But eventually warmer temperatures with periods of heavy rain, gusty winds, and possibly even thunder, will be possible as the storm impacts our area.
There are a number of reasons why this storm will more wet than white. First, the polar vortex is positioned near Baffin Island doesn't support keep more cold air with trough axis further east. This actually support the northern and southern stream phasing much further west over Great Lakes or Ohio Valley regions.  The 500mb heights that build over Greenland are very transient and don't keep an upper-level trough/low over Southeast Canada to support confluence or cold high pressure to remain to the north. Instead we see the Western Atlantic ridge building into the East Coast and Southeast Canada. Strong high pressure moving east of Nova Scotia will cause winds to turn more easterly off the warmer ocean waters. The overall pattern shown on model and ensemble guidance is not favorable for winter weather in our region.
After some sunshine early on Tuesday, we expect clouds to increase by the afternoon as an initial weak overrunning wave approaches the region. Light to possibly moderate precipitation with this wave will spread north to south, during the late afternoon or early evening hours. During this time frame, this wave may keep winds more northeasterly and thus and in enough air in place to support some snow, sleet, and freezing rain–especially for Northwest New Jersey, Lower Hudson Valley, and Interior CT.   Road travel may be slightly hazardous for the evening commute, with light snow/ice accumulations possible. However, warm air intrusion will be occurring rather quickly aloft, during the late evening hours. Winds turning more easterly with the aforementioned high, will cause surface temperatures to rise well above freezing, during the overnight hours. Snow,sleet or freezing rain should to change to all rain in many areas overnight Tuesday. Some pockets of light freezing rain may persist over highest elevations into early Wednesday morning.
As the first wave moves northeast of region, there may be a lull in the rain during the morning or midday hours Wednesday, before rain becomes steadier and heavier during the afternoon hours. High precipitable water values will possibly support some heavy downpours for parts of the region into Wednesday night. This could cause flooding low-lying areas and poor-drainage areas and small streams and rivers to rise close their banks. The cold front with this system approach the region from west during the afternoon and evening hours. The GFS and ECMWF models are strong southerly low-level jet with 925mb winds between 50kt and 70kt, ahead of this front. This jet will likely cause warmer to surge into region with temperatures rising well into 50s and possible into lower 60s for some  locations on Wednesday night.
The winds at 925mb will unlikely be able fully mix down to the surface, due to a low-level inversion shown on model soundings.  But there will be some strong southeast winds—particularly near the shore.  These winds also bring a threat for some coastal flooding during high tides with the full moon cycle this week. The models are also showing a 500mb southerly jet streak at 100kt+ moving over the region and some elevated instability that could support a convective squall line moving across the region. As we saw last Tuesday, this line could help bring down more of the stronger winds from aloft. We will keep a close eye on this potential this week.
Rain will continue until the cold front should push the region sometime later Wednesday night or Thursday morning. Model solutions have continue some difference in the timing of the cold frontal passage. But some clouds and scattered rain showers could stick around into Thursday afternoon or evening, as the upper-level low accompanying this storm system, moves through region. Colder, drier weather should follow for later Thursday night and Friday.
This post was written and edited by Miguel Pierre and John Homenuk

Comments
comments
https://www.nymetroweather.com/wp-content/uploads/2016/02/Screen-Shot-2016-02-21-at-11.02.54-PM.png
312
754
John Homenuk
https://www.nymetroweather.com/wp-content/uploads/2017/04/oldlogo.png
John Homenuk
2016-02-21 23:03:48
2016-02-23 06:20:47
Major storm likely to be more wet than white, this week