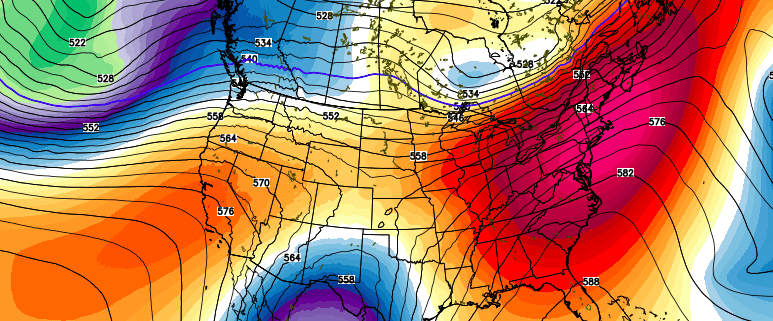 It's been a long winter. Although we have generally avoided prolonged periods of cold and snow (86% of New York City's seasonal snowfall to date has come from one storm), it has been a while since we have been able to enjoy a period of warm temperatures that didn't feature rain, wind, or thunderstorms. Forecast models agree that will change next week.
A collapse of the west-coast ridging pattern will allow for a large ridge to build into the Eastern United States, beginning late this weekend and continuing into the early and middle part of next week. Surface temperatures will respond, likely by Tuesday, with highs exceeding the 50's and approaching the 60's. By the middle of the week, high temperatures could approach 70 in many locations.
Forecast models are in great agreement that the ridge, in the mid and upper levels, will be highly anomalous for this time of year. While it is not uncommon to see warm temperatures in early to mid March, big time ridges on the East Coast, building into New England and eastern Canada, are not common at all. This time, a large trough digging in the Southwest US and effectually moving toward the Gulf States will help to pump up mid and upper level heights over our area.
The result will be increasing southwesterly winds and warm air in the atmospheric thermal column. While high temperatures are difficult to forecast at this range, due to individual nuances like sea breezes and backdoor cold fronts, it certainly appears likely that temperatures will average well above normal during this time period. In fact, ensemble guidance indicates the potential for temperatures 15 to 20 degrees above normal for a period of time.
In addition to the warmth, we've got our eye on the potential for thunderstorms as the ridge breaks down, as well as backdoor cold fronts which may sneak cool and drizzly weather back into our area from the Northeast. These details will have to be ironed out as we approach next week. For now, we have a light snow event and a few more cold days to deal with; but we can look forward to warmer air in just a short time.
Comments
comments
https://www.nymetroweather.com/wp-content/uploads/2016/03/Screen-Shot-2016-03-03-at-11.24.58-AM.png
341
773
John Homenuk
https://www.nymetroweather.com/wp-content/uploads/2017/04/oldlogo.png
John Homenuk
2016-03-03 11:28:52
2016-03-03 11:28:52
Finally: Spring like weather will arrive next week