After a beautiful, cool Easter weekend, wet weather has returned to begin the week. An upper-level shortwave amplifying west over Great Lakes region will cause a surface area of low pressure to deepen while tracking northeast over Great Lakes. A cold front will move across the local area by early this afternoon. A secondary low pressure area, developing off Delmarva coast this morning, will track northeast well to the south and east of Long Island this afternoon. These systems are combining to bring periods of rain region through early in the day — and contributing to the raw, wet conditions as well.
The best dynamics for heavy rainfall are likely to remain over eastern sections of Long Island and Connecticut, closer to the secondary low offshore. An upper-level shortwave to the west could also provide more dynamic lift for some moderate to heavy rainfall over Northwest New Jersey and Lower Hudson Valley. Over Northeast New Jersey and New York City, moderate rainfall is likely with this system, as some subsidence occurring between both systems is likely today.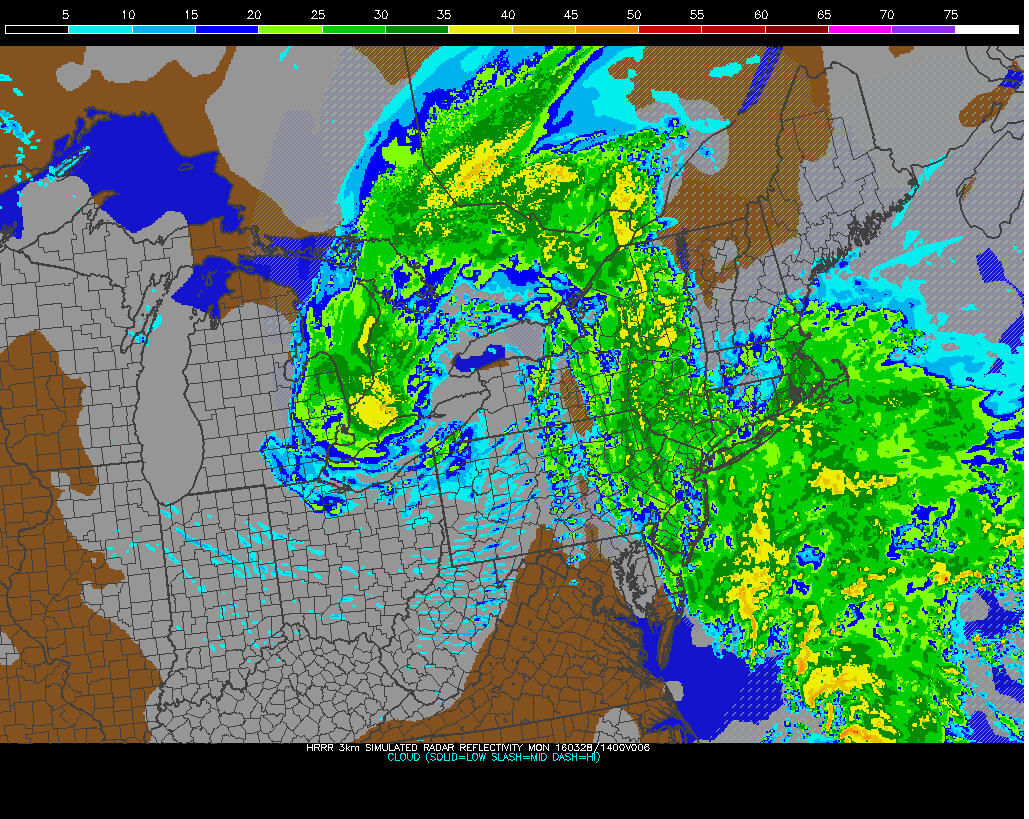 HRRR model showing periods of rain in region this morning
Both lows will pull away from region tonight, merging into one intensifying low over the Canadian Martimes tonight. A tightening pressure gradient and deep mixing will cause winds out of the west and northwest to increase later this afternoon. Sustained winds of 20mph to 30mph are likely with gusts up between 40mph to 50mph possible by this evening. Skies will begin to clear late today and colder air will be arriving into region tonight. Temperatures will rise this afternoon –briefly into the upper 50s to lower 60s. Much cooler temperatures are expected after sunset.
Winds will continue to be gusty out of the northwest on Tuesday. The local area will be between strong high pressure over the Ohio Valley and a deep low over Canadian Maritimes. This overall setup keeps us underneath tight pressure gradient. Winds could gust again to 45mph during the especially late morning and afternoon hours, with more daytime heating causing instability. Skies will be mostly sunny with high temperatures in the lower to middle 50s. High pressure will move closer to region on Tuesday night and Wednesday, causing winds to finally diminish.
High pressure will move off the Mid-Atlantic coast on Wednesday night and Thursday, allowing a warming trend with more southwesterly winds. Unsettled weather will approach the area with multiple weak storm systems late this week — but the main story will be colder air arriving toward the end of the weekend into early next week.
Comments
comments
https://www.nymetroweather.com/wp-content/uploads/2016/03/Screen-Shot-2016-03-28-at-8.40.01-AM.png
328
881
Miguel Pierre
https://www.nymetroweather.com/wp-content/uploads/2017/04/oldlogo.png
Miguel Pierre
2016-03-28 08:40:19
2016-03-28 08:40:19
Rain today, increasingly windy tonight into Tuesday