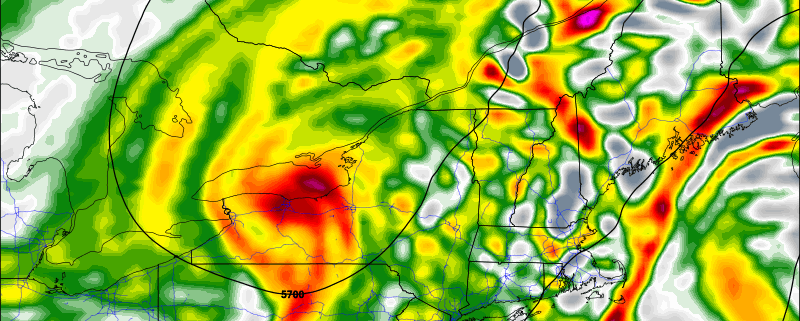 We know it's the Monday blues for many of you. It was a beautiful, pleasantly warm weekend that we just didn't want to end either.  For the most part, today will continue our stretch of pleasant, warm weather with more sunshine and temperatures rising into lower to middle 80s again this afternoon. Southerly winds will keep areas over Long Island and other south-facing shores possibly in the 70s.
A storm system slowly approaching from the Great Lakes will begin to cause some clouds to increase and thicken later this afternoon. There is a slight chance of some scattered showers and thunderstorms in parts of the region late this afternoon or this evening with a weakening cold front or pre-frontal trough approaching from the west. But most of this activity should remain well north and west of NYC.
Dew points will remain low and this should generally prevent any showers from making it through the region during the daytime hours. Instead, showers should remain focused near areas of better lift for precipitation, over Eastern Pennsylvania and Western New Jersey. Some weak shortwave energy moving over the region could lead to more scattered showers and thunderstorms later tonight and early Tuesday morning.
A stronger frontal boundary and shortwave trough with the aforementioned storm system will slowly into the region late Tuesday afternoon and night.  There is a better chance for showers and thunderstorms with more shear and forcing, lowering heights and increasing instability, particularly over inland areas. The Storm Prediction center has also placed western parts of the region under a marginal risk on Tuesday, for a threat an isolated damaging wind gusts. Some these of thunderstorms could also produce heavy downpours and cloud to ground lightning. But more stable marine influence could cause showers and thunderstorms to weaken as they approaching the coast.
Some other highlights for this week:
Waves along the frontal boundary cause showers and thunderstorms to linger into Wednesday
Temperatures will likely average near normal for the rest of week
Another storm system could produce more showers and thunderstorms on Friday
For more details on the forecast, including a look out July 4th weekend, the long-range outlook and of course, our well-known discussion videos, sign up for Premium Membership today. You will not be disappointed!
Comments
comments
https://www.nymetroweather.com/wp-content/uploads/2016/06/NAMNE_500_avort_054.png
600
800
Miguel Pierre
https://www.nymetroweather.com/wp-content/uploads/2017/04/oldlogo.png
Miguel Pierre
2016-06-27 09:00:23
2016-06-28 08:35:20
Monday Musings: Pleasant, warm weather continues today, more showers & t-storms possible by Tuesday