While we had been tracking heat and severe thunderstorms over the first few months of the summer, the atmosphere was still undergoing a major transition away from El Nino and towards a La Nina. This transition has already resulted in sensible weather changes across much of the country, with a huge heat ridge building in the Central US last month — typical of a La Nina. However, to the despair of some long range forecasters, certain aspects of the transition have not gone as smoothly, and more recent forecast models have trended weaker with the eventual strength of the La Nina over the next few months.
During last year's El Nino conditions, the trade winds in the Equatorial Pacific were strongly weakened, allowing warm water near Australia to pool eastward. Those trade winds have strengthened over the last few months, which pushed that warm water back to the west, and allowed cooler water to upwell towards the surface. However, climatology favors trade winds remaining a persistent feature — in other words, we are supposed to have east-to-west trade winds blowing warm water towards Australia keeping cooler water near Peru. We can only have a La Nina when those trade winds are consistently stronger than average, and that has yet to be the case this year. For more background on what causes El Nino, La Nina, and the demise of an El Nino, refer to our article from late April.
In late April through May, when El Nino took its final breaths and sea surface temperature anomalies began flipping towards La Nina, a nice surge in trade winds was observed. This allowed for a strong cold pool of water at the subsurface to form, and some of that cold water was upwelled towards the surface. But in June, the trade winds weakened again and at some points significantly so, which significantly halted the La Nina's developmental process. It was akin to someone speeding on the highway, and then hitting the breaks a bit to get back to normal speeds.
Again, the trade winds picked up in late June, only to quickly weaken in July. This gave no time for the La Nina circulation to truly "get going". You need a prolonged period of strong trade winds for the equilibrium to truly change to a La Nina, as altering wind and temperature patterns in the Pacific can help feed the La Nina circulation to keep it going. Otherwise, the atmosphere is going to revert back towards its usual climatology of neutral ENSO conditions.
In July, the subsurface cold anomalies continued to shrink, and the equatorial upper ocean-heat anomalies continued to race towards neutral. It also appears that the western Nino regions have some positive surface anomalies. This is a byproduct of the trade winds not being strong enough to push the cooler water westward, and/or that the trade winds have simply been relegated east of the International Dateline, rather than the whole ENSO basin.
Here's the thing: Comparing the equatorial subsurface anomalies and upper-ocean heat anomalies to the trade winds bring our team of forecasters to an interesting conclusion. What's happening now makes sense.
The big anomaly freefall in Apri/May correlated with the prolonged period of enhanced trade winds. Then in late May and early June, the upper-ocean heat anomalies rose a bit, which makes sense considering the trade winds relaxed a bit during that time. They subsequently declined again in late June when the trade winds increased, and then got warmer in early July when the trade winds relaxed again. However, in recent trade wind analysis, we can see that the trade winds have picked up again. But the upper-ocean heat anomalies are still racing towards neutral, and the subsurface cold pool is still weakening. This further illustrates that the lack of consistently strong trade winds prevented the La Nina circulation in the Pacific from truly establishing itself. It also lends credence to the fact that other atmospheric processes in the Pacific Ocean may be working against the La Nina developing.
In simple terms, most La Ninas  have had a cooler "base" to the Pacific to coincide with its development. This is especially important when the atmosphere is attempting to transition from a strong El Nino, as the entire atmosphere needs to reverse in order for such developments to happen.
On the left (above), we can see the current SST anomalies. While we can see that some cooler anomalies are developing in the ENSO regions (developing La Nina), the Pacific as a whole is extremely warm. What's particularly noticeable is the strong +PDO, which is generally represented by the warm SSTs in the North Pacific with cooler anomalies just below it. There is often a relationship between the PDO state and ENSO state, and right now they are conflicting. This could play a role in this La Nina coming to a halt.
On the right, we have the composites from the most recent strong El Nino to La Nina transitions, and where they currently stood in August. Notice, for one thing, how the La Nina was much more expansive, which is in indicator that the trade winds were encompassing more of the Equatorial Pacific. Also notice how much cooler as a whole the Pacific was, and the strong -PDO that was developing. It's almost a polar opposite. That helped to enhance the La Nina's development, rather than hinder it like this year.
The SOI (Southern Oscillation Index) is based on the difference between air pressures over Tahiti and Darwin, Australia.  Sustained values below (more negative than) -7.0 indicate El Nino conditions, while sustained values above +7.0 indicate La Nina conditions. This is because since Tahiti is east of Darwin, and air generally flows from high to low pressure, a higher pressure in Tahiti (a positive SOI) would lead to more east to west wind flow (towards Darwin), which is an indicator of stronger trade winds.
The SOI values have been gradually rising since June. This an indication that sea-surface temperatures in the Tropical Pacific have been trending towards negative ENSO.  But the 30 day moving SOI values continue to be in neutral ENSO territory, and the last few days have actually had some weakly negative values again. It has been hard to sustain La Nina SOI values.
The IOD (Indian Ocean Dipole) is a climate driver based on the influence of sea-surface temperatures in the Indian Ocean. During the neutral phase, warm ocean water flows from the Pacific into Indian Ocean with normal westerly trade winds. The positive phase has these winds weakening or becoming easterly, causing more warm ocean waters to shift closer over to Africa.  The negative phase of the IOD has stronger westerly winds along the equator, supporting warmer waters over the Eastern Indian Ocean and Indonesia. This sea-surface temperature pattern leads to more convection with tropical forcing over these regions, which is associated with La Nina.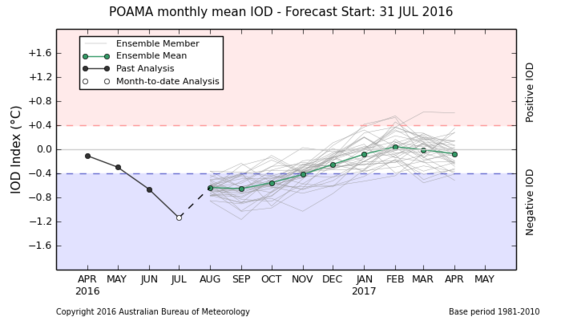 Latest model guidance from Australia's weather bureau shows this phase weakening this fall and tuning neutral by the winter — another indication that these negative sea-surface departures over the Nino regions will bottom out over the next few months, if not during this summer. This means that any weak La Nina that we'll have during the late-summer and autumn may weaken to neutral levels by the winter. The model guidance for ENSO itself generally agrees with this conclusion, with most models showing readings just below the La Nina threshold in October, as seen below. Something to keep in mind, though, is that Australia uses -0.8C as a weak La Nina, but the climate prediction center uses -0.5C or cooler over a 3-month period to officially declare a La Nina (which is the criteria we also use in our forecasts). Anything from +0.5C to -0.5C is considered neutral, thus anything from 0C to -0.5C is considered negative neutral.
To be clear: We are not calling the La Nina development a complete bust.  There are still some fairly cold waters in the subsurface, and more cold water might be trying to develop at the subsurface towards the Central Equatorial Pacific, due to the recently stronger trade winds. But the subsurface waters close to the surface have steadily warmed, even despite these trade winds, and they have not done much to truly change the atmosphere into a full-on La Nina regime. The trade winds do still have some time to make a few changes to the atmosphere, but based on what we've observed, it appears that the transition from a strong El Nino into a potent La Nina is no longer in the cards.
At this time, our team of forecasters is anticipating that this La Nina will be a weak event probably in the August/September/October trimonthly period, with an ENSO region 3.4 anomaly reading of somewhere around -0.7C, before gradually weakening towards a borderline negative neutral to very weak La Nina for the start of Winter. So while we may still technically get a La Nina, the event may be closer to negative neutral/La Nada than a moderate event.
We will continue to monitor ENSO trends closely into this upcoming fall and winter. Sign up for Premium Membership for more updates on the ENSO and long-range updates and videos over next few weeks and months ahead.
This article was written and edited by forecasters Doug Simonian, Miguel Pierre, and John Homenuk.
Comments
comments
https://www.nymetroweather.com/wp-content/uploads/2016/08/SnipImage.jpg
241
719
Doug Simonian
https://www.nymetroweather.com/wp-content/uploads/2017/04/oldlogo.png
Doug Simonian
2016-08-08 14:30:25
2016-08-08 17:26:45
La Nina Update: Moderate or Strong Event Unlikely This Year