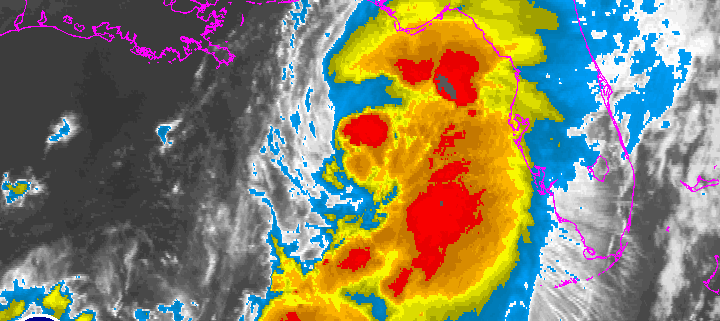 A wave of tropical moisture surging ahead of a cold front approaching the region, has led to periods of rain this morning. This is now beginning to taper off from west to east across the region. Clouds could break for some sunshine this afternoon. But there is still a chance of some isolated showers and thunderstorm popping up until the cold front moves through region late this afternoon. Temperatures will likely reach the upper 70s to lower 80s with enough sunshine this afternoon. Then tonight, skies will clear with high pressure building over the region. Friday will be mostly sunny with temperatures rising into upper 70s to lower 80s. Dry conditions will likely continue into Friday night. Then attention turns to Tropical Storm Hermine which is currently strengthening in the Gulf of Mexico and is forecast to make landfall as a minimal hurricane over the Florida panhandle late tonight.
Much of the latest model guidance overnight has shifted further south and east with what remains of Hermine, reducing some impacts from heavy rain and high winds in parts of the area. However, models have not been too consistent with the track of this storm near our region, over the last few days. One of these models (the GFS) has also shifted west again during its early morning run, with heavy rainfall and strong winds for the New Jersey coast. The mid-morning and early-afternoon model runs have also shifted back northwest, bringing significant impacts back to the region. If Hermine tracks closer to region, the mostly likely time frame for significant impacts, appears to be on Saturday night and Sunday. .
Regardless of more significant impacts, Hermine is likely to cause some high surf and rip currents for the area beaches. Some beach erosion and minor coastal flooding is also a threat, enhanced by astronomical high tides through the weekend. The entire holiday weekend, will not necessary be a washout. Dry weather is likely to start off on Saturday, for much of the region. Hermine should begin to pull away from the region during Monday (Labor Day).
So we will continue monitor guidance today for more significant impacts from Hermine in the region. Please read our public article or premium article from Wednesday evening, for more discussion on possible outcomes and preparation. More updates will be coming later today and tonight.  You can also track Hermine on our Tropical Weather Dashboard, which is open to the public.
Comments
comments
https://www.nymetroweather.com/wp-content/uploads/2016/09/Hermine-Satellite.png
468
720
Miguel Pierre
https://www.nymetroweather.com/wp-content/uploads/2017/04/oldlogo.png
Miguel Pierre
2016-09-01 10:31:34
2016-09-01 18:12:05
Thursday Overview: Watching Hermine for Labor Day Weekend