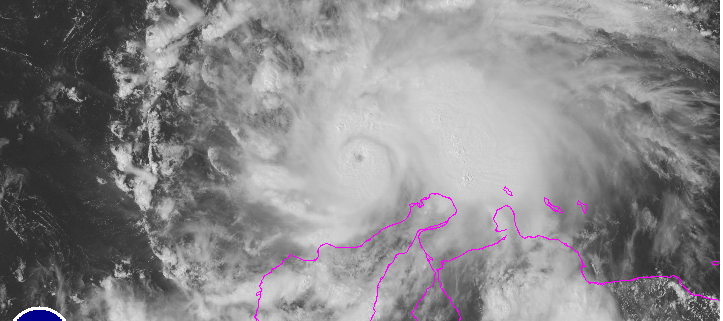 Matthew unexpectedly underwent rapid intensification to category 5 hurricane on Friday. This is despite between 20-30kts southwesterly shear over the eye. Today, Matthew has slightly weakened down to category 4  hurricane. But still remains a very powerful and dangerous hurricane.  Matthew has been moving very slowly west-southwestward over the Central Caribbean. But is expected to make gradual turn northward later tonight and Sunday. This will take the eye somewhere between Jamaica, Eastern Cuba and Haiti Bahamas by Monday. Then somewhere over the Bahamas by Tuesday and Wednesday. So will Matthew turn towards the United States or will go out to sea? Well alot depends how it interacts with incoming trough and how strong the ridge is over the Western Atlantic.
A couple models have shown various solutions with the aforementioned features above. First, there Matthew is already underneath strong ridge over Western Atlantic, that has been forcing the hurricane to move slowly west-southwest moving over past couple days.  But a weak upper-level trough digging into Gulf of Mexico and Western Caribbean and weakness in the subtropical ridge, will eventually steer Matthew more northward and faster towards the Windward Passage. At this point, it is foretasted by at least the GFS model to be underneath and upper-level anticyclone, just east of the trough.  This will continue support more outflow and ventilation, while moving over very warm sea-surface temperatures around 29°C to 30°C (84°F to 86°F) in the Central Caribbean.
Then Matthew will likely weaken somewhat, when interacts with mountainous terrain over Cuba, Jamaica on Monday. Then some re-intensification is likely again, as it moves north of Cuba and heads into the Bahamas. Sea-surface temperatures off Southeast coast are very warm as well. Upper-level winds will continue to be favorable. But whether Matthew makes turn back towards to the East Coast or turns northeast out into the open Atlantic, largely depends on how interact with a larger trough coming from the Western US. If there is little or interaction, the trough will likely force Matthew to stay out in Atlantic.
On the other hand, if the over the Northwest Atlantic is strong, enough it could force Matthew and through both to phase. This will bring Matthew center much closer to the East Coast. The GFS has been scenario for earlier this week. But past few since Thursday night, it has Matthew turning away as the trough approaches, with weaker ridge over the Atlantic. The ECMWF model has been much slower and further south with Matthew this week. It's hasn't been as deep with initial weak upper-level trough cause Matthew to turn north faster. So this give the trough and blocking ridge to move east, give Matthew more an escape route out to sea.
Latest guidance as of this Saturday afternoon continues show some differences. The GFS model shows Matthew moving northward just east of Jamaica and over Eastern Cuba, early next week. Then turn towards more towards Northwest Bahamas late next week. Eventually energy along the incoming trough from the Ohio Valley, begins phasing with Matthew. This cause Matthew to turn more northward, after skirting the Southeast coast late next week. A further west, closer to the Southeast coast, has some support from the UKMET model at least to 144hrs. But the GFS ensembles have larger spread of solutions between a cluster that goes straight north into the Northeast, to another larger cluster goes out to sea.
The ECMWF model continues to favor a more eastern scenario. First taking Matthew east of Jamaica and over the Windward Passage or Haiti. Then tracks is over the Southeast Bahamas before turning out to sea. This likely due to the remnants of a cut-off over Northwest Atlantic, giving more of escape route out into the open Atlantic.  However, today's ECMWF solution favor deeper and slower trough with stronger ridge over the Western Atlantic. This lead to later phasing with the trough by the it reaches east of New England and Canadian Maritimes. The GGEM model also has Matthew phasing with the trough over the Canadian Maritimes.

 At this time, we just continue to watch for trends on the models and ensemble guidance this period. It would not be wise to rule any solution, as often difficult for models resolve intricate details of synoptic feature interactions in the medium and long-term. But on based current solutions, it appears that what happens with Matthew over the Caribbean and Bahamas over next several days, will likely be crucial in determine what impacts along the US east coast. Also when the incoming trough comes out the Central Plains and how far south it digs into the East, will be crucial. A weaker ridge over Western Atlantic or more progressive trough will likely lead to Matthew taking more east path out into Atlantic. While stronger West Atlantic ridge and slower, deeper trough will likely result in more impacts along the US coast.
For more locally around the NYC metro region, we don't believe that Matthew is likely to directly impact our region yet. But some rainfall is still possible by next weekend, with at least the upper-level trough and frontal boundary that may interact with tropical moisture from Matthew. Stay tuned for more updates on Matthew throughout this weekend and next week. You can also track Matthew on our tropical weather dashboard, with the latest information on from National Hurricane Center, as satellite images and model track forecasts. A live blog with updates on Matthew will be also open to premium members starting tonight.
Comments
comments
https://www.nymetroweather.com/wp-content/uploads/2016/10/Visible.png
481
723
Miguel Pierre
https://www.nymetroweather.com/wp-content/uploads/2017/04/oldlogo.png
Miguel Pierre
2016-10-01 18:00:51
2016-10-01 22:58:41
Hurricane Matthew's Potential Impacts on the Caribbean and United States