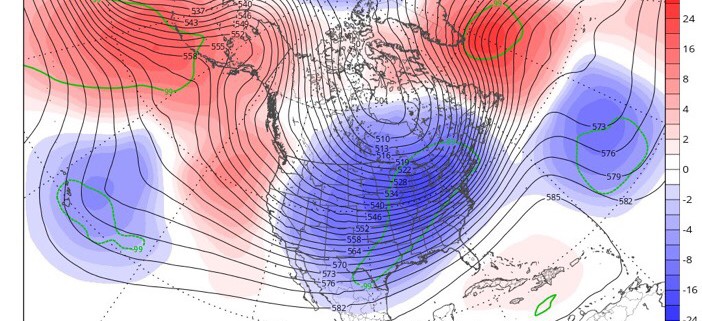 Just a week ago, we spent time in our Public Threat Analysis speaking of about the return of a Southeast Ridge towards the end of December. Just 7 days later, we'll be discussing the return of a colder, more active weather pattern as we move forward through the next 10 days and into early and middle January.
Far away from the Northeast United States, a strong storm system in Eastern Asia is set to kick off a chain of events — a wave breaking event — in the Pacific Ocean, which will help change an otherwise stagnant pattern there. Ridging is forecast to develop over the Northeast Pacific from the Aleutian Islands into Alaska and become quite anomalous by this upcoming weekend.
This may not initially seem overly significant, but it is. Large, anomalous ridges that develop from the Aleutian Islands towards Alaska and build northward work effectively to both dislodge cold air further south, and amplify the weather pattern across the Lower 48 of the United States. The pattern being advertised is much different than the one we have been experiencing over the last week.
Exactly how things play out, however, remains in question. Amplified patterns such as the one being advertised — with a – EPO (Eastern Pacific Oscillation) allowing cold air to dump southward from the Arctic into the West and Central US, aren't always easy to forecast for the Northeast United States. In fact, their amplitude and exact evolution will be critically important in determining what type of sensible weather our area of the country will experience.
Of additional importance will be the pattern over the Atlantic and Eastern Arctic/Greenland, more affectionately known as the NAO (North Atlantic Oscillation) region. More ridging or blocking in this area will help to keep cold air over Southeast Canada and the Northern 1/3 of the United States. Less ridging in these areas could allow much of the cold air to spill into the Western and Central United States, with storm systems cutting west of the Northeast US along a thermal gradient.
The graphic below does an excellent job of explaining how the pattern could evolve. A colder, more active pattern is increasingly likely for the Northern 1/3 of the Western and Central United States. But East of the Ohio Valley, the amplitude of the pattern and presence high latitude blocking will be important — without it, the Southeast Ridge may still be strong enough to send storm systems further north and west, mitigating winter weather chances, especially near the coast.
So this winter hiatus is not expected to last much longer. Most likely by around January 5th or 6th, cold air — and not a transient hit of cold — will be back in the East. If we can get a semblance of Atlantic blocking, we will be tracking widespread winter storm threats shortly thereafter.
Comments
comments
https://www.nymetroweather.com/wp-content/uploads/2016/12/Image-uploaded-from-iOS.jpg
437
702
John Homenuk
https://www.nymetroweather.com/wp-content/uploads/2017/04/oldlogo.png
John Homenuk
2016-12-26 13:14:00
2016-12-26 13:14:44
High latitude ridging, and the return of a colder pattern