Regional mesoscale analysis this morning revealed a small, weak area of low pressure near the Delmarva shores drifting gradually northeastwards into the Atlantic. As expected, this low pressure area is developing as a result of a favorably positioned disturbance in the mid levels of the atmosphere, and is also aiding in the development of bands of snow over Southeastern NJ at this hour. This low pressure is expected to continue to track east/northeast over the next few hours.
Local observations and radar analysis confirms that steady or accumulating snow is struggling to make northward progress throughout the state, with banding settled over Cape May, Atlantic, and Southeast Ocean counties. This banding is occurring as a result of enhanced lift in the atmosphere, which works to produce steadier and heavier precipitation. This lift is being enhanced by temperature gradients and wind gradients in the atmosphere, with frontogenesis at the 850mb level (about 5000 feet above your head) aiding in its development.
Mid-level shortwave energy is still anticipated to swing through New Jersey this morning. This will allow the development of  light snow or snow showers a bit further north into Central NJ, before they shift offshore later this morning. Any accumulations away from the aforementioned banding should be minimal at best, as drier air in the atmospheres mid levels mitigates the potential for steady snow.
Over Southeast NJ, snow will likely continue until around 9 or 10 am  before tapering off. The latest 4kmNAM still shows the discussed mid-level frontogenesis continuing through through this morning especially over Cumberland, Cape May and Atlantic counties, over the next couple of hours. So with surface temperatures still just below freezing, the moderate band of snow may persist near the shore with additional accumulations.
Our snowfall map from yesterday hasn't changed. Generally, amounts of 1" to 3" are still anticipated over Southeast NJ. Some isolated totals up to 4" are possible in the mentioned counties — but this seems a low probability at this point. Roadway treatment will continue to be necessary this morning in these areas as well. The National Weather Service continues with Winter Weather Advisories for Southeast New Jersey counties.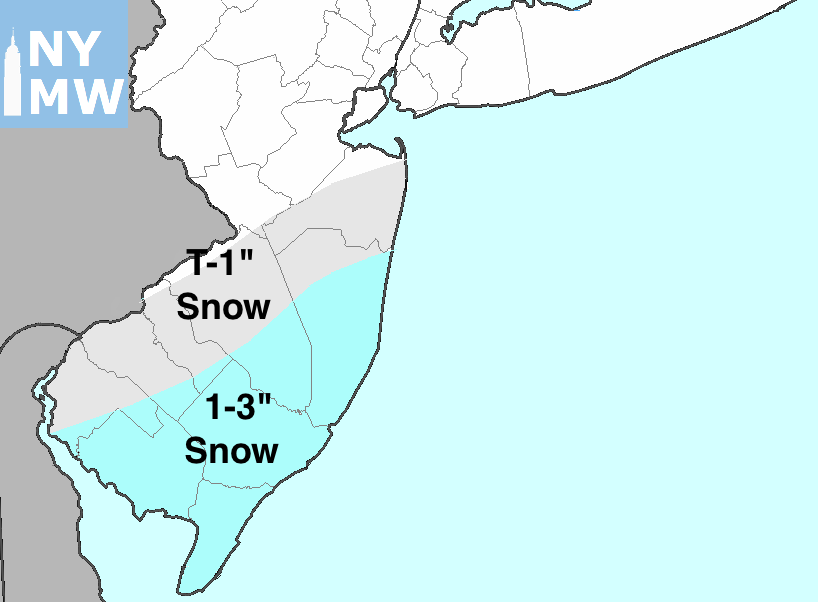 After this system moves further offshore, generally tranquil and seasonably cold weather conditions are expected this afternoon and tonight. Another system may bring wintry precipitation to parts of the region on Tuesday and Wednesday. Additional details on that storm system are forthcoming this morning!
Comments
comments
https://www.nymetroweather.com/wp-content/uploads/2017/01/Screen-Shot-2017-01-30-at-8.09.44-AM.png
332
916
Miguel Pierre
https://www.nymetroweather.com/wp-content/uploads/2017/04/oldlogo.png
Miguel Pierre
2017-01-30 08:11:07
2017-01-30 21:34:03
FREE 1/30/17 AM Zones 4/5 (Southeast NJ) Update on Light Snow