After tracking this potentially significant system over the past couple of days, we have seen some sizeable differences showing up on the computer models regarding potential impacts and accumulations, but this afternoon's computer model guidance has come into line and it is looking quite likely that the entire New York metro area will be seeing seeing a significant amount of snow during the next 24 hours with a variety of potential impacts.
As was talked about on Monday, we have our two key pieces of energy that have to interact and come together this evening in order for our storm to take shape and really begin to intensify. If we look on the 500mb chart below, which is essentially what's happening up in the atmosphere at roughly 18,000 feet, we can see our two distinct features highlighted in pink. Our first piece can be seen over Kansas City, Missouri this afternoon which has generated the beginnings of our storm over Arkansas and Tennessee with precipitation starting to break out all the way up into Illinois/Indiana/Ohio. As our second feature begins to dive south from its current position to the north of Bismark, North Dakota and interacts with the piece of energy in Missouri, the low pressure currently in the south will begin to speed up and track into northern Tennessee this evening. More precipitation will begin to blossom to the north of the low pressure area as time goes on. This low should steadily deepen as it tracks through Virginia by the early morning hours and bring the onset of the precipitation to the southern New Jersey by 2-3am. This area of snow and rain should gradually move up from southwest to northeast and since we have temperatures in the 50s-60s this afternoon, the initial precipitation may be in the form of a rain/snow mix due to residual warm air. As the precip starts to come down at a heavier rate, a switch to heavier snow/mix is likely for much of the area.
As it has been talked about many times this week, this is a quick-moving storm, but it's also a very rapidly strengthening one as well. As the low pressure begins to move off the coast of Virginia early tomorrow morning, the storm will begin to rapidly organize while simultaneously pulling in colder air from off to the northwest. This will ensure that the vast majority of the area turns and stays as snow for the remainder of the storm. Another important aspect of this storm being able to strengthen so quickly in such a short period of time will be the development of very intense bands of snow that will move in from the southwest to northeast tomorrow morning by sunrise. These intense snow bands will really work to increase the rate of snowfall as well as drop temperatures and visibilities in a very quick period of time. The computer models this afternoon have really keyed in on the heavy snow banding taking shape from Southeast Pennsylvania, through most of New Jersey, and into Long Island as well as Connecticut as the day goes on.
These bands will be capable of a wide range of impacts including: blinding snowfall, gusty winds up to 35 mph, very hazardous travel conditions, and the potential for thunder in the most intense bands. Since the worst of the storm will be edging its way into the area by the morning commute, travel in these types of conditions is strongly discouraged as road crews may find it very hard to keep up with these rates of snowfall which could be approaching 2-4 inches an hour in some locations. As the morning and the storm marches on, the snow should begin to wane in intensity by mid-afternoon from west to east, with portions of Long Island and Connecticut having the best potential to have an extended period of snowfall.  As the snow begins to end, the winds should become quite gusty and blow any loose snow around which may create continued dangerous travel conditions for the rest of the day. Snowfall totals are likely to be broadly dispersed. A general 8 to 12 inch range continues from yesterdays forecast throughout Central and Northern NJ, NYC, LI, Southeast NY and CT. An upgraded area of 12″+ potential has been added to some of that area — where we expect these bands to set up.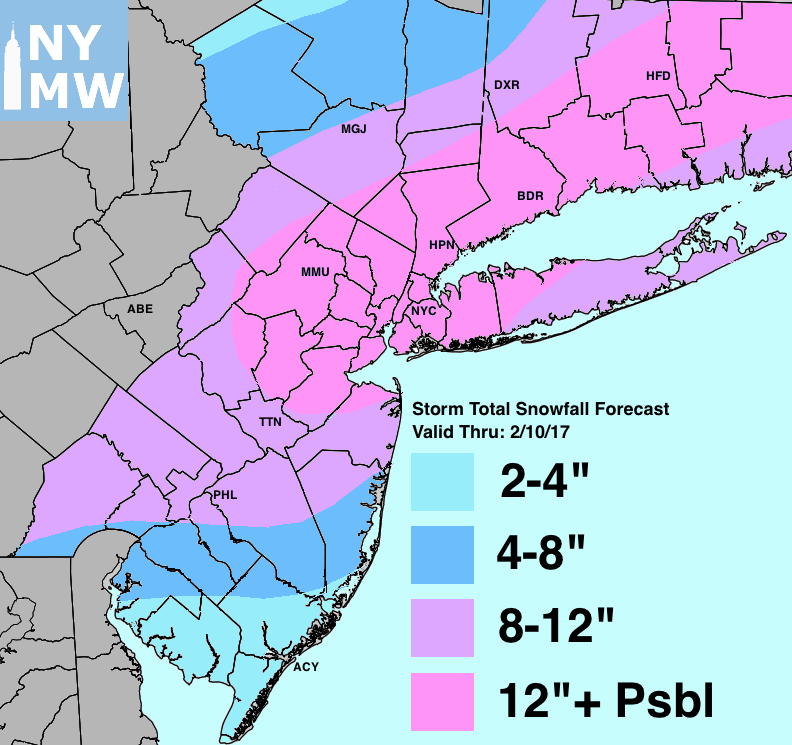 Make sure to check back over the next 24 hours as this storm is poised to significantly impact the New York metro area tomorrow! Posts like this one are available multiple times each day to Personal and Commercial clients, including Zone Forecast subscribers. Contact us today for more info!
Have a great evening!
Comments
comments
https://www.nymetroweather.com/wp-content/uploads/2017/02/ScreenHunter_283-Feb.-08-15.47.png
801
1576
Steven Copertino
https://www.nymetroweather.com/wp-content/uploads/2017/04/oldlogo.png
Steven Copertino
2017-02-08 15:57:18
2017-02-08 15:57:18
Public Analysis: Significant Snowstorm Likely Tomorrow