Snow is wrapping up from west to east throughout the area this evening, including parts of Long Island where snow has lingered for the longest today. A low pressure center moved from the coast of New Jersey to a position south of New England — in fact, quite close to the 40/70 "Benchmark" for impactful storm systems. Impactful snow moved from Northeast NJ and NYC through Long Island and Connecticut, and now is positioned near Southern New England.
The storm system will continue wrapping up and pulling further eastwards as the evening goes on tonight. As low pressure moves away from the Northeast US, northwesterly winds will gradually allow drier air to move into the region. A developing pressure gradient between the low pressure center and an incoming high pressure will lead to the potential for gusty winds through the evening. This will be especially true near the area coasts, where gusts may exceed 35 miles per hour at times.
Much colder air moves into the entire Northeast US tonight, and low temperatures fall into the single digits and teens. These low temperatures will be impacted by snow cover, but radiational cooling will not be as ideal as they could be due to the blustery winds. Nevertheless, arctic air and snow on the ground will lead to very cold air tonight — even where snow is lingering over New England.
Active weather continues into Friday 
With one storm out of the way, the active and progressive weather pattern will continue on Friday. A storm system will approach the area from the northwest, dropping into the Northeast US from the Great Lakes and Southeast Canada. Snow will spread from the Great Lakes into the interior Northeast on Friday afternoon and evening, angled from northwest to southeast.
The heaviest precipitation is currently expected to fall over New York State and parts of Western New England, with precipitation rates decreasing gradually as the storm system begins its progress eastward. The southward extent of snow should reach into Northern New Jersey, possibly grazing New York City and Long Island from Friday PM into Saturday AM.
Snowfall accumulations will be relatively light, with a trace to an inch possible in Northern NJ, NYC and Long Island. Amounts closer to 1-3″ are possible in New York State, Connecticut, and Massachusetts and stronger lift for precipitation exists over those areas through Friday evening and Saturday morning.
These amounts won't be necessarily consistent. Snow will likely be sporadic in intensity and not necessarily steady for prolonged periods of time. However, road treatment may be necessary throughout the highlighted area as periods of snow continue through the overnight hours and into Saturday morning, particularly in parts of New England and Maine.
Gradual clearing is expected on Saturday afternoon as the system moves through the area.
Another right on its heels — with New England significance 
Not even 24 hours later, another significant storm system will drop southward from Canada, again from the Northern stream and into New England. Initially, a low pressure over Southeast Canada is likely to draw warmer air and southerly winds into the Northern Mid Atlantic and Northeast, with rain likely even as far north as Connecticut.
However, the northern stream disturbance is currently modeled to strengthen quite significantly as it moves southeastwards into the Northeast US. As it does so, it will amplify and a strong surface low pressure system may develop off the coast of New England. Some forecast models have suggested this development could be quite intense, owing to the strong system and evolution aloft.
If a stronger secondary low pressure does develop off the coast of New England and into the Gulf of Maine, a significant snowstorm appears possible in parts of New England — particularly New Hampshire and Maine. The southern extent of significant snowfall remains  extremely uncertain, with some models (such as the recent ECMWF) suggesting significant snow may reach into Boston and adjacent parts of Massachusetts. Significant winds would be likely as well with a rapidly strengthening low pressure just offshore.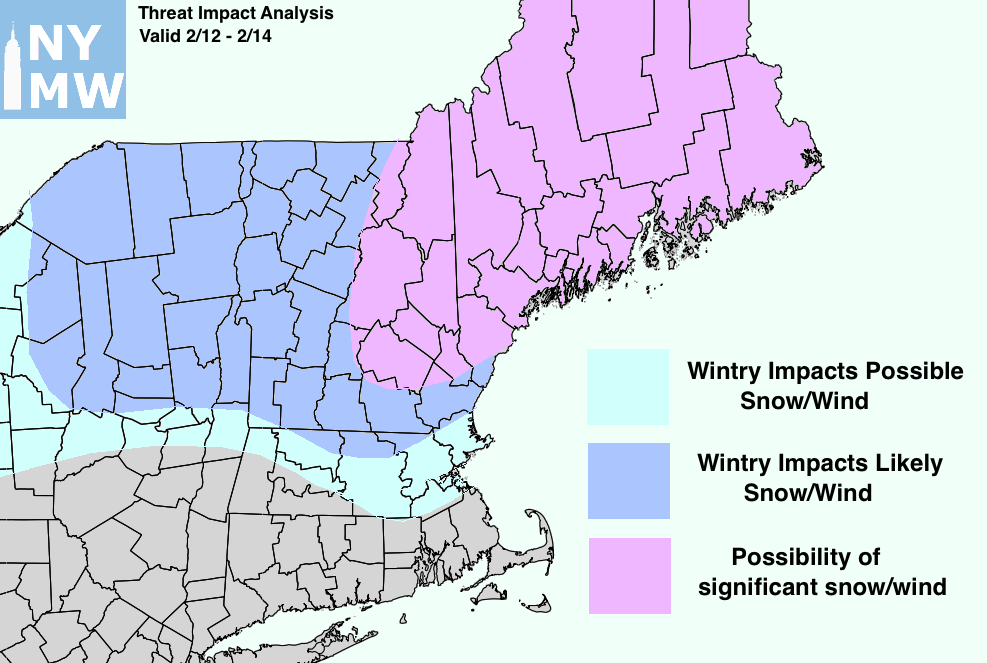 Still, forecast model ensemble guidance offers a wide array of solutions. The exact interactions that occur aloft will determine when and where the secondary low pressure develops — which will have a huge impact on the forecast in New England. While significant snow is possible in New England from late Sunday into Monday, its occurrence is currently extremely uncertain.
The trends in the overall pattern favor significant snow occurring further northeast in parts of New Hampshire, Maine, and possibly Northeast Massachusetts — and those areas are favored on our current Threat Impact map. Stay tuned for further updates over the next 24-48 hours.
Comments
comments
https://www.nymetroweather.com/wp-content/uploads/2017/02/Screen-Shot-2017-02-09-at-6.02.57-PM.png
313
798
John Homenuk
https://www.nymetroweather.com/wp-content/uploads/2017/04/oldlogo.png
John Homenuk
2017-02-09 18:03:22
2017-02-09 18:03:22
2/9 PM Zones: Storm exits, more to come in New England