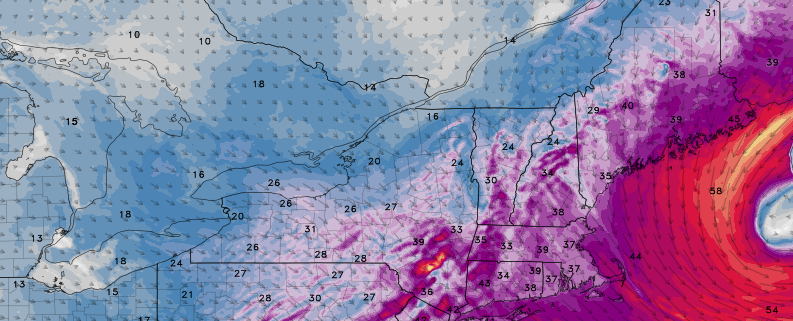 An area of low pressure which passed to our north on Sunday and provided our northern sections with some wintry precipitation is now located just to the east of the Gulf of Maine this afternoon. This area of low pressure has rapidly deepened into an impressive blizzard for parts of Maine bringing well over a foot of snow to some locations and can be seen clearly on today's visible satellite imagery. This area of low pressure, in conjunction with a high pressure located over the Ohio Valley are producing a tight pressure gradient between the two systems which causes the air between them to accelerate rapidly and occasionally work their way down to the surface.
As of 1pm, the highest gusts in the immediate New York City area were White Plains, NY 72 MPH, LaGuardia 61 MPH, Stamford, CT 55 MPH, Glen Cove, NY 56 MPH, Central Park 44 MPH. These gusts should continue throughout much of the afternoon as instability increases and allows the winds above the surface to mix down from about 4,000-5000 feet above the surface. Winds of this magnitude will be able to easily blow garbage cans around, displace lawn decorations, break medium-large tree limbs, and possibly even cause localized power outages. These high winds have also prompted significant delays at local airports, with Newark experiencing over two and a half hour delays at this time. Accordingly, the National Weather Service has already issued wind advisories and high wind warnings through throughout the area.
Since we do have some limited moisture and instability to work with today, there is an outside chance that some isolated locations may see pop-up snow showers or flurries that are short-lived. These snow showers may reduce visibility and make roads a bit slick, so keep an eye on the current conditions when traveling today. As we head towards sunset, instability will begin to weaken and the winds above the surface will relax which will result in the gusty winds to gradually subside by this evening and give way to colder temperatures. As the high pressure system in the central part of the country continues to move towards our area, our partly to mostly cloudy skies will quickly clear up and allow temperatures to fall into the 20's areawide with teens possible in the more inland locations. Dry weather is likely for the rest of the week, and a colder continental polar air mass will be over the region Thursday and Friday with temperatures close to seasonable levels.
A few days ago we were monitoring the potential for a storm to impact the region this Wednesday and Thursday. Past computer models were showing that this possible system could have been a fairly substantial snowstorm much like the one we had experienced this past week. However, more recent computer models have long since backed off on any significant impacts for our region. This can be attributed to a strong upper level piece of energy coming down from Canada being able to outrun another piece of energy from the south due to a less favorable upper atmospheric pattern. As was discussed in earlier posts, when this kind of situation occurs, the result is a sheared-out and weak storm that will likely pass to our south with little to no impacts. These pieces could come together well to our east and impact New England with more snow and significant winds, but chances of this changing significantly are very low. We still have a good deal of winter left, so make sure to stay tuned over the next few weeks!
For more information and posts like this one, make sure you sign up for Zone Forecasts — where multiple detailed articles, videos, and interactives are posted each day.
Have a great day!
Comments
comments
https://www.nymetroweather.com/wp-content/uploads/2017/02/ScreenHunter_284-Feb.-13-12.15.png
598
793
Steven Copertino
https://www.nymetroweather.com/wp-content/uploads/2017/04/oldlogo.png
Steven Copertino
2017-02-13 14:10:32
2017-02-13 14:10:32
Public Analysis: Very Gusty Today, Close Call Thursday