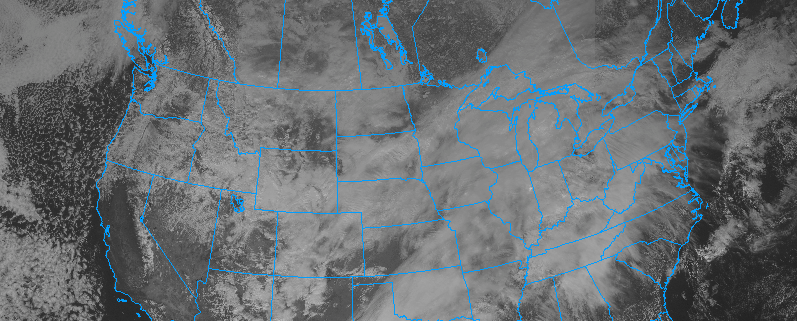 Yet again, the weather is completely divergent from the calendar, as we are tracking a severe weather event in the Northeast on Wednesday. This is following a moderate risk of severe weather in the Ohio and Tennessee Valleys today. It all starts with a warm front moving through the region tonight and early Wednesday morning, which will help make the already warm airmass even warmer, and also more moist. This will trigger some showers and possibly a rumble of thunder during the overnight and on Wednesday morning. Afterward, mid-level winds look to dramatically increase in strength as dynamics become extremely impressive ahead of a strong cold frontal boundary.
There will also be an elevated mixed layer (EML) moving into the region, which further helps promote high amounts of mid-level instability — perhaps more than we had on Saturday. We also have more deep-layered wind shear thanks to extremely fast westerly winds aloft, which could lead to multicellular clusters and even some supercells forming on Wednesday afternoon. The EML and westerly mid-level winds also lead to more dry air aloft, which is favorable for hail formation as well as being able to efficiently transfer strong winds down to the surface via density momentum. Saturday's soundings were more moist aloft, and also had a marine layer closer to the coast — so in a lot of ways, this setup has a higher potential than Saturday's storms, which is saying a lot.
But the devil lies in the details, and there are a few factors that make this setup have a much higher bust potential than there was for Saturday's storms. Saturday was pretty much a guaranteed setup to get a solid line of thunderstorms, but not truly good severe potential from I-95 and east. Wednesday will have much higher potential but also have a few more things that could go wrong and prevent widespread severe convection.
Let's take a look at the chronological events. The warm front moving through and providing showers and fog in the early-morning hours will stabilize the atmosphere. While a precursor to severe weather is often a decaying area of morning hours, this is often because in the summer, we get ample time for the atmosphere to recover with sunshine to generate instability, while still having the moisture and trailing boundaries from the morning showers. However, considering we are still in Winter, it may be hard for the atmosphere to truly recover behind the showers and fog, especially if the showers last into the late-morning and early-afternoon hours.
This is a potential wrench in the forecast that Saturday's storms did not have. Now that being said, perhaps these showers can clear out early enough, and the EML can prevent crapvection after the warm front passes through and then we'll have trailing boundaries with which to work. So in some ways, the warm front's rains can still help the setup for severe weather, considering we do have the EML. In other words, the warm frontal forcing may trigger showers earlier in the morning and override the EML, but once the prime frontal forcing moves away, the EML will take over and prevent any weak, stabilizing showers. This helps to increase the ceiling of the event.
Now let's take a look at the conditions on Wednesday afternoon — after the morning showers.
Notice how on the above forecast sounding, above the saturated layer at around 900mb, the column gets drier and more mixed with the dewpoints. This is the remnants of the EML, which was much stronger in previous hours. This EML was a cap that prevented crapvection in the early-afternoon, but provides mid-level instability for explosive thunderstorms should the cap break — like a loaded gun. On this sounding, we can see evidence of the cap (the small stable temperature layer between 900mb and 800mb just above the boundary layer) still being there but eroding. There is a great inverted V sounding for low-level moisture and condensation to get a cloud base, which will generate some lift to gradually break the cap. The wind profiles are absolutely ridiculous — southwest winds at around 15 knots and 85 knot winds at 700mb out of the west, leading to 0-3km wind shear of 77 knots. This is ideal for organized, rotating updrafts for supercell clusters. Now this also means we run a fine line, because you need a good lift to shear ratio — too much shear and not enough lift, and the updrafts become too tilted and cannot rise enough for good convection.
This is where the tricky nuances get complicated. On Saturday, we had ideal moisture convergence thanks to low-level backing winds converging with the strong cold front. This time around, the cold front lags a bit, and we do not have backing southeast winds to converge with the front. The pressure trough also does not look as strong as the one we had on Saturday. Thus, without this additional moisture convergence, there may not be enough moist, buoyant lift to fully take advantage of this wind shear, and thus the updrafts could tilt too much and weaken. We are going to need more forcing to combat this in order to truly realize the potential with this event. But if we do get this forcing, all bets are off.
With all of this in mind, much of our forecast moving forward hinges on the developments which we monitor from late Tuesday into Wednesday morning. Monitoring exactly how convection develops upstream (i.e over the Midwest, Ohio Valley, and Great Lakes) will begin to give us an idea whether or not forecast models are handling the development of instability in the Northeast properly on Wednesday afternoon. In addition, monitoring the conditions on Wednesday morning, including the mentioned instability as well as forcing and shear moving into the area, will give us better confidence on critical details with how the forecast is expected to evolve.
Our overall highlighted threat region remains in agreement with the NWS Storm Prediction Center, with a slight risk of severe weather across the Northern Mid Atlantic and Northeast states throughout the afternoon and evening hours on Saturday, particularly in the Mid Atlantic, Pennsylvania, and South/Central New Jersey. Stay tuned for further updates and information late Tuesday night into Wednesday morning.
Comments
comments
https://www.nymetroweather.com/wp-content/uploads/2017/02/Screen-Shot-2017-02-28-at-3.23.47-PM.png
375
797
Doug Simonian
https://www.nymetroweather.com/wp-content/uploads/2017/04/oldlogo.png
Doug Simonian
2017-02-28 15:24:39
2017-02-28 15:24:39
Technical Analysis: Northeast US Severe Weather Wednesday