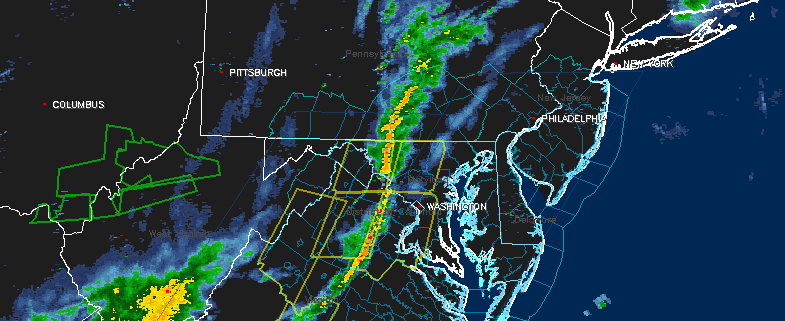 Severe Weather Video Update (Doug Simonian)
An active afternoon and evening is possible as a large area of low pressure moves through the Great Lakes region and into Canada today. The progression of this low pressure system to our northwest has allowed for warm/moist air to surge in from the south and provide a marginally unstable airmass for the southern half of the region as of 1pm. This unstable airmass will be aided by very strong wind shear, which is essentially the difference in wind direction as you get higher in altitude within the atmosphere. Even though most of the area did have heavier showers and even some isolated rumbles of thunder this morning, clearing has begun to take place. This is allowing for the sun to peek through some leftover high clouds and this will work to warm up the moist ground, which promotes evaporation. This evaporation ahead of the line of storms will allow for more instability to build, which will be key for the strength of any potential thunderstorms later on. As of right now it does appear that the greatest amount of clearing is currently taking place along the central and southern zones of NJ and PA, and as a result these areas are under a Severe Thunderstorm Watch mainly for damaging winds in excess of 60 mph ( Storm Prediction Center in Oklahoma)
The area of storms expected to impact the region is currently located back in Pennsylvania with multiple severe thunderstorm warnings active. In addition, we have begun to notice some increase in intensity over the past hour as this line passes over locations that experienced areas of scattered sunshine earlier. This line will be sustained by the very strong upper level winds and an increased instability feed from the south and we expect this line to begin to impact the region around 4pm. As mentioned the exact intensity of these storms will be highly dependent on how these storms interact with the environment, but we expect the southern zones (SE PA, SNJ, and into portions of Central NJ) to receive the strongest impacts with the potential for damaging wind gusts, lightning, heavy rains, and possibly some small hail in the strongest storms. Further north, the lack of instability will limit the potential impacts to some strong winds and occasional lightning as well as some heavy rain that will reduce visibility.
Gradually, the threat for severe weather will shift southeast through these zones during the afternoon and early to mid evening hours. The main complex of storms will move offshore, shifting through Southeast NJ (Atlantic City and Cape May) during the early to middle evening, and then offshore. Cooler and more stable air will move into the area behind the storm complex.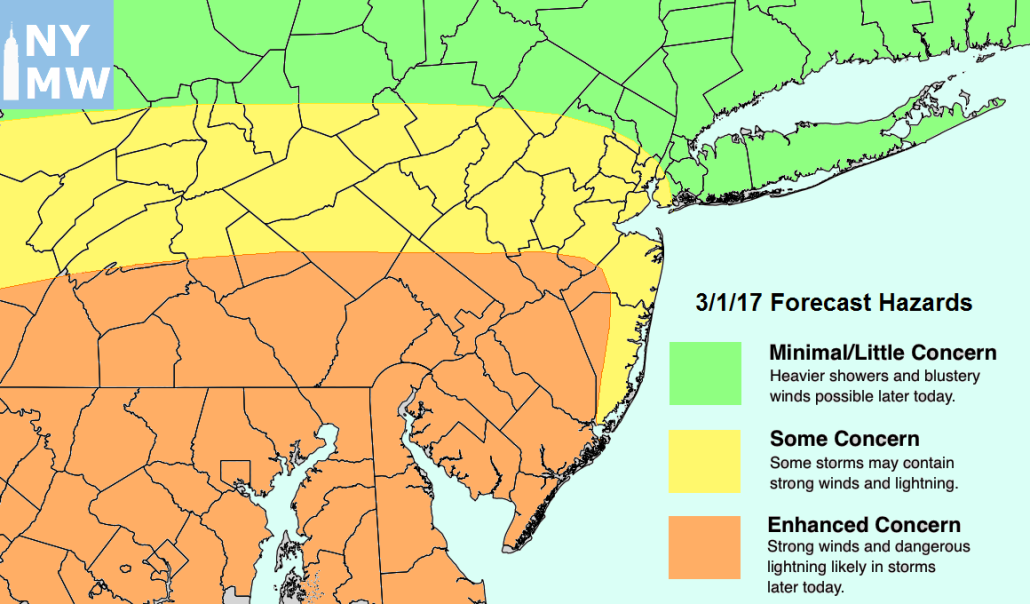 Make sure to stay updated over the next few hours with these potentially dangerous storms!
For more information and posts like this one, make sure you sign up for Zone Forecasts — where multiple detailed articles, videos, and interactives are posted each day.
Have a great day!
Steve Copertino
Comments
comments
https://www.nymetroweather.com/wp-content/uploads/2017/03/ScreenHunter_288-Mar.-01-13.18.png
692
785
Steven Copertino
https://www.nymetroweather.com/wp-content/uploads/2017/04/oldlogo.png
Steven Copertino
2017-03-01 14:16:49
2017-03-01 14:16:49
Public Analysis: Strong to Severe Thunderstorms This Afternoon