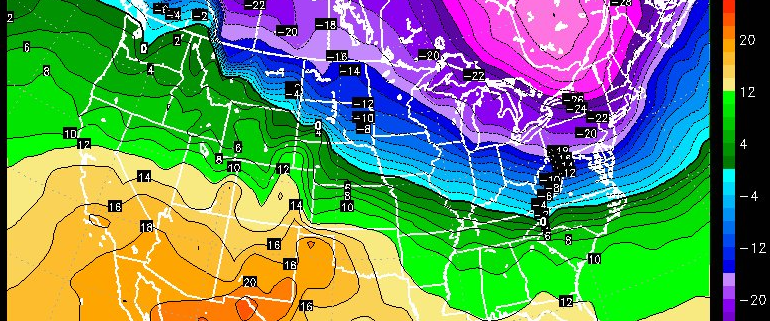 After another impressive but brief shot of cold weather this past weekend, another warmup is likely tomorrow and Wednesday along with some showers. Afterwards, the high-latitude blocking that we have been discussing for a few weeks now will provide a few chances for accumulating snowfall and colder weather for the NYC metro area.
This afternoon has been a cool, but pleasant one as a large area of high pressure that is currently centered off of the Mid-Atlantic remains in control of today's weather. Light southerly winds of around 5-10mph have warmed temperatures into the 40's across the entire area with some light high clouds noted on visible satellite imagery. Even though the area is a good 5-10 degrees higher than what they were yesterday, temperatures are still a few degrees below normal for this time of year. This will be short-lived as a large and very intense low pressure system intensifies over the Central part of the country and introduces even stronger southerly winds courtesy of a warm front overspreading the area. These southerly winds will usher in much warmer air and increasing cloud cover this evening, so temperatures should be above normal for our low temperatures tonight. Due to the low level moisture increase, some spotty drizzle or showers may be possible by this very late this evening and into the morning tomorrow.
As we move through tomorrow morning, mostly cloudy skies should be commonplace for the entire region with some showers present as well during the morning commute hours. The strong warm front that was mentioned will continue to usher in strong low level flow from the south, which will allow temperatures to warm well into the 50's tomorrow afternoon despite persistent cloud cover and rain. While the cold front from the large area of low pressure in the Plains continues to advance to the east, moisture will also be abundant by later tomorrow afternoon. This moisture will stream ahead of this front and create more widespread showers for the entire area that should last into the early morning hours of Wednesday.
Since the best dynamics with this cold front are off to our north in Canada, heavy rain is not likely a threat at this time. Once the actual cold front clears the area on Wednesday, temperatures should still be able to climb into the 50's and even 60's during the afternoon hours as any residual moisture is removed from the area and clear skies begin to take over. Late Wednesday evening and into Thursday is when the colder air arrives as the main upper level energy associated with the low pressure in the Plains passes to our north and allows for cold air to really "bleed" and overspread the metro area. This will be especially true just a few thousand feet above our heads while winds gradually shift from the Northwest.
As we move later into the week, a change in the large-scale pattern evolution over the Western Hemisphere, aided mostly by the development of significant high-latitude blocking, will support the return of at least some colder weather over the Northeast and Mid-Atlantic regions. Today's latest model and ensemble guidance suggest several separate waves could bring wintry precipitation into the region this weekend and into next week. There is still much uncertainty with the track and intensity of each of system, especially with the northern stream flow being fast and zonal initially. As we have seen, the trend for disturbances to trend quicker and weaker has been something commonplace this winter, but that was mainly due to a lack of blocking.
The first potential system that we are tracking looks to take place on Thursday evening and into Friday morning. This afternoons model guidance has diverged significantly on the exact outcome, but there seems to be at least some potential for a wave of low pressure to track from the Central US underneath the strong blocking high to our north and a large upper level low in SE Canada. Depending on just how far south this upper level low pushes the wave of low pressure will determine whether or not our area sees measureable precipitation from this event. This afternoons American model showed the wave of low pressure being able to track more to the north thanks to the upper level feature in Canada not pressing down on it as much, and ultimately delivers some light to moderate snow on Friday.
Another Pacific disturbance comes ashore later this week, and even more questions arise with this potential threat. As the disturbance tracks to the east over the Rocky Mountains, a low pressure will likely form in the Central Plains. This area of low pressure will have an area of high pressure off of the Mid-Atlantic coast that should provide it with a very impressive moisture feed as it begins to strengthen over the Tennessee/Ohio Valley. The aforementioned blocking will provide fresh cold air for this system as it traverses a very sharp temperature gradient, but where this exact gradient establishes itself is the real question as of right now.
If the blocking to our north is too strong, then the gradient and the system will wind up suppressed to our south and the area will see little, if any impacts. If the blocking isn't as oppressive on the system, then the low pressure will be able to take a more northerly track. If this system is able to track directly to our south, then all of the moisture that is sucked up from the record-warm Gulf will fall over the region and possibly have significant impacts. It i worth noting that this afternoons European model has trended a bit further south with no impacts for our area and very clearly represents what could happen if this system isn't able to gain enough latitude due to the upper level feature in Canada. 
Finally, later next week, more pacific shortwave energy digging may lead to another storm along the East coast. However, the blocking to our north may weaken by this point to allow for track further northwest or system to phase to late with northern stream off the coast. This may result more mixed or lighter precipitation in the region.
***It should be noted that each individual threat discussed here still remains extremely uncertain. As the models begin to catch on to the pattern evolution, we may see more drastic changes with the upper-level features and evolution of individual system.
We believe the chances are pretty high for cold and snow threats with this pattern evolution — but that doesn't mean anything is guaranteed. Stay tuned for further updates and details as we move closer.
For more information and posts like this one, make sure you sign up for Zone Forecasts — where multiple detailed articles, videos, and interactives are posted each day.
Have a great evening!
Steve Copertino
Comments
comments
https://www.nymetroweather.com/wp-content/uploads/2017/03/ScreenHunter_288-Mar.-06-13.34.png
593
770
Steven Copertino
https://www.nymetroweather.com/wp-content/uploads/2017/04/oldlogo.png
Steven Copertino
2017-03-06 16:09:47
2017-03-06 16:11:29
Public Analysis: A Battle of Two Seasons