Good morning! While Saturday mornings are a bit more quiet for our AG/Long Range friends — we didn't forget about you! Hopefully you're able to grab a cup of coffee and enjoy a quick discussion with us. Our article this morning will be a bit shorter, as we briefly detail some updates and the latest information we're analyzing on the pattern ahead. The pattern change we have been discussing for a few weeks is already underway.
Yesterday we spoke at length about the upcoming pattern and why we believe it will feature more active, stormy tendencies across the Plains and the Central United States including the Southern and Central Corn Belt. Not much has changed with our current thinking moving forward over the next week or two. As we move into the upcoming weekend, multiple storm threats will have already evolved across the Central United States.
These storm systems are evolving from the Pacific Ocean, in response to a changed pattern throughout the hemisphere. In simple terms, the weather pattern so far in the month of March has been generally controlled by the development of high latitude blocking to the north of the United States. These blocking ridges, which form in the Arctic, totally change the circulations throughout the atmosphere. But most notably, they restrict the effects of the Pacific Jet on the United States. They also dislodge cold air, which normally exists over the Arctic, further south into the Northern 1/3 of the United States.
This pattern, which has kept warmth and activity at bay (no pun intended) has backed off — and the blocking ridges have completely decayed. The Pacific Jet is open for business, and it's wasting no time getting into action. A 185+ knot upper level jet streak is forming across the Pacific, moving eastwards into the Western United States. Without anything to mitigate its intensity, multiple disturbances will surge into the Western United States.
Meanwhile, to the east, ridging will develop across the Southeast States and along the Eastern Seaboard. Visualize it easily: Trough in the west, ridge in the Southeast. In between, a highway for storm tracks and a thermal gradient of temperature which can act to not only enhance storms, but also allow for widespread precipitation. This is the basis for the development of an active pattern which we are forecasting over the next few weeks.
Now, it remains to be seen exactly how individual storm threats will develop. There will be multiple storms, and there will be plenty moisture to go around. But exactly where the thermal gradient develops will determine who sees the most prolific precipitation amounts. We are currently continuing to broad brush an area of active precipitation and severe weather threats, which you can see below, into the middle part of April.
Be sure to check our latest Weekly Discussion and Live Blog for the latest information and model data! Sign up now before these free posts disappear!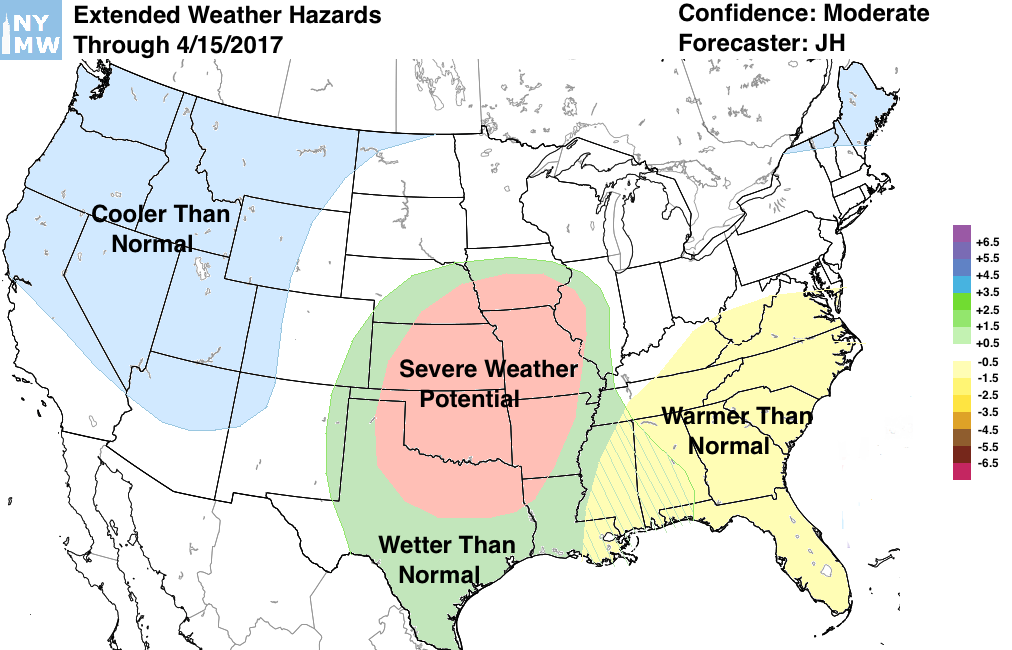 Comments
comments
https://www.nymetroweather.com/wp-content/uploads/2017/03/Screen-Shot-2017-03-24-at-10.23.41-PM.png
422
1203
John Homenuk
https://www.nymetroweather.com/wp-content/uploads/2017/04/oldlogo.png
John Homenuk
2017-03-25 07:00:28
2017-03-29 17:00:54
3.25 AM LR/AG: Wet, active pattern still likely to develop