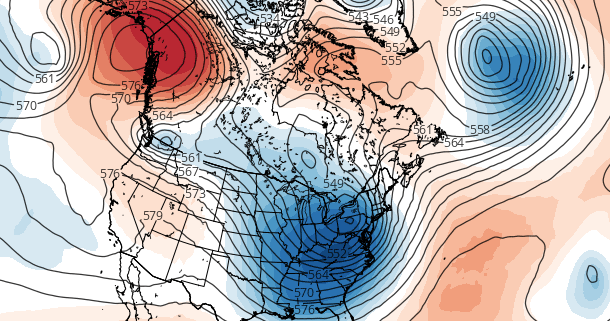 Good Afternoon! 
Earlier this week we mentioned that there was a strong likelihood that much of the area would be seeing temperatures rising into the mid to upper 80's, and possibly 90's starting today. This has indeed turned out to be true, with many stations this afternoon reporting highs in the lower 90's across Pennsylvania, New Jersey, New York, and Connecticut. Tomorrow looks to be even warmer, with highs possibly reaching the mid 90's by lunchtime tomorrow. However, this heat looks to be short-lived as another cool shot from Canada will likely bring temperatures back down to seasonable levels by this weekend!
————
Due to the rather clear and calm conditions over the area last evening, most locations were able to drop down into the lower 50's and upper 40's during the early morning hours today, which made for a cool start to the day for anyone who was active before today's sunrise. After sunrise, the clear and calm condition's allowed temperatures to shoot up into the upper 80's and lower 90's across the entire region, with locations in Long Islands and coastal Connecticut seeing lower temps due to southerly winds coming off the of the cooler Atlantic ocean. This was quite the impressive rebound, and the 40+ degree rise in temperatures this afternoon actually helped a few record highs get surpassed, with LaGuardia Airport(NY), Monticello (NY), Danbury (CT), Hartford (CT), and Belmar (NJ) all beating their daily high temperatures. The rest of the afternoon should continue to be quite warm and pleasant, with the sea-breeze likely working its way deeper into portions of New Jersey, Southeastern New York, and Connecticut.
Later this evening, temperatures should stay relatively mild as the humidity begins to increase as a subtropical high pressure system off of the southeast coast continues to move eastward and pump up moisture from the Gulf and Atlantic. Clouds may begin to increase during the evening, as increasing high-level clouds were noted on the latest visible satellite imagery. Overnight lows should remain in the upper 50's to upper 60's across much of the area, with the exceptions of coastal communities, which may see lows in the middle 50's due to continued southerly winds blowing in from the cooler Atlantic.
If today wasn't a good enough taste of summer for you, then tomorrow will likely deliver what you desire. While we may see some overcast and broken clouds over coastal areas tomorrow morning due to the southerly winds and enhanced moisture in the lower-levels, these clouds will likely break up quite quickly during the early afternoon hours. With low-level temperatures already quite warm, clear skies, and great southerly flow, tomorrow looks to be on track to hit the upper 80's to low 90's across much of the area tomorrow. Some portions of Northeastern New Jersey and Connecticut may even see highs in the mid 90's, while coastal areas of NJ, NY, and CT see cooler temperatures overall, especially once the sea-breezes begin to set in. With temps in the lower to mid 90's, tomorrow has a high chance of breaking quite a few daily high temperature records, even more so than today did. These warm and humid conditions will likely remain well into Thursday evening, as the model guidance over the past few days has really delayed the timing of the next cold front. Expect lows to range from the upper 60's to lower 70's across much of the area (excluding coastal locations)
With the increasingly humid and hot conditions expected to persist into tomorrow afternoon, the National Weather Service has issued an Air Quality Alert for the entire region. Sensitive individuals including the very young, the elderly, and persons with respiratory diseases such as asthma, should avoid strenuous outdoor activities during the afternoon and early evening hours.
Friday Into This Weekend 
Friday will likely be warm, but not quite as warm as Wednesday (today) or Thursday were. Winds should begin to shift to more of a westerly direction during the day on Friday ahead of an approaching cold front located in Northern New York. However, it is likely that this cold front may take its time reaching the area, and with clear skies and southwesterly/westerly winds temperatures should easily reach into the mid 80's across most of the region. Even though temperatures will remain rather warm, we should begin to see the humidity really drop off as the front ushers in drier Canadian air. Temperatures will gradually begin to fall off as the front should move through the area by late Friday afternoon or early evening. As this front drops southward through the area, temperature will drop into the more seasonable levels, with a more pronounced northwesterly wind developing.
It is worth noting that there is a potential that they delayed timing of the frontal system on Friday may allow instability to build up enough to the point that we may see isolated showers and thunderstorms develop. However, due to the dynamics that would allow the shower and thunderstorms to grow and become more widespread remaining concentrated to the northwest, it seems unlikely that any organized activity will be likely during the day on Friday.
High pressure coming from Canada will begin to move in during the evening hours on Friday, bringing a rather substantial change in air-masses. As the high pressure moves to our north on Saturday afternoon, cooler and drier conditions are likely to persist throughout the day as a more moderate maritime air-mass replaces the warm tropical air-mass that has been over our area. Highs will likely remain in the upper 60's to lower 70's across the entire are, with the exception of coastal locations on both Saturday and Sunday. Lows for both days will likely be quite cooler, reaching down into the mid to low 50's once again. These temperatures will be quite a change, with highs being 12-15 degrees below-normal. Overall, it looks like a much more pleasant and seasonable weekend is on tap, so make sure to enjoy it!
The next rain threat looks to be on Monday as some showers and potentially a thunderstorm or two will be possible as another cold front associated with an area of low pressure will be moving through the Northeast.
This afternoons model guidance suggests that the negative NAO will once again flex its muscles, allowing for a large trough to dig into the central portion of the country and gradually progress eastward next week. This will help to once again create a stronger chance at below-normal temperatures and even the threat for a significant precipitation in the long-range as blocking continues to take shape over Atlantic Canada.
Some pleasant, warmer or drier weather could still return at times, as synoptic features in pattern still shuffle around somewhat. But no prolonged heat is expected.  Make sure to stay tuned as we get closer to Memorial Day and begin to get a grasp of what may be on the table for the holiday weekend!
For more information and posts like this one, make sure you sign up for Zone Forecasts — where multiple detailed articles, videos, and interactives are posted each day. Also, come interact with our staff and many other weather enthusiasts at 33andrain.com!
Have a great evening!
Steve Copertino
Comments
comments
https://www.nymetroweather.com/wp-content/uploads/2017/05/50mmb.png
455
610
Steven Copertino
https://www.nymetroweather.com/wp-content/uploads/2017/04/oldlogo.png
Steven Copertino
2017-05-17 18:29:51
2017-05-17 18:35:10
Public Analysis: Brief Taste of Summer, Cooler Conditions Likely This Weekend