They say the excitement builds early for these things. I suppose that excitement was found this afternoon in Home Depot, when I finally located the power inverter I was looking for. Safety and precautions are a long, drawn out process and we aren't taking any shortcuts with this one, but in all seriousness we are having fun preparing for the weekend ahead. With safety in mind, we are making sure that all of our proverbial ducks are in a row. Who would've thought the thrill of the chase would begin in a warehouse?
These things can seem a bit monotonous at first, but in reality it is all part of the fun. We're taking our time to "dot every I" and "cross every T" along the way. Cell phone service checks, mobile internet hotspot reassurance, spare tire backups, personalized essentials. It's all part of the plan that begins earlier than the first day of actual chasing. With the checklist dwindling down a bit, we are starting to get anxious to get out there.
The latest check of forecast model guidance suggests a very interesting, complex and potentially rewarding scenario unfolding over the High Plains this weekend. There isn't a particular "higher end" setup showing up yet on any guidance, including both the GFS and ECMWF ensemble suites, but the potential certainly exists for some higher-end storms if the cookie crumbles the right way.
Much of the uncertainty in regards to the setup stems from the eventual evolution of a large trough pressing into the Western Untied States. The trough itself is quite large, manipulated into position by changes in the Pacific Jet stream several days ago. Within it are several perturbations which we will have to pay close attention to. These will eject eastward ahead of the main upper level low, into the Northern Plains and Southern Canadian Provinces. But perhaps most significant will be the positioning and behavior of an upstream ridge, building over the Central Plains in response to the aforementioned trough. This could be the "piece" that makes or breaks the potential for our chase.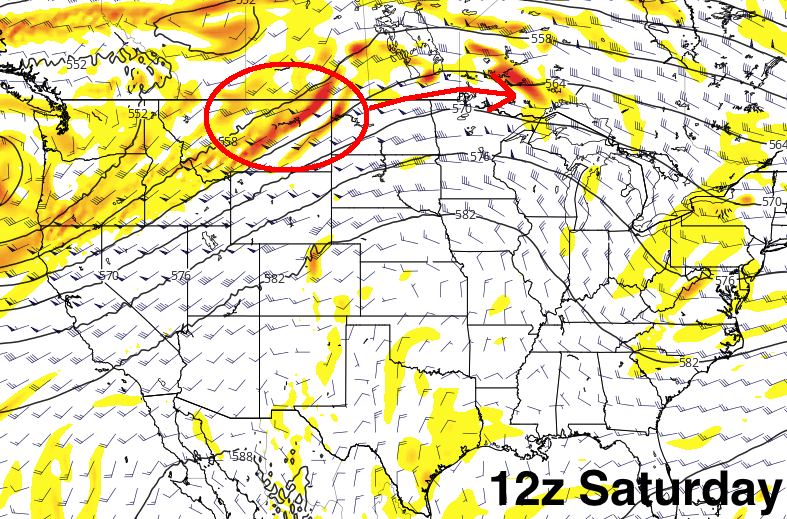 The GFS and ECMWF differ slightly in their handling of these individual disturbances. But with our chase beginning on Saturday, our eyes turn to the first disturbance being picked up by model guidance. This ejects eastward through the High Plains and towards the international border along North Dakota, Minnesota and Wisconsin. The disturbance, as modeled, provides enough height falls and lift to touch off the development of severe thunderstorms. With forecast models indicating a highly unstable and capped environment, this will be an integral part to any convective initiation.
Forecast models suggest the presence of a frontal boundary could provide opportunities for moisture (and attendant instability) pooling and an enhanced environment. But there is no denying the presence of a strong capping regime (convective inhibition) and a very warm Elevated Mixed Layer in place. It will be up to the disturbances, ridge positioning (attendant height falls) and lift to develop storms within what is an otherwise highly unstable and favorably sheared environment.
The forecast becomes more uncertain after Sunday, when we expect additional convective potential in the Northlands of Minnesota and parts of Wisconsin. The potential could exist for more higher-end storms in the High Plains depending on how things evolve aloft, but forecast models and ensembles remain very uncertain and our confidence is too low to begin targeting at this point.
That about wraps up our thoughts for tonight. Our early target areas remain quite broad, but we do know we'll be starting our journey in Minneapolis/St Paul on Saturday morning. Tomorrow afternoon, we'll be posting our first and preliminary target area for Saturday, with more detailed information on our thought process and the latest weather models.
Oh, and Home Depot opens at 7am, so I'll be there finishing our safety checklist. Have a wonderful evening!
Comments
comments
https://www.nymetroweather.com/wp-content/uploads/2017/06/Screen-Shot-2017-06-07-at-10.29.14-PM.png
351
990
John Homenuk
https://www.nymetroweather.com/wp-content/uploads/2017/04/oldlogo.png
John Homenuk
2017-06-07 23:31:53
2017-06-07 23:37:46
Storm Chase 2017: First day of planning, prep, and targeting