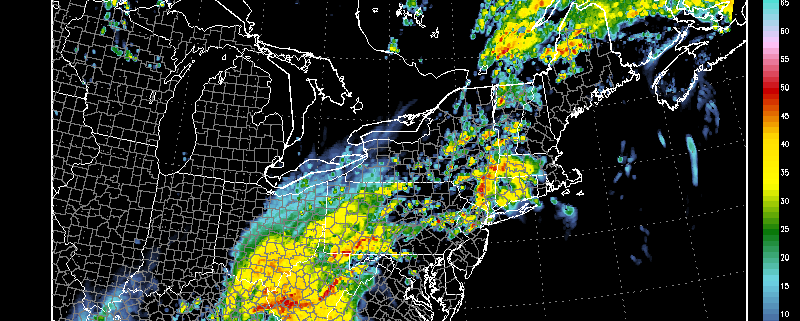 Good Afternoon and Happy Friday! 
Getting right into things, earlier this week we highlighted the potential for some heavy rain associated with the remnants of Tropical Storm Cindy, which made landfall along the Texas coastline early Thursday morning. At that time, we stated that there were two scenarios that were likely to play out, one being that the remnants of Cindy would not hold up all that well after landfall, and the other being that they would. Over the past twelve to eighteen hours or so, it has become apparent that the remnants of Cindy have remained quite robust as they traveled over the Ozarks and into the Tennessee Valley, at least in the mid levels of the atmosphere. With very deep, tropical moisture streaming north from the Gulf of Mexico, the significance of having a more coherent remnant system means that the leftover energy will spark widespread showers and thunderstorms through this evening and into Saturday. In addition to the remnants of Tropical Storm Cindy, which has been downgraded to a remnant low pressure area, we also have a cold front surging through the Ohio Valley.
This cold front has been working to funnel all of the moisture from the Gulf of Mexico to the north and east, allowing it to pool up over the eastern third of the nation over the past two days. This has made for a very soupy and humid day today across the majority of the Northeast. We saw some very subtle lift manifest itself over Pennsylvania around noon today, which allowed for some showers to move eastward through eastern Pennsylvania, New Jersey, and New York. Occasional breaks in the clouds and very warm temperatures a few thousand feet off the ground allowed temperatures to spike back into the low to middle 80's across the entire region, despite sudden temperature drops with any gusty showers that passed through some locations.
As of 630pm, a convective complex was evolving over the eastern half of Pennsylvania, and this complex will continue to head eastward through the evening. With adequate amounts of wind shear, instability, and an extremely moist air mass in place, torrential downpours, frequent lightning, and some gusty winds seem quite likely for those in the path of these showers and storms. Synoptic winds (winds not associated with small scale features) have already been quite impressive this afternoon, so we are quite confident that the probability for tropical-like downpours and gusty winds could cause some localized flooding with debris from trees likely clogging sewers. In lieu of this slight risk for severe thunderstorms, the Storm Prediction Center in Norman Oklahoma has issued a severe Thunderstorm Watch until 10pm this evening. The rest of the evening should remain quite unsettled, with the potential for more showers and thunderstorms behind this complex, so make sure to pay attention to your local NWS office for any potential warnings!
Saturday Morning to Evening
As we head into tomorrow morning, things look to remain quite unstable as the energy from the remnants of Cindy approaches the area while the cold front to our east compresses all of the rich tropical moisture into a focal point, located right over our area. During the day today, the high resolution models have been keying in on a very heavy band of rain moving over portions of Pennsylvania, New Jersey, New York, and Connecticut by 7-10 am tomorrow. This band of heavy rain is directly associated with a mid level piece of energy currently located over portions of Kentucky, which will likely continue NE throughout the evening hours. A crucial point here is that since the energy already exists and is well sampled, the models likely have a decent grasp on the situation over the next 12-18 hours. Regardless, as this piece of energy nears our area tomorrow morning, we will have to monitor the situation very closely since any rainfall with this system will likely be quite intense, which could produce localized flash-flooding, and exacerbate and potential flooding issues caused by tonight's storms.
Thankfully, the rain threat looks to quickly diminish later tomorrow morning, into the early afternoon hours. Any residual showers and thunderstorms look to press off to the east and offshore, leaving much drier conditions in their wake. With clearing skies, westerly winds, and warm low to mid level temperatures, temperatures should be able to climb into the middle 80's with ease by late tomorrow afternoon, making for a nice rebound. Weak high pressure will be over the region Saturday night. Clear to partly cloudy skies are expect with lows in the 60s in many of the suburbs to lower 70s in NYC and urban areas.
Sunday and Beyond 
Sunday looks to be quite beautiful early on, with increasing sunshine during the early morning and afternoon hours and light winds from the west/southwest due to high pressure exiting off the Mid Atlantic coast. With the mid/upper level trough moving over the region during the day, slightly cooler temperatures aloft will limit just how warm temperatures can get, with highs likely reaching into the lower to middle 80s over much of the area. There is some potential for sea-breeze activity to knock temperatures down into the 70's during the afternoon hours, but this will likely happen on a very small scale. Later in the day, a weak cold front looks to move through the area, and bring at least an increase in cloudiness, with an outside chance at a shower or weak thunderstorm towards the evening hours.
By Monday, troughiness will increase once again over the northern section of the Great Lakes region, which will likely usher in a cooler and much direr air mass compared to what we have been experiencing over the past few days. This area of below normal temperatures looks to continue into at least Tuesday, before we have to watch for the potential of a ridge building over the east, possibly by Wednesday. Mid level ridging may continue to build into the Northeast and Mid-Atlantic through end of the week, with more heat and humidity possible over the east.  As of right now, no significant precipitation or convection is expected, until the trough over Rockies finally shifts east into Northeast/Mid-Atlantic region by next weekend.
For more information and posts like this one, make sure you sign up for Premium Forecasts — where multiple detailed articles, videos, and interactives are posted each day. Also, come interact with our staff and many other weather enthusiasts at 33andrain.com!
Have a great evening!
Steve Copertino
Comments
comments
https://www.nymetroweather.com/wp-content/uploads/2017/06/hrrr-dbz-usne-07-B-reflcompkcounty.png
600
800
Steven Copertino
https://www.nymetroweather.com/wp-content/uploads/2017/04/oldlogo.png
Steven Copertino
2017-06-23 19:33:42
2017-06-23 19:33:42
Public Analysis: Remnants of Cindy Likely to Bring Heavy Rain, Seasonable Conditions Return Next Week