Happy Monday Morning to you all! We're back in action after a weekend of lovely weather, and the day will start off quite pleasant throughout the majority of the Northeast today as well. Regional observations throughout the entire region showed dry and pleasant air in place, with dew points largely in the 50's, especially in the higher elevations of the interior Northeast where they are even lower. After a pleasant and relatively crisp morning (we use that term loosely given the lack of a humid airmass), some changes are likely to unfold today.
The most notable change initially will be the return of higher dew points by the afternoon. Dew points across the Mid Atlantic States are expected to rise several degrees as southerly winds develop near and south of a warm front. This front will push northward through Pennsylvania and into New Jersey, towards the New York City regions and then eventually into Southern New England. Areas of isolated showers and thunderstorms may develop today, but they are not expected to be severe.
After these storms lose intensity with the loss of daytime heating today, a weakening complex of thunderstorms will approach the interior Northeast from the Ohio and Mississippi River Valley. This decaying storm complex is likely to be characterized mostly be showers with some embedded heavy rain, but will ride along a warm frontal boundary which will be situated from west to east through New England. After this weakening complex moves offshore in the early afternoon, attention will turn to the potential for strong to severe thunderstorms.
Forecast models are in good agreement that marginal to moderate instability will develop throughout the Northern Mid Atlantic and Northeast states, particularly south of the warm frontal boundary we mentioned earlier, on Tuesday afternoon and evening. Meanwhile, favorable wind fields in the mid and upper levels of the atmosphere will move overhead. And finally, a shortwave disturbance approaching the region will provide lift for thunderstorms to develop.
The three of these things are the keys to the development of organized thunderstorms: Lift to form the storms, instability for the storms to become strong, and sufficient/favorably oriented wind shear in the atmosphere for the storms to become organized. The parameters in place throughout the region on Tuesday suggest that several strong to severe thunderstorms could develop over Northeast PA and Southeast NY, eventually shifting east/southeast into parts of CT, NJ, PA, and possibly even NYC and LI.
With these thunderstorms, the threat would exist for dangerous lightning, torrential downpours, strong wind gusts and possibly even an isolated tornado — which could occur near the warm front or localized seabreeze boundaries that enhance rotation in the atmosphere's lowest levels. These storms will eventually weaken as they approach the New Jersey Coast south of Philadelphia by Tuesday afternoon and evening. The SPC has placed the region in a Marginal Risk for severe thunderstorms during this time frame, but we expect that an upgrade to Slight Risk will be issued for at least parts of the area by Tuesday morning.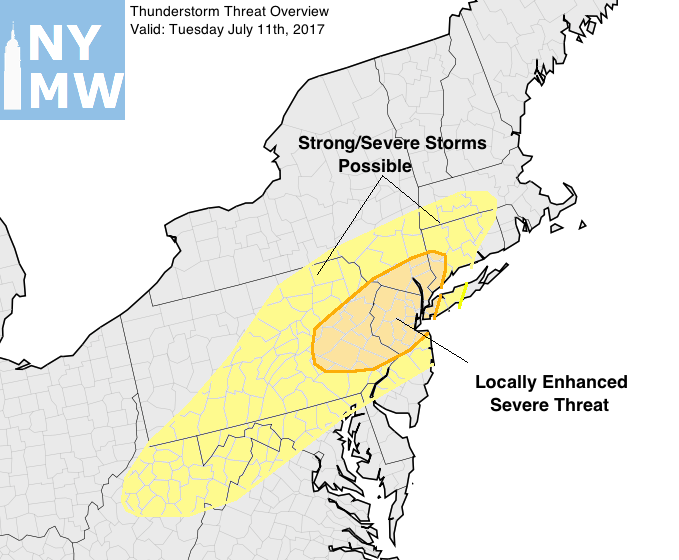 Additional threats for strong thunderstorms may evolve as the week goes on, after a generally pleasant Wednesday — particularly on Thursday when another low pressure system will move through Northern New England. The development of additional instability could support showers and thunderstorms, some strong to severe, dropping south/southeastward from Interior New England towards the Coastal Plain.
Stay tuned for further information as the week goes on — including a technical/short term discussion on each individual thunderstorm threat as they draw closer. Have a wonderful Monday!
Comments
comments
https://www.nymetroweather.com/wp-content/uploads/2017/07/Screen-Shot-2017-07-10-at-5.33.11-AM.png
331
801
John Homenuk
https://www.nymetroweather.com/wp-content/uploads/2017/04/oldlogo.png
John Homenuk
2017-07-10 06:00:57
2017-07-10 05:34:51
Multiple strong to severe storm opportunities this week