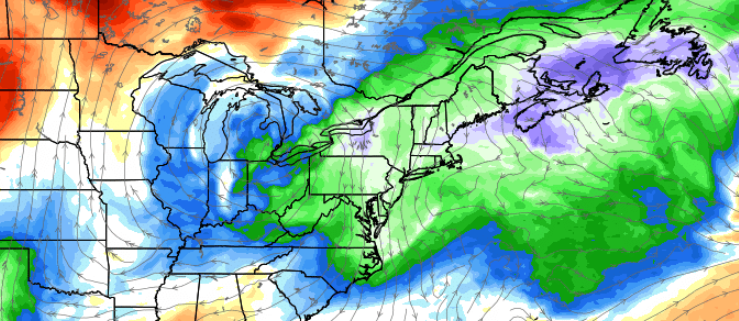 Good Afternoon! 
Today is the first in a series of more Fall-like conditions over the East with mild temperatures, low humidity, and crisp/cool nights. An area of high pressure has moved into the area behind the cold front that passed the area a few days ago, and is providing very clear and calm conditions for the entire Northeast.  Our source region for the air mass overspreading the region is fresh from Canada, so expect these pleasant and drier conditions to last throughout the day and into the evening hours. Winds should be light, but generally out of the northwest for the remainder of the afternoon. With cooler mid level temperature and relatively sunny skies, most of the area should see temperatures get up to the upper 60's to lower 70's, with some cooler readings likely farther into New England.
Later on in the day, a weak but compact area of low pressure associated with a mid level trough will begin to push towards the area and bring an increasing chance of clouds by sunset. The mid level system with this area of low pressure is rather impressive for this time of year and would usually be a pretty impressive clipper system for the area if it were deeper into the year, but regardless this system will begin to increase the threat of showers and possibly even a low-topped thunderstorm across the area late this evening. The change in temperature from the ground, into the mid levels of the atmosphere is also rather impressive, and this could become further enhanced as the low nears the warmer coastal regions late this evening and into very early tomorrow morning. At this time we expect any of the heavier activity to be rather isolated, but we would not be surprised to see reports of gusty winds, heavy rainfall, occasional lightning, as well as the potential for some very small hail or graupel. This activity may become more focused over the LI sound and near Connecticut where the increased temperature differential may spark some more feisty showers and thunderstorms. Regardless, we should see overnight lows drop down into the lower to middle 50's, with some area north and west likely getting down into the 40's before dawn.
As we head into tomorrow and the area of low pressure degrades into a weak trough, we should see another area of high pressure begin to build into the Northeast as well as the Mid-Atlantic states for the remainder of the weekend. For both Saturday and Sunday, skies will be pretty much mostly sunny with some mid level clouds at times. Winds will also be light, but gradually shifting back to a more northerly component on Saturday afternoon, which should reinforce the overall drier weather. Highs will likely remain in the mid to upper 60's across the entire area, with some locations near the city seeing highs reach into the lower 70's. Overnight lows will have a much more crisp feel to them as radiational cooling takes over both nights and allows any heating gained during the afternoon hours to quickly radiate back into the atmosphere. Lows will easily drop into the lower to middle 50's both evenings, with an enhanced potential for areas north and west to see temperatures drop into the 40's as well. Overall, it should be an excellent weekend for any kind of outdoor activity with clear skies, light winds, and relatively dry weather.
Another area of strong ridging is expected to develop over much of the nation next week, and when looking at a mid level map one may think that we'll return to the 80 degree highs that we had this week, but due to the juxtaposition of the ridge, we should see an area of high pressure develop to our north and east which will funnel in cooler onshore winds. This will pretty much put a cap on just how warm things can get next week, though we may have to deal with an increase in low level moisture once again and the potential for fog during the evening hours. At this time, it does not appear likely that there will be any heavy rain threats over the next seven days or so, but we will continue to monitor the latest trends and will have a full update on Monday!
Maria and Lee Not Long for This World 
Once mighty hurricanes Maria and Lee have been reduced to tropical storms this afternoon after accelerating northeastward into a region of increasing shear and decreasing sea surface temperatures. These system will continue to head off to the east over the next few days, before being absorbed by a larger non-tropical low pressure system that may eventually impact portions of Europe with gusty winds and heavy rainfall.
Behind these two systems we have a few area to watch, but nothing imminent to develop. There is a surface trough labeled invest 99L near the southern Florida coast that is producing a large area of disorganized showers and thunderstorms, but has not been able to organize significantly due to strong wind shear that will likely persist over the system during the next few days. Farther east, we have another tropical wave producing a large area of showers and thunderstorms just east of the Leeward islands. This system is also being impacted by strong wind shear from an upper level low to its west that should inhibit any significant development in the short term. However, both system will pose a threat for heavy rainfall and potential flash flooding, so please pay attention to your local NWS office for any flood watches or warnings.Lastly, the models have become less-certain regarding the development of a large tropical gyre forecast to form over the western Caribbean in the next week or so. This system would likely be quite large in nature and would take days to organize, but would still pose a significant threat for heavy rains and flooding. We have plenty of time to monitor future trends, but we still expect that this region of the Caribbean will have at least a medium chance for tropical cyclone development over the next 7-12 days.
For more information and posts like this one, make sure you sign up for Premium Forecasts — where multiple detailed articles, videos, and interactives are posted each day. Also, come interact with our staff and many other weather enthusiasts at 33andrain.com!
Have a great weekend!
Steve Copertino
Comments
comments
https://www.nymetroweather.com/wp-content/uploads/2017/09/dqp.png
584
739
Steven Copertino
https://www.nymetroweather.com/wp-content/uploads/2017/04/oldlogo.png
Steven Copertino
2017-09-29 14:37:09
2017-09-29 14:37:09
Maria and Lee Head Out To Sea, Beautiful Weekend on Tap for the Northeast