Good Evening! 
A cold front moved through sections of the Northeast late last night, bringing areas of showers, gusty winds, and more importantly a sizable airmass change. Within a period of only a few hours, the cold front knocked us into more autumnal conditions, with dewpoints dropping from the unusually high low to middle 60's, back into the low 30's-leading to a much more crisp feeling to the air today. Additionally, cooler temperatures aloft have left the entire area with much cooler highs as well, with most of the Northeast seeing highs in the middle 50's to lower 60's, with even a few areas in Pennsylvania and New York seeing temperatures stuck in the upper 40's. Conditions have also become quite windy across the area behind the cold front-with many stations reporting northwesterly winds gusting in the 20-30 mph range through the afternoon and into the early evening hours. This northwesterly flow has also worked to bring in cooler air over the relatively warm Great Lakes, which has generated some lake-effect clouds this afternoon that has mainly been focused over New York state, with some low-topped cumulus clouds over Pennsylvania. Further east over the metro area, we've seen a mix of sun and clouds over the area as some trailing upper level cirrus clouds quickly move from southwest to northeast on the eastern side of the upper level trough.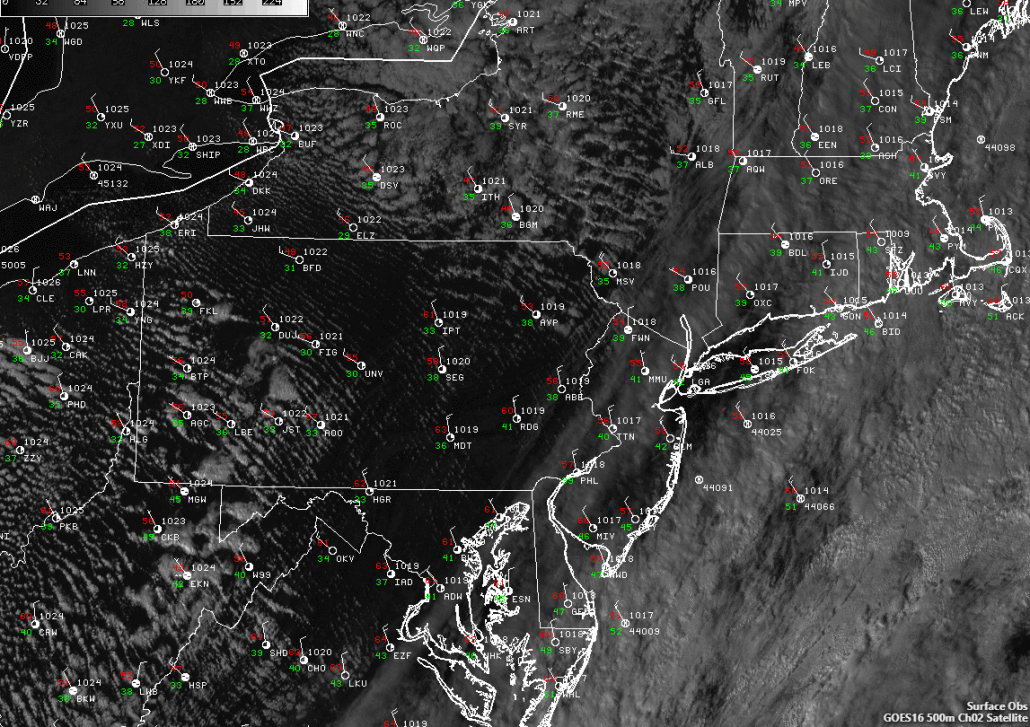 As we head into sundown, gusty conditions will likely remain in place for most of the area, except for portions of central Pennsylvania and western New York. The cirrus deck that has been in place most of the day will continue to diminish over the next few hours and head off to the east as the upper level trough continues to lift out. This will allow for skies to become quite clear this evening, and with low humidity, clear skies, and diminishing winds, we will have at least marginal conditions in place for radiational cooling to take over. Temperatures will likely fall into the "cold" levels this evening as lows dip down to the upper 30's and lower 40's for the immediate NYC metro area. Further north and west, lows could get into the low to middle 30's, which could cause patchy frost to develop in the areas that see the wind really calm down over the next few hours. The NWS has issued numerous Frost advisories over the Northeast, so make sure to bring in any plants that may be vulnerable to frost conditions this evening.
Tuesday will likely be another calm and cool day for the Northeast as surface high pressure begins to build in from the south and west by tomorrow afternoon. Highs will likely range from the upper 50's to lower 60's, with areas further north and west likely seeing readings a few degrees lower. Humidity will also remain very low tomorrow, and though this may feel like its a big deviation from the normal, but tomorrows highs will likely be right around seasonable for this time of year. The building high pressure will allow for lows tomorrow night to fall back into the low to middle 40's tomorrow evening, and with lower overall winds patchy frost may be more likely across the area.
Later This Week and Beyond
As we look ahead into the later part of the week and past the weekend, we are likely to see mid level ridging rebuilding over the east by Thursday, which should lead to a small increase in highs for a coupel of days. We should be looking at temperatures rising into the low to middle 70's pretty much every day for the rest of the week, and then again this weekend as a second area of mid level ridging begins to build into the East by Saturday. This pattern should last us into the early to middle part of next week, before the overall pattern begins to shift largely due in part to large scale convective patterns in the tropics becoming more concentrated in this area of the globe. When this happens, we tend to see a large area of riding set up over the western United States, with a trough eventually setting up in the east. Such a scenarios would be a large departure from the normal over the past few weeks of warm and dry weather, as the eastern trough would likely bring below-average temperatures and an increased rain potential during the period. While the individual model runs seem to disagree about the exact timing of when a coherent area of troughing will set up over the east, the ensembles have been rather consistent that around the  October 24th-28th period, the likelihood for this scenario is high.
Due to the level of enhanced convection over the tropics during this time as well in conjunction with leftover warm waters over the Atlantic, we may also have to keep an eye on the tropics to see if we can manage to get a late season storm out of this pattern.
We will have more on this pattern later in the week!
For more information and posts like this one, make sure you sign up for Premium Forecasts — where multiple detailed articles, videos, and interactives are posted each day. Also, come interact with our staff and many other weather enthusiasts at 33andrain.com!
Have a great night!
Steve Copertino
Comments
comments
https://www.nymetroweather.com/wp-content/uploads/2017/10/ecmwfued-hgt-usmercator-228-C-500hgtanom_whitecounty.png
768
1024
Steven Copertino
https://www.nymetroweather.com/wp-content/uploads/2017/04/oldlogo.png
Steven Copertino
2017-10-16 18:00:43
2017-10-16 18:00:43
Cooler Conditions Finally Take Over, But Will They Last?