Good morning and Happy Tuesday! We're continuing our Daily Briefing series, where we provide free public weather updates for various parts of the country. Thanks for reading! A significant winter storm is expected to develop later today and Wednesday across the Northeast states, particularly in the interior areas, where snowfall amounts upwards of 6″ are possible.
The airmass in place ahead of the storm system is not particularly cold, and without any high latitude blocking there is no mechanism to hold in a cold high pressure to the north. All of this will aid in warm air surging northward as the storm develops, allowing precipitation to quickly change to rain along the coast. Inland, and in the higher elevations, colder air will hang on a bit longer and more impactful snow and wintry precipitation is likely.
The National Weather Service has, accordingly, issued Winter Storm Warnings and Winter Weather Advisories throughout the Northeast states for Wednesday. Precpitation is expected to break out during the late evening hours on Tuesday and continue to become more widespread on Wednesday morning while increasing in intensity. Warm air will change the coast over to rain rather quickly (including the NJ/NY Shores and the PHL/NYC Metro).
A bit of a battle ground sets up slightly inland, and a few more hours of a wintry mix with sleet or freezing rain is possible in the suburbs. But the real impacts will be across the far interior of NE PA, NW NJ and New England, where several inches of snow could fall as the storm progresses. Warm air will eventually work in to most areas, with rain likely on Wednesday afternoon before the system departs Wednesday evening.
We've attached our snowfall forecast for the Northern Mid Atlantic and Southern New England below. But some ice accretion is also possible from freezing rain, especially further inland. Here are the highlights of the weather to come over the next few days:
Winter storm develops late Tuesday PM into Wednesday. Snow spreads over the Northern Mid Atlantic and Northeast, and gradually changes to rain – city and coast first, interior last.
Significant snow and wintry weather likely across the Interior Northeast, with travel impacts expected. Plan accordingly in those regions.
After a break during the later week period, another winter storm develops this weekend with impacts again expected to be mostly relegated to the interior areas.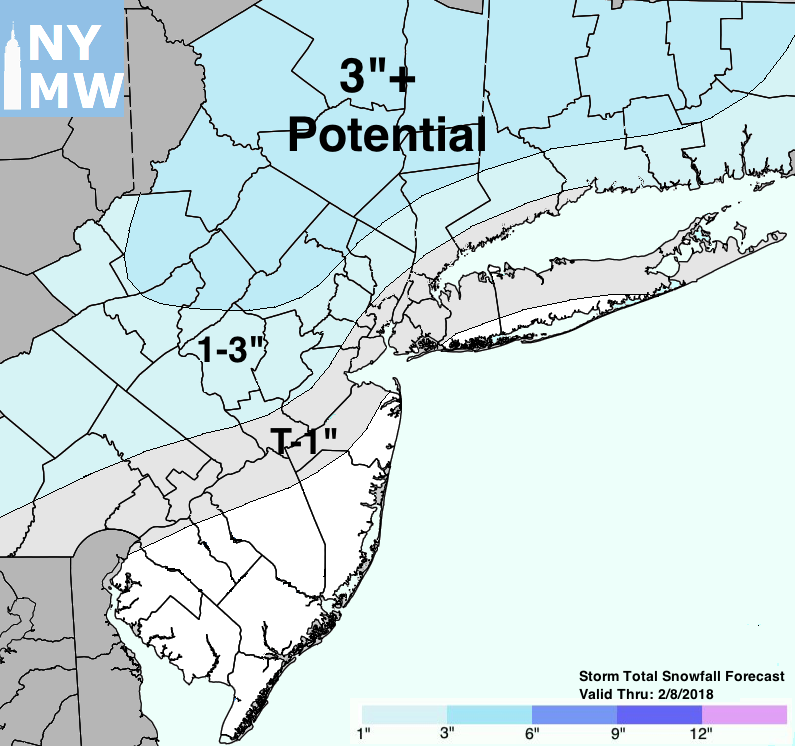 Comments
comments
https://www.nymetroweather.com/wp-content/uploads/2018/02/3kmNAMpreciptype.png
772
1024
John Homenuk
https://www.nymetroweather.com/wp-content/uploads/2017/04/oldlogo.png
John Homenuk
2018-02-06 10:31:56
2018-02-06 10:31:56
Tuesday Briefing: Interior winter storm on the way